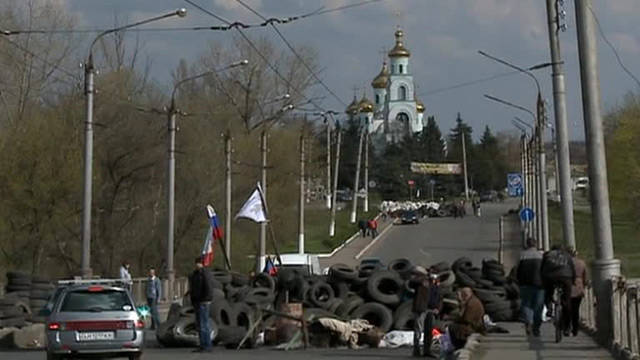 In the village of Sergeevka, Slavyansk district, Donetsk region, the Ukrainian military defeated a roadblock of supporters of the country's federalization.
According to local media, citing eyewitnesses, people in military uniform appeared in the village, shooting is heard in the area of ​​the highway. It is also known that in the area of ​​the roadblock there was a fire, but its cause is currently unknown.
Eyewitnesses also reported one dead, but officially this information has not yet been confirmed, reports "Interfax".
On the eve, supporters of federalization in Slavyansk and Kramatorsk took control of local telecentres, which provide broadcasts to cities in the south-east of the country. Instead of Ukrainian TV channels, Russian ones are now on the air.
On April 14, the 25 Brigade of the airborne troops stationed under Slavyansk moved to the side of the militia. Appointed by the Verkhovna Rada. President of Ukraine Oleksandr Turchynov threatened the court with the military who refused to fight against the civilian population.
Ukrainian troops continue to concentrate around Kramatorsk and Slavyansk.