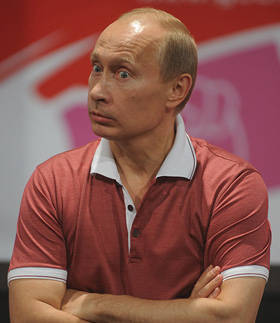 Americans collect signatures for the nomination of Putin to the presidency of the United States. Source: www.veteranstoday.com. And it's not a joke! Residents of the United States do collect signatures for joining Russia and nominate Putin for the presidency of the united country!
The organizers of the amazing action are ... US Army veterans! Here's how one of the leaders of the new movement explains the initiative: "We are collecting signatures to hold a nationwide referendum on whether to stay in a failed state - an economic cripple controlled by criminal oligarchs, or join the Russian Federation with a strong president with a proven reputation of bringing oligarchs to criminal responsibility ".
Next comes the argument that 20% of US territory (Alaska) is Russian land. And the West Coast from Frisco to the north is also Russian land historically. With joining Russia, Americans will get a normal education system. That those who will be against holding a referendum for the United States joining Russia are outlawed.
Already throughout America, those who support this action printed millions of stickers and put them on the bumpers of their cars: "Putin is for president, he is at least competent!"
Well, if anyone objects that Putin cannot be the president of the United States, since he was not born in the United States, Obama is not born in the United States, but for some reason he is president.
What is it? 90's the other way around? Then everyone in Russia dreamed of joining the USA, and now people in the USA dream of joining Russia! Maybe Putin is doing everything right?
Inscriptions on the poster from top to bottom:
He guards the borders of his country.
He protects his citizens abroad.
He banned gay propaganda in schools.
He pursues financial criminals.
He imprisons those who blaspheme in churches.
He puts the interests of the country above their own.
Putin-the presidency!
These are the pies.