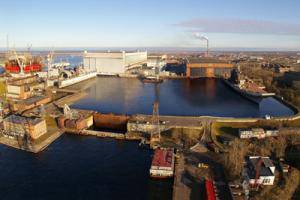 At the Northern Machine-Building Plant in Severodvinsk, production is being modernized. The technical design of the work carried out was drawn up by specialists from St. Petersburg. This was told to the Central Naval Portal by its own source in the enterprise.
Currently, the reconstruction of the North Dock. Ship ramps, which run from the 50 workshop, are replaced by stacking yarns. A complete upgrade will begin after receiving all the necessary documentation. Repair work will also affect the territory of the South Dock, although to a much smaller extent. Also, according to a TsVMP source, in the coming year 50 Sevmash workshop will receive the status of a regime facility. Information on the reconstruction of this workshop for the construction of fourth-generation nuclear submarines for the needs of the Russian Navy was confirmed by the press service of the company, stressing that the plant is stably loaded with state defense orders. For this reason, in addition to the existing 55 workshop, it was decided to upgrade 50.
At the plant, work continues on the reconstruction of the TARK project 11442 "Admiral Nakhimov". Separate compartments are removed from the ship for transfer to the drained bulk-water basin, which is scheduled for the autumn of 2014. To date, the compartment has already been removed under the helicopter deck, where the submersible hydroacoustic complex is located. A heavy nuclear missile cruiser will be placed on a solid foundation in the tank. For two years, 42 specialists of Sevmash workshop, which are already preparing pontoons for transferring the ship through the butt-port, will carry out repair work on the line of the propeller shaft, carry out fault detection and upgrade of the ship hull.
Against the background of an increase in the number of orders, labor can become a scarce resource. Back in January, 2014, the Severodvinsk television STV reported this problem on Sevmash: "For example, next year more than five hundred pipeline workers will be needed. And the total shortage of workers amounts to thousands." According to the interviewed by TsVMP experts from the military industry, the problem of personnel shortages in shipbuilding has always been one of the main problems. However, in the opinion of Boris Shmelev, the chief designer of the Vikramaditya export aircraft carrier, today there are still personnel reserves at the plant. "New projects can be implemented, including through the experience accumulated by employees when working on unique projects, such as the reconstruction of Admiral Gorshkov."
The Northern Machine-Building Plant is one of the largest ship-building and ship-repair enterprises in Russia. From 1939, 45 surface ships were built on Sevmash, 165 submarines, of which 130 - with a nuclear power plant. At present, nuclear submarines of the Yasen and Borey projects for the Russian Navy are being built at the plant.