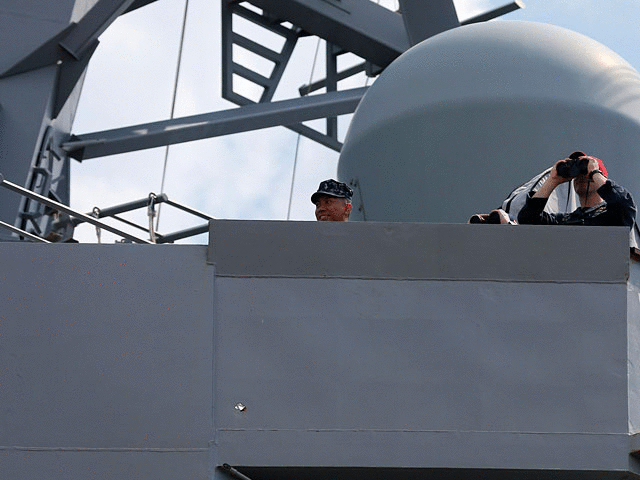 NATO is directing parts of its naval rapid response forces to the Baltic Sea to strengthen the defense of its Eastern European allies in connection with the Ukrainian crisis. As specifies Reuters, citing the press secretary of the Alliance Maritime Command, four minesweepers and one support vessel will go "in the foreseeable future." The group will consist of ships from Norway, the Netherlands, Belgium and Estonia.
It clarifies the Voice of America, the Alliance seeks not to exacerbate the situation in Ukraine, but to "demonstrate solidarity" and increase NATO's combat readiness. The representative of the maritime command stressed that the North Atlantic bloc does not want to get involved in military actions in Ukraine, which is not part of the Alliance.
Currently, the ships are in the German port of Kiel. Next month, they are scheduled to exercise and work on the detection and deactivation of mines and torpedoes since the two world wars.
Earlier, representatives of the Alliance reported that the number of fighters patrolling the airspace over the Baltic will be tripled. As Canadian Prime Minister Stephen Harper reported on Thursday, six CF-18 fighters will be sent to Poland from this country. In addition, 20 Canadian officers will go to NATO headquarters in Brussels.
Harper explained this decision with a response to "expansionism and militarism" on the part of Russia. "I think this is a long-term, serious threat to international stability and security, and we are always ready to work with our NATO allies," said a Canadian politician.
It clarifies the Global News, fighters will serve along with the aircraft of the United States, Britain, Denmark, Poland, Portugal and Germany.
Also in Poland by the end of the year, the presence of the US military will be strengthened. According to Stars and Stripes, this was promised by the US Secretary of Defense Chuck Heigl "alarmed by the Russian aggression in the neighboring country". It is reported that in addition to reconnaissance aircraft and ground units, border control forces may be added. The United States can also send medical equipment, helmets and water treatment systems to Poland.
Recall that a meeting of the NATO Council was held yesterday in Brussels, in which the ambassadors of 28 countries took part. As NATO Secretary General Anders Fogh Rasmussen said at the conclusion of the meeting, "NATO Allies will take steps to strengthen our combat readiness, expand training and maneuvers. Our defense plans will be strengthened and revised." The head of the Alliance explained that now there will be "more planes in the air, more ships on the water and more readiness on the ground." But the decision to build a base in the Baltic was not made.