US Secretary of State John Kerry sharply criticized anti-Semitism in Ukraine. In his speech, he spoke about leaflets "in one of the cities," in which they demanded that the Jews declare themselves. Similar leaflets have recently appeared in the Donetsk region. The man, whose name they are signed, said RT, that it is a fake.
State Secretary Statement

Speaking on the results of the quadripartite talks in Geneva, John Kerry told reporters about anti-Semitism in Ukraine and cited a situation that allegedly took shape in one of the cities as an example.
"In the last two days, letters were sent to Jews in one of the cities that they should declare themselves as Jews. The letter also contained threats, "said Kerry.
"By 2014, after all the lessons that were presented to us историяit is not just unacceptable, it is absurd. This is beyond acceptability. ... People involved in this kind of activity on both sides should understand that this has no place, "said Kerry.
Interpretation of the journalist

Kevin Bishop, the head of the BBC Moscow bureau, immediately responded to the statement by the Secretary of State. In his microblog, he wrote that we are talking about a document from Donetsk, a photo of which appeared on the Internet a few days ago.
"This is the paper that John Kerry referred to - a call for the Jews of Donetsk to register," the journalist said. His message quoted the BBC microblog, to which almost 10 millions of people are subscribed.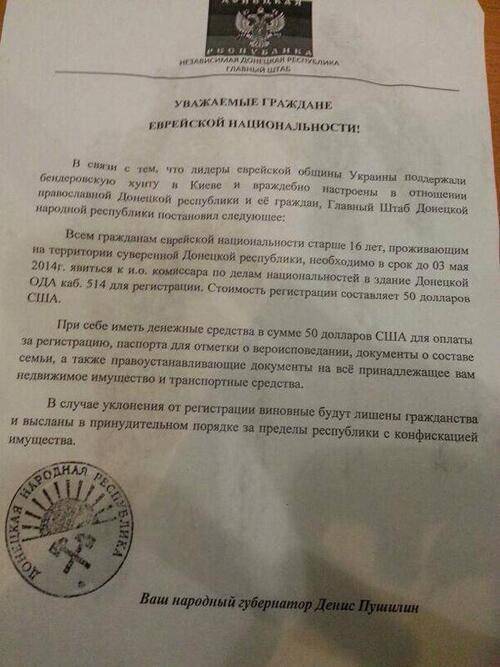 "Fake and rather unfortunate"

The document that Bishop posted actually called for the Jews to register before the 3 in May 2014 of the year with a certain "Commissioner for Nationalities". This letter was allegedly distributed in Donetsk in the last few days. The letter is signed by the "people's governor" Denis Pushilin.
"In fact, there are similar letters not only about Jews, but also about entrepreneurs, foreign students, other citizens of certain occupations. In fact, it is fake, and quite unsuccessful. There is a signature "People's Governor". Firstly, no one calls me that way, no one elected me. Secondly, there is a seal of the former mayor. Everything is done through Photoshop, "- said Pushilin in an interview with RT. He categorically denied the authenticity of the letter.