A quadripartite meeting was held in Geneva with the participation of Russian Foreign Minister Sergei Lavrov, the head of European diplomacy Catherine Ashton, and the acting. Ukrainian Foreign Minister Andrei Deshchitsa and US Secretary of State John Kerry. At the talks, the diplomats discussed the crisis that had developed after the coup in Ukraine and ways out of it. According to Sergey Lavrov, Russia has no desire to send troops into the territory of Ukraine.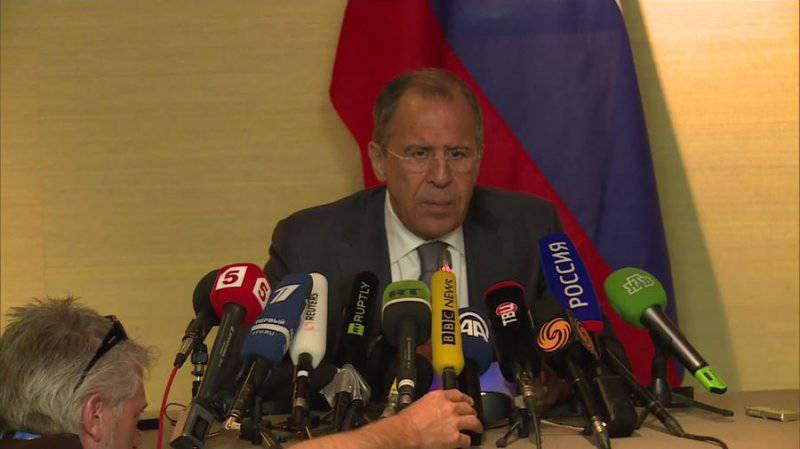 Speaking at a press conference in Geneva on the results of a four-sided meeting on the situation in Ukraine, Russian Foreign Minister Sergei Lavrov said that all participants in the talks were in favor of starting a broad national dialogue on Ukraine.
"It is emphasized that this dialogue should involve all Ukrainian regions, all groups," Lavrov said. "The appeal is the need to immediately start a broad national dialogue, which should be inclusive, transparent and accountable," the minister said.
"Decisions made in Ukraine should be acceptable to all Ukrainians. This is a guarantee of ensuring the stability of the Ukrainian state while ensuring the language peculiarities of various regions of the country, "the Russian Foreign Minister said. "We have no desire to send troops into the territory of Ukraine," he added.
Sergei Lavrov said that, according to the agreements reached at the meeting in Geneva, all illegal armed groups should be disarmed, and the occupied administrative buildings should be returned to their owners.
"Amnesty should be granted to all protesters, except for those who have committed serious crimes," the head of the Russian foreign affairs agency said.
The Russian minister called on partners to respect the neutrality of Ukraine. "The fact that Ukraine chose neutrality and secured it in its law should be respected by all, there should be no attempt to question it, try to dilute it," Lavrov said at a press conference on Thursday.
Meeting in Geneva

In Geneva, Russian Foreign Minister Sergey Lavrov met with US Secretary of State John Kerry, European Union Representative for Foreign Affairs Catherine Ashton and Acting Secretary of State. Minister of Foreign Affairs of Ukraine Andrew Deshchitsa. At a meeting initiated by the American side, the diplomats discussed the situation in Ukraine that had developed after the coup d'état.
On the eve of the talks, the participants in the consultations noted the need to de-escalate the conflict, however, they could not work out a common position. The Russian side insisted on the presence of representatives of the south-eastern regions of Ukraine, and the main topic at the talks, according to Sergey Lavrov, was to become a constitutional reform in Ukraine, in which all regions of the country would take part.