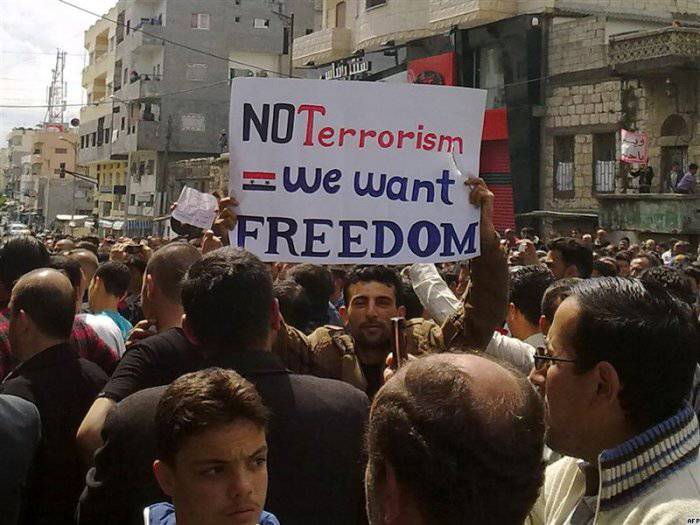 Syrian army using
Tanks
, suppressed protests in the streets of Dera. Human rights activists talk about dozens of victims of protests against the 11-year-old regime of President Bashar al-Assad. The protests continue, despite the fact that al-Assad last week suspended the state of emergency law in force in the country over the past 48 years.
Protests in Syria last only about a month, and the number of civilian victims, according to human rights activists, is already more than 350. Of these, one-third died during the last three days, when soldiers reinforced with heavy machinery took to the streets of the city of Dera, which is close to the border of Jordan. The border itself, as stated by the authorities, was closed on Monday.
Witnesses reported that there were corpses on the streets of the city after soldiers began shooting at demonstrators. Human rights activists say that a "savage war has begun to destroy the Syrian democrats."
President al-Assad agreed on Thursday to end the state of emergency. But, as activists say, the violence that continued right after this, rather, indicates that the president is not going to liberalize his regime, to provide more political freedoms to citizens.
For the first time against the population used tanks
On Monday, the authorities first used tanks against the population. This, according to observers, should mean that President al-Asad, who received power in 2000 a year from his father, who ruled with an iron fist for 30 years, does not intend to give in to his opponents and is ready to destroy them.
According to witnesses, tanks fired on the city so that its inhabitants could not move along it. The authorities also used snipers who shot at the crowd. Some witnesses say they saw soldiers who refused to shoot protesters, and some shot at their own side in order to allow protesters to pull off the dead and wounded.
Foreign journalists were expelled from the country, so it is becoming increasingly difficult to verify information. Activists say they fear that al-Asad is preparing an attack on another city - Nava, which is in the north of Dera, since there is a movement of bulldozers and military equipment in the direction of that city.
On Sunday, a funeral was held in Navi for protesters killed by security forces, where people shouted anti-government slogans. They shouted: "Long live Syria! Down with Bashar! "