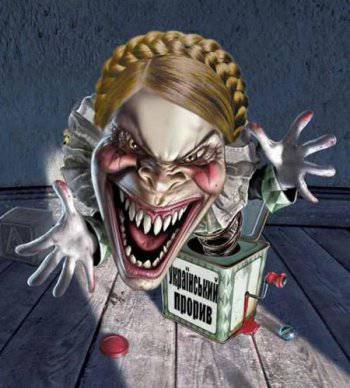 Your country could be great. At the time of the collapse of the USSR you had everything. Or almost everything that is needed in order to build a great country. Natural resources. Developed industry. Agriculture. Resort areas.
If you wish, you could not only provide yourself with gas and oil, but also trade with them. In terms of manganese ore reserves, Ukraine ranks second in the world, and in terms of production in the first, at least recently it was in first place. In one compact area is concentrated everything that is necessary for metallurgical production: iron ore, coal, polymetallic ores. You have everything you need for non-ferrous metallurgy: titanium, zinc, aluminum. You have gold and uranium. Your uranium would be enough for the next hundred years - this is at least.
Your country could be a space power. It is not joke. After the collapse of the USSR, you got Yuzhnoye Design Bureau with all production facilities and specialists. The same "Yuzhmash", which produced the P-36М2 "Voyevoda" missiles - the very ones that our worst "friends" in NATO call "Satan". The one that in the conversion version is called "Dnepr" and is able to put into orbit almost four tons of cargo - more than "Soyuz" without accelerating blocks.
You had a fleet. Now he sold on needles. There are still a few rotting pelvis and the flagship - "Getman Sahaidachny". A whole frigate! Ridiculous. Border patrol ship project 11351. All, that managed save. Moreover, a miserable, repaired submarine that could not even go from Odessa to Sevastopol to Odessa.
You had an army. Now it is a paltry remnant. In 1992, the year the Ukrainian Air Force had 2800 aircraft, of which 1100 was combat aircraft. To date, 226 has been preserved, not counting drones and helicopters. Technique in military units for the most part rotted, and that which has not yet rotted, continues to rot.
You had agriculture. With enviable persistence, you kill him too. At the moment, five percent of the total territory of Ukraine is actually bought by China. And this is not waste land - this is farmland. Let it be called a long-term lease. For fifty years, your grandchildren will have time to forget that once this land belonged to them.
You promoted everything. Or almost everything. In just twenty three years.
You promidanili industry and agriculture. Ukraine's GDP is two times less than that of Belarus, despite the fact that Belarus has never had a tenth of the natural wealth that you have. Ukraine's GDP is even lower than that of Albania, the poorest country in Europe. Only a quarter, but less. Your hard workers come to us in order to earn a more or less normal life. They agree to go almost to the other side of the globe and work here, on Kamchatka in OUR adits, extracting gold and nickel for US, on OUR seiners and trawlers, and extracting fish for US. Increasing our GDP.
You missed your army and navy. What did not rot in the boxes, fleets and at airfields was simply sold. It's ridiculous, but true: in 2012, Ukraine came in eighth in the world in the arms market. And about ten to fifteen years ago she sold
Tanks
T-90, which itself does not produce.
You promied your own
history
. Yes, it is certainly a pleasure to keep your story almost from the creation of the world and at your leisure to paint the atlas of Ukraine, but is it worth it? I did not say: people who do not remember their past are deprived of the future. One of the reasons for the collapse of Nazi Germany was that the Germans had forgotten their history. And it is not at all embarrassing to live in a country that is not twenty centuries old, but three or four. Americans live somehow and do not suffer from this. Already won the former metropolis under a crushed, which, by the way, already from the Roman Empire of the century considers. God be with them, with centuries. You have already promoted even a very fresh story. You forgot with whom and for what your grandfathers fought. And now, almost in the gums, kissing those whose grandfathers were ready to simply wipe your people off the face of the earth. History does not forgive.
You have already started proming your country. And this is the result of the fact that you promoted the story. Doesn't it come to you that the Crimea just ran away from you? And he escaped, not because Russia is better, but because the Crimeans have not promoted their history.
I feel crazy and painful to look at what is happening to you now. It hurts because I still remember what Ukraine was just recently. It hurts because I have friends and relatives living in Ukraine. Wildly, because what is happening with Ukraine now resembles some very evil theater of the absurd. Wildly, because I do not believe that people can be fooled to such an extent.
Yes, in our country, too, not all chocolate. We still have a lot of problems. And with industry, and with the army, and with corruption, and with social security. We still have enough of our thieves in the government, our gangsters. Yes, just incompetent people. Not so long ago, our country, too, was rolling into hell, when a semi-comatose alcoholic ruled her as a merchant who had been chased by a hunted troika.
But now our rockets fly into space, and even if not ours, then on our engines. Our tanks and aircraft are considered the best in the world. I buy products made in our country, I go in clothes made by Russian manufacturers. Our army, which for many years was in a wild pen, suddenly turned out to be almost the most combat-ready in the world - this is the opinion of American analysts. And I'm not afraid that tomorrow a bottle of Molotov cocktails or a shell will fly to my window. And I'm not afraid that next sanctions will be announced to my country tomorrow, simply because all these sanctions are just dust, so the whistle into the pipe.
You can, on the basis of bile and malice, shout as much as you like that I am Putin's slave, who is zombie Kiselev. If I disappoint, I don't like Putin, and I don't quite know what Kiselev is talking about. I turn on the TV every six months, I do not listen to the radio, but I receive information from a pile of various sources, including Ukrainian ones. I was taught in the USSR to search for information. And I also remember the history of my country. And I remember with whom and against whom my grandfather fought. What you want.
And I also wish to recall the words of the Ukrainian poet Vitaly Korotich. And think. And say out loud: translate me through Maidan ...
Translate me through Maidan,
De all holy day, b'yutsya і fight,
I do not feel anything for myself.
Translate me through Maidan.