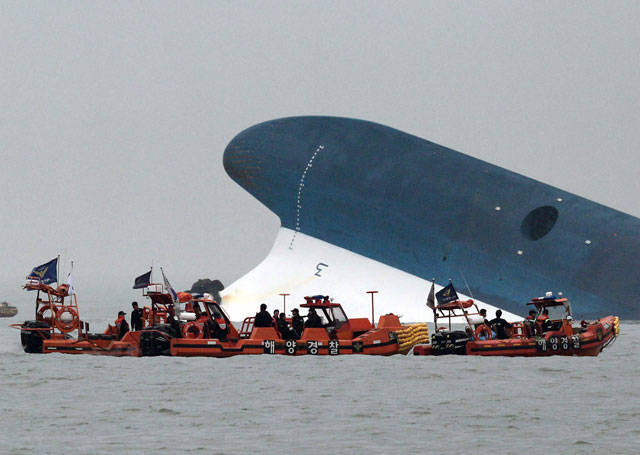 On board the ferry, which was wrecked off the coast of South Korea, there was a teenager from Russia, the Russian Embassy in Seoul reported. Now he is missing, just like almost 300 people. According to the government, there are six people on the list of those killed. On Wednesday night the ship ran aground, got a hole and went under the water in just a few hours.
It all started with a thump in the bow - so say the passengers who were saved. At about 9 in the morning, in the 20 kilometers from the island of Chindou in the Yellow Sea, the ferry "Sevol" - aboard 475 people, including more than 300 high school students - began to roll on its left side. Two hours later, after the start of the rescue operation, the vessel lay on the bottom.
"The rescue operation involved 18 helicopters of the fire service, coast guard, navy and police. 34 patrol and warships were also involved," said Deputy Minister for Security and Public Control of South Korea Lee Gen Ok.
Data on the rescued and the dead are constantly changing. At first they said that they saved more than 350, but in fact it turned out that at least half. There are wounded people - fractures, burns, hypothermia.
The causes of the crash are still not clear. According to preliminary information, the ferry was not overloaded. In the morning there was fog at sea, but visibility was not critical. However, the reasons - this is now a minor issue. About the 300 people still remain inside the vessel that has gone to the bottom of the vessel.
But there is indirect evidence of why there are so many missing: the command to all to rise on the deck was given after the SOS signal and the start of the crash. "Already when the ferry began to roll on its side, we asked if we could start evacuating, but we were still told to stay in our places. I'm very worried about the guys in the cabins," says one of the schoolchildren aboard.
"Sevol" - scheduled ferry displacing almost 7 thousand tons. Schoolchildren and other passengers were heading from the port of Incheon to the southern resort island of Jeju-do. Parents in a hurry go to the crash site. Eight buses left Incheon.
"It's as if my heart has stopped - I can't describe my feelings differently. I can't even talk about it," is all that Chung Keng Mi, the mother of one of the schoolchildren on the ferry, can say.
At nightfall, the search will be very difficult. But with each passing hour, the hope that the people trapped inside the ship are alive is becoming weaker.
As previously reported, the embassy of the Russian Federation in Seoul is clarifying the fate of the Russian citizen Serkov Vyacheslav Nikolaevich, who went missing as a result of the crash of the ferry "Sevol".