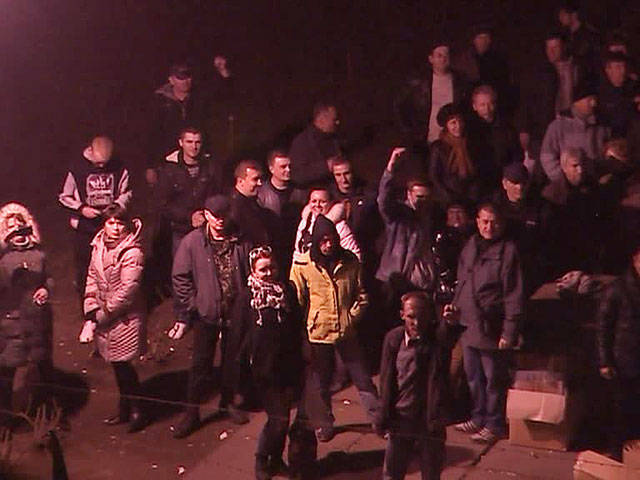 The geography of tension in southeastern Ukraine continues to expand. On Wednesday evening, April 16, reports began arriving from Mariupol that local self-defense forces were storming a military unit located within the city limits, Interfax reports.
Currently, active operations on both sides have ceased. The militia failed to occupy the location of the battalion of internal troops, they admitted in the headquarters of self-defense. On the territory of the part remain affected militia. People at the military gates became less. However, shots from machine guns are heard in the city itself. According to local media, as a result of the assault, one person died, 12 injured. Earlier it was reported about five wounded, at least one of them - the military man.
Events began to evolve rapidly with 20: 00 local time. People came to the unit and issued an ultimatum to the command about switching to the side of the people. According to the official Kiev, people demanded that the military "share
weapons
"Then a few dozen people began throwing incendiary bottles with the building of the military unit, then they broke the gate and got inside. In response, the military opened fire.
Donetsk, Kharkov and Lugansk - in recent days, these regional centers have become the main centers of protest against the eastern regions of Ukriana against the policy of the Kiev authorities. In a number of cities there, protesters took control of administrative buildings. 15 April appointed by the Verkhovna Rada and. about. President of Ukraine Oleksandr Turchynov announced the beginning of a military operation in the east of the country.

Euromaidan official twitter:
"In Mariupol, they finally started shooting to kill."
We must understand that this is the best form of agitation "For the One Country".