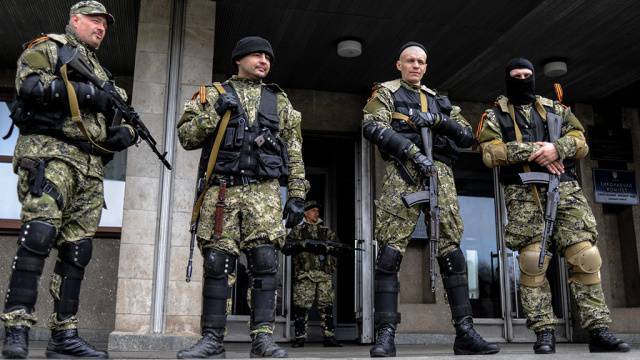 Unidentified armed people in a group of up to 10 people entered Wednesday morning in the premises of the Donetsk City Council, an official from the local administration told OstrovBY. They were armed with machine guns and rifles.
According to the source, the unknown persons occupied the first and second floors, as well as the flight of stairs of the building. According to eyewitnesses, they said they did not pose a threat to the building's employees, and offered everyone to remain in their workplaces. They are negotiating with them in order to find out their requirements.
Meanwhile, the militia with white armbands and a red inscription "Stronghold" on the sleeves occupied the defense of the building around the perimeter. Employees of the City Council began to leave the building, carrying out office equipment. Armed activists do not interfere with free entry and exit from the building, from which employees of the City Council quickly take out documents, reports the correspondent of the portal 62.Ya from the scene. There is no panic in the building itself. The city administration, including the mayor Alexander Lukianchenko, is in its place in the building. In 14 hours a meeting of the executive committee will be held, activists promise to prevent this.
Direct speech
Alexander Zakharchenko, head of the Donetsk branch of the public organization "Oplot" in an interview with 62.

"We want to put forward our demands to the Verkhovna Rada on the adoption of a bill by Alexander Bobkov on a local referendum." He entered and refused to take it to the faction. So that they understand that the referendum is really useful. With the building of the City Council nothing will happen, and the staff will work.

Since we have a division with strict discipline, there will be no robbery and no obstacles in the work of the city executive committee. The executive committee will operate normally. The blessing of the inhabitants of our city is above all. The only thing we will do is set up barricades, take all security measures. The building will have an access system so that workers can work, and residents can enter when necessary. Barricades will be more professional than around the Donetsk Regional State Administration. Also on the flagpole of the building of the Donetsk City Council is now developing the banner "Oplota".