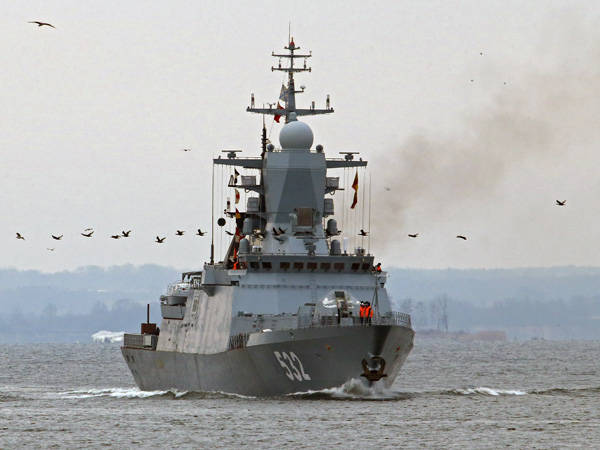 The newest corvette "Boiky" goes to the teachings in the Baltic Sea. Photo: RIA News www.ria.ru
Yesterday it became known about the beginning of exercises and tests of the latest ships of the Navy
fleet
Russia.
"Crews of the newest corvettes of the Baltic Fleet, Steregushchy, Boiky, will conduct a joint exercise with a Varshavyanka-type submarine," said the senior officer of the Baltic Fleet information department, captain 3, rank Andrei Bespaly.
According to him, the launch of ships into the sea to practice the tasks of tactical exercises will last several days. The crews of the "Guardian" and "Boykoy" together with anti-submarine helicopters Ka-27PL marine
aviation
the fleet will conduct a series of joint trainings to search for, track and destroy a submarine of a conditional enemy. All training will be held with the use of radar and sonar and anti-submarine
weapons
.
The role of the submarine of the conditional enemy will be performed by a diesel-electric submarine of the Varshavyanka class, which is considered one of the most silent submarines. At the same time, as the representative of the Baltic Fleet noted, the crew of the submarine was assigned the task of not allowing the corvettes to detect themselves and use anti-submarine weapons during the exercise. In addition to anti-submarine missions, the crews of the corvettes will carry out firing at air and sea targets, will work out exercises on radio-electronic jamming, in-ship training in radiation, chemical and biological protection and struggle for the survivability of the ship.
Also yesterday, it became known that the head small rocket ship Grad Sviyazhsk, which had been received for state tests as part of the Caspian Flotilla, had entered the stormy Caspian Sea. As explained to the correspondent of "RG" in the Ministry of Defense, conducting such tests in the stormy sea is mandatory for the lead ship of each project. They are carried out to test in extreme conditions the reliability and life of the power plant, navigation equipment and other systems. Controllability, stability and strength of the hull are also checked with the loss of speed and the performance of maneuvering elements in difficult conditions. In addition to checking the ship's nautical qualities, its crew will carry out live artillery firing at simulators of sea, coastal and air targets. The Caspian seamen successfully completed rocket firing from the high-precision Caliber-NK universal missile system at sea and coastal targets. According to the Ministry of Defense, at the end of the tests, the preparation of the "Grad of Sviyazhsk" will begin for the rise of the Naval Flag and its inclusion in the Caspian Flotilla.