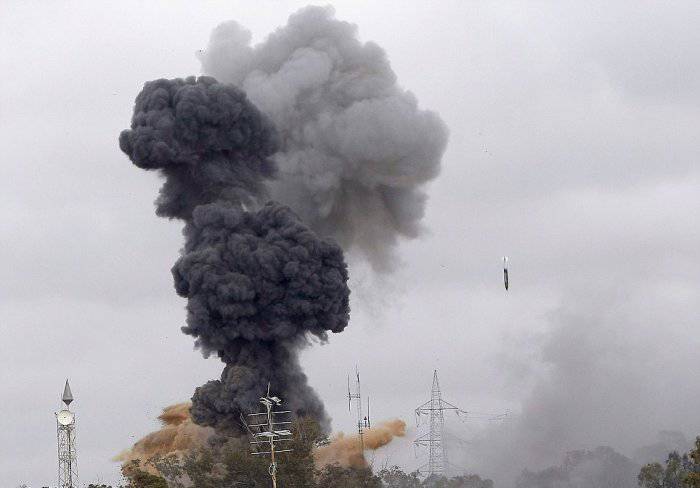 Powerful explosions were heard in the center of the Libyan capital on Monday night. According to media reports,
aviation
NATO during the bombing fell into the building of the government complex. Tripoli speaks of "an attempt to kill Gaddafi."
As a result of the air strikes of an international contingent on the government complex in Tripoli, one of the buildings was completely destroyed, and the adjacent conference room was partially damaged, news agencies report.
According to representatives of the Libyan authorities, 45 people were injured during the attack. Tripoli has already called this attack of the Alliance "an attempted assassination of Gaddafi." There is no exact information about where the Libyan leader himself was when NATO planes attacked targets in Tripoli.
According to the largest French news agency France-Presse, last night the strongest explosions were heard in the Libyan capital since the beginning of an international operation in Libya. For this reason, even the broadcasting of several television channels was temporarily stopped. On Friday, April 22, NATO troops stepped up air attacks on Tripoli.
Fierce fighting in Misrata
Meanwhile, in the city of Misurata, fierce fighting continues between rebels and forces betrayed by Gaddafi. Libyan government spokesman Moussa Ibrahim said that the army continues to retreat from Misurata, but is forced to fight off insurgent attacks.
Information that Gaddafi's troops received orders from him to retreat from Misurata appeared on Saturday. As reported on the eve, after the withdrawal of government troops, local tribes will begin negotiations with the rebels. In case of failure of negotiations with opponents of the Gaddafi regime, it is the forces of local tribes that have the right to resort to coercive actions against them.
The city of Misurata, which is considered to be a rebel stronghold, is located 210 kilometers from Tripoli. You can reach it only by sea.
On Saturday, American troops first used unmanned aircraft in operations in Libya. Their use was approved by President Barack Obama. This technique, reportedly, allows for more accurate recognition of ground targets, it should enhance the effectiveness of combat operations against troops fighting on the side of Gaddafi.
Earlier, representatives of the North Atlantic Alliance called on the local population to stay away from the regions where the battles are taking place.
Based on materials from international news agencies France-Presse, CNN, German Wave