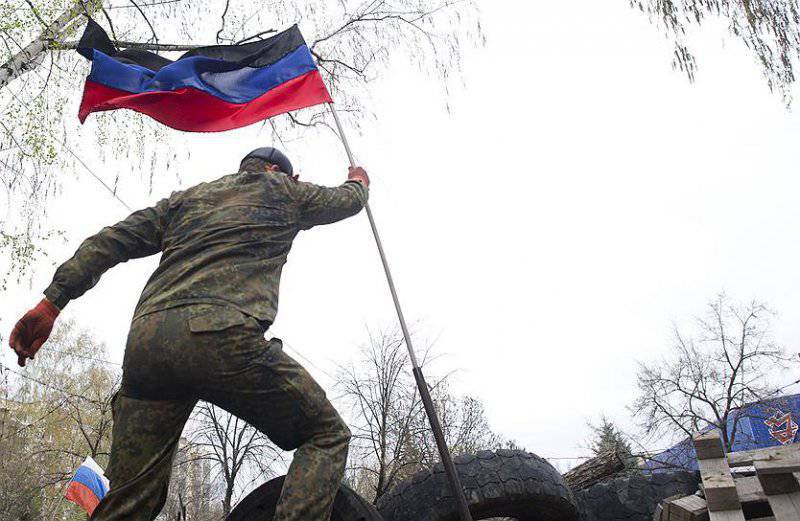 My companion name is Anton. He is thirty years old, he is a resident of the city of Kramatorsk. That same. He is married, works and really wants not only to live, but to live well and in a good country. Reads "Military Review". It was he who, after one of my articles, found me. And now we are in live chat mode. And what I heard, I want to share (with his approval).

This was not an interview. I did not have time to think through the questions, so in fact it was a monologue. We talked about everything, jumping from one topic to another, as millions of normal people communicate. Well, and I simultaneously frantically wrote down something. Later, more or less ordering everything, I got the following. Further narration is already on behalf of my interlocutor.
Weapons
few. It is catastrophically small. The fact that they took in the police department - tears. There will be militants against us who obviously don't have to save every bullet. And we did not have enough for everyone. Scary - the number of crumple.
Due to the lack of weapons, I got into the reserve. Well, not got it. So while we sit and wait. If there is a team, let's go, of course. The guy has a car, after the call we will go to the place where they will say.
As such, the clashes have not yet been. The guys who died at the checkpoint were shot from a helicopter. They generally had no chance to leave, there is an open place in fact. This checkpoint is now gone.
Fighter all day sliced ​​over their heads. Somewhere from 11 to 18 hours. Maybe changed. Flew one, then flew another. Or this one was refueled. But flew all day.
Police - handsome. Half of them sit at home and tell on the Internet how they were driven into concrete and they were not allowed to collect personal belongings. These are those that are loyal to Kiev. The second half is engaged in ordinary business. Although what crimes can there be today?
The executive committee is working. The second and third floors are free, deputies and officials go to work freely. Power is relatively present. The head of the city Kostyukov - ... rare. I myself stood on the square, I personally witnessed how he came to us and "pereobulsya". "I am with the people, I am for the people, I will do everything to prevent outrages." And in the evening I read him on the Internet, telling me that he did not agree with the separatists. Now he goes to work in such a way that it is said in the city that it is time to drive him out for absenteeism.
Today some Germans were seen near the executive committee. It seems like the representatives of the OSCE were.
The city lives. All enterprises work. Only one school was temporarily closed in the center. Just in case. It became bad with transport. With many routes the hosts took off buses. To avoid possible losses. Taxi is expensive. Gasoline from Maidan doubled in price.
Infuriates "ostrich policy." Many fit on the streets, especially older ones. "Why do you need this, you can endure a lot." There are many who want to sit out. And so if you see how much more to endure? I 30, of which 23, and only endure. Enough!
There are also "banderostaty". Not particularly frantic, rather sympathetic. Autopilot not loving Russia and everything connected with it. And you start saying, like, who is better to the authorities, to Bandera or Putin, even those who call Putin a "putler", agree that he is better. Yes, a lot of crazy stuff.
The only thing that they all fear, and to convulsions, to diarrhea - is if the Russian army goes to Ukraine. If anyone in Russia saw how they would be harmed by the phrase "What will you do when the Russians come here to defend us?", You would understand that your army is greatly appreciated.
Let the box show the best, even if not all parts are like that. But this is enough. The Russian army is really afraid of both the military and scumbags here. If this happens, that is, the Russians will come to our aid, then there will be no war. All will scatter: the warriors and Bandera. These are different things, to shoot boys with machine guns from a helicopter, or to deal with the Russian army.
We do not have to fight for us, we ourselves will. Just banderlogov panicked fear from the phrase "Russian army", so we still hope for help from Russia.