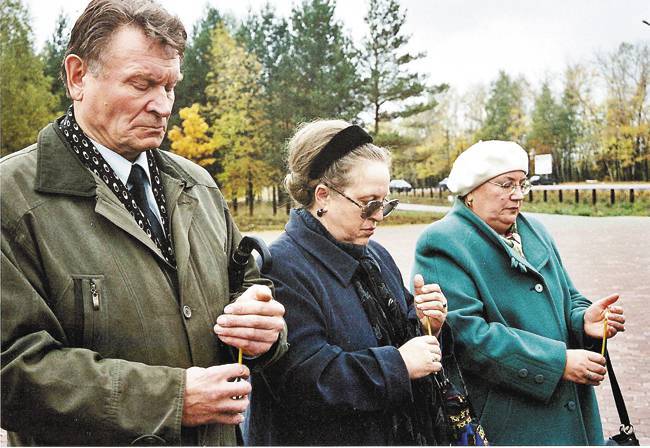 "MY SON. TAKE IT! AND REMEMBER - COURAGE IS BORN IN FIGHT "
When we learned that Group A veterans who were on a business trip in Vilnius were wanted by the Interpol line (now they are not allowed to leave the country), I involuntarily thought: "And Vitalik was banned ..." And then she pulled herself up: "What am I talking about? For a long time, the Lithuanian authorities cannot prohibit anything ... "
We consider Mikhail Gorbachev, on the one hand, and people from Sajudis, who organized the bloody provocation at the TV tower, on the other, to be the main culprit of that tragedy.
The testimony given during the trial of Algirdas Paleckis clearly showed that Group A employees did not shoot at the crowd. This was done by completely different people.
I am sincerely grateful to Vladislav Nikolaevich Swede and to the newspaper "Special Forces of Russia" for not leaving this topic. After all, it also concerns our son, who returned from Vilnius to the grave.
MILITARY STONE
The son never knew peace from early childhood. Maybe his character was influenced by life at the frontier outpost. Vitalik (as we called him so as not to be confused with his father, Vitya) was born in Nakhichevan. He grew up surrounded by soldiers, military life. I even cooked dinners and carried them to the outpost - my son did not want to eat at home, he ate with the soldiers at the same table.
The most beloved and the first toy is an automatic machine that was presented to him by the director of the local state farm. And his most favorite word was "go to sleep". And he defended everyone: his sister, mother, father, cook Volodya, sergeant Sasha ... and everyone, everyone he loved.
Growing up, Acne changed before his eyes: he was getting stronger, quickly becoming independent, but one feature of his character remained unchanged - a great desire to help people. I think that it was this trait that led him after the tenth grade to the border school, although with his abilities he could have become anyone. Athlete - had the first or second grade in several sports. Teacher - his younger children loved him very much, and he supervised them very well. As an artist - at school and in school throughout all the years of study, he participated in all theatrical events. Musician - almost independently mastered playing the guitar and piano. Poet - wrote poems from the fourth grade.
Acne was a comprehensively developed youth. He said: "It's impossible to know and be able to do everything, but we must strive for this!" And he mastered drawing, playing chess and backgammon, volleyball, basketball, sambo, skiing, joinery, photography. Was interested in
history
Russia and foreign languages, knew how to bake pies and cookies, knit and repair watches, collect stamps and shoot at the shooting gallery, went hiking and swam a race.
And most importantly, he always knew that he would be a military man. And he never betrayed his dream, which he expressed in children's poems in the fourth grade:
I will be securely bound
And night and day guard.
To live and work happily
Could our Motherland ...
The father supported him in this endeavor: he taught his son to sport, took with him to the training camp at the field training center, and "run" him
tanks
, taught on a campaign to survive in extreme situations. And the son tried to imitate his father - a staff officer, a border guard, dreamed of wearing a cap with a green band and at least once walk along Red Square in the same front dress with his father.
Many of his poems are permeated with this dream of becoming a military man. Here are the lines written by him in the seventh grade:
A man was born into the world
Rush quickly for many years.
How will he live his life?
How can he find happiness in life?
It doesn't matter how he lives,
More importantly, what kind of person can he be!
"I AM ALWAYS CASE ..."
In the eighth grade, while studying in the 763 school of Babushkinsky district, Vitalik applied to the Suvorov school, but I made sure that the documents were returned (I am still ashamed of that). To say that the son was upset? For him it was a whole tragedy. But we kept him. And now - the tenth grade. Release. Everyone at school knew: Shatskikh will go to the border school.
My husband, Viktor Alekseevich, served in the Moscow Military School named after the Moscow City Council. The son was going to do the same. However, the documents he did not accept. It was 1986 year. Then there was such a procedure: if the father serves in a military institution, then the son has no right to get a job there. And we overdid it and even forbid to enter the study.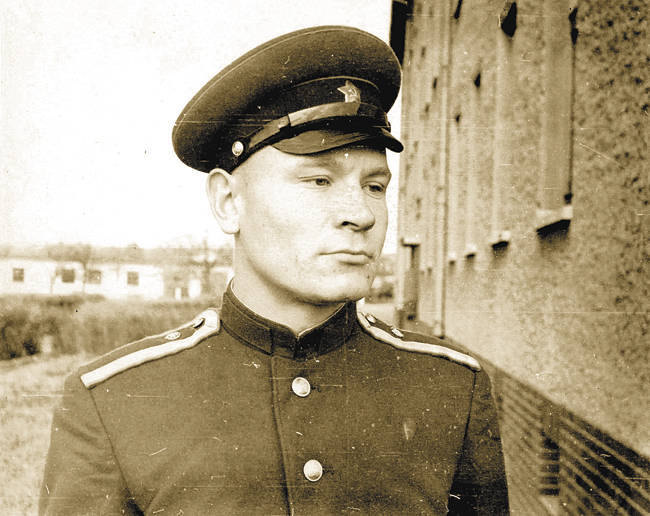 Viktor Shatskikh - a real Russian warrior! Mighty, handsome and beautiful
By the way, a year later, this order was canceled, but the son did not translate, since he had already become friends with the guys at the Golitsyn Border School. He wrote an introductory essay on a free topic, "The purpose of entering a military school," on five pages in verse: "I care about everything ..." Now it is kept in the Museum of the Frontier Institute of the FSB.
And indeed, he was up to it all. Therefore, he was loved both at home and in his family, at school — by friends and teachers, and at the school. It was impossible not to love him. Vitalik was very sociable, caring, attentive, ready to help everyone with everything: at a cross-country ski - pull a lagging comrade, at school - repair his class with friends during the holidays, at the playground - play with the kids, at a festive evening - be a mass-rapper -Titter And if necessary, then save a person's life.
"Who, if not me ?!", the son told me, when, protecting the girl from the hooligans at the Orion cinema, he received a knife wound on his hand.
And this was not the only case when a son, not thinking about himself, rushed to help. There was a case when he and his father pulled a unconscious driver out of a tilting and burning truck. A few minutes after they moved the driver to our car, the gas tank exploded.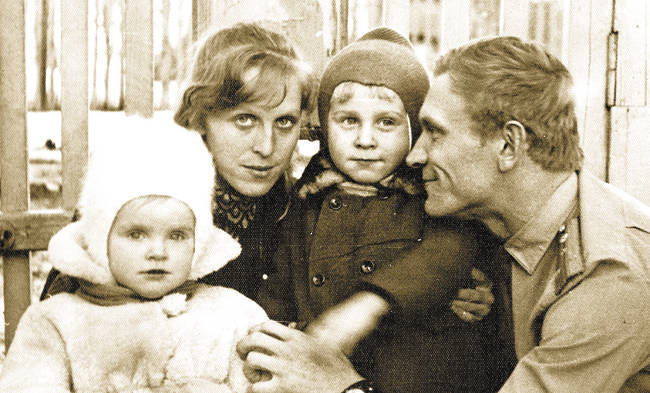 With children Marika and Vitalik (as Vitya's son was called in the family)
After graduating from school, Vitalik was going to go to Central Asia. On 4 August 1990, the ticket was already purchased in Almaty. Then the son confessed: "Probably not lucky. We came from Group "A", we were selected by four. I thought I would serve with Uncle Victor. But something no requests. Not destiny means.
"Uncle Vitya" is the Hero of the Soviet Union, Major General Viktor F. Karpukhin, a former colleague and friend of her husband. He received the country's highest award in 1979 for storming Amin's palace in Afghanistan.
2 August came a telegram: "Lieutenant Viktor Shatskikh urgently come to school." I will never forget his joyful smile and burning eyes when Vitalik and her husband told us about it. So I saw my son for the second time in my life; the first is when he entered military school.
My heart sank. That evening we celebrated this event in close family circle. We and the bride Vitalik. None of the others should have known where their son was to serve.
At the school, Vitalik was handed a challenge call to Group "A". General Victor Karpukhin, who knew him from childhood, tried to leave "on the farm" first. He said: "Sit while here in Moscow."
Another trip was coming to Baku. Viktor Fedorovich read the list. Acne has heard that all the guys from his unit are flying, but he is not. Then he told Karpukhin: "I came here to serve, and not sit out." And flew with everyone.
KRYUCHKOV: "we sent it to us here"
Then there was Vilnius. Storming the TV tower. And the betrayal of Gorbachev, who refused the "Alpha men", who said: "I didn't send them there".
The press wrote that the KGB Chairman Vladimir Kryuchkov also behaved himself, but this is not so. Several times he received my husband and me in his office. Vladimir Alexandrovich frankly told us: "This is our fault, we did not save your son. I can not speak for the president, I speak for myself. We sent him there. "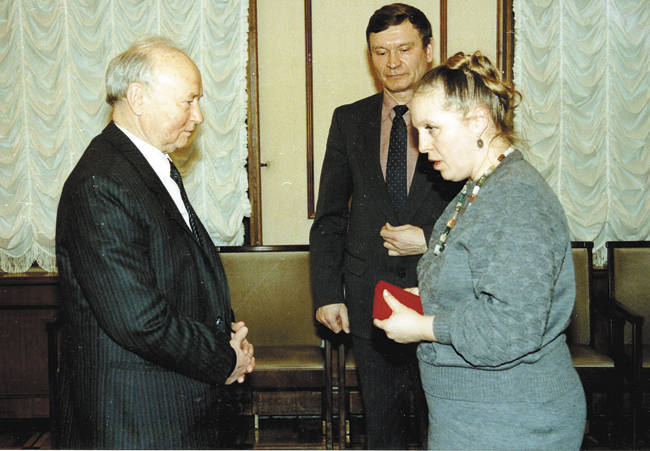 KGB Chairman V. Kryuchkov presents the Order of the Red Banner to the parents of Viktor Shatskikh, an employee of Group A, who died in Vilnius. Moscow, 1991 year
He asked how he personally can help our family. My husband and I asked for medical staff in Group A, which was done by Kryuchkov.
"Before Vilnius, Viktor and I went on a business trip to Baku," retired colonel Yevgeny Nikolayevich Chudesnov recalls, "not a single night passed without anxiety; traveled with
weapons
on assignment, ambushed, detained at the addresses of "subversive elements." The work was quite serious. The first time I kept Victor, leaving on duty. Once he came to me: "Yevgeny Nikolayevich, how much is possible! I am ready to go. I beg you, do not make me an eternal duty officer. " And the next time I included him in combat crew, and in Baku he showed himself worthily.
I don't know how he could even run down the corridor on the first floor ... I remember his words, at that moment we turned onto the second floor stairs: "Yevgeny Nikolayevich, I have something in my back ..." - "Victor, what could be there?" "First thought: prick pricked. In the hands of the protesters were national flags with sharpened metal end on the pole. I ordered Sasha Skorokhodov - "Look what is there," and he ran upstairs to carry out the task. It turned out the wound is incompatible with life.
It was necessary to urgently call an ambulance. Around - the crowd, people scream. Exit was difficult, could tear to pieces. And yet, Sergei Rassolov, he was entrusted to him, took Victor and took him to the hospital. Long did not know where he is, could not take the body. In this situation, Mikhail Vasilyevich Golovatov showed his "penetrating" and organizational skills: he did everything possible to get Victor back. Remembering this is very hard!
As for the special operation itself, it was carried out clearly and according to the plan. Everyone knew their maneuver, where to go and what door to open. When we returned home, nobody really met us at the aerodrome, only Victor's father, Shatskikh Viktor Alekseevich Colonel-Border Guard, and our commander, Viktor Karpukhin. He knew him from childhood, and he brought him to the unit - recalls Yevgeny Nikolayevich.
After the death of his son, many newspapers wrote that the Lithuanians hated our children. It is not true! My husband and I received letters, parcels and money transfers from Vilnius, from individuals and labor collectives of factories and mills. We were expressed condolences and invited to visit. Honest and caring people knew that everything that happened then was a mean provocation.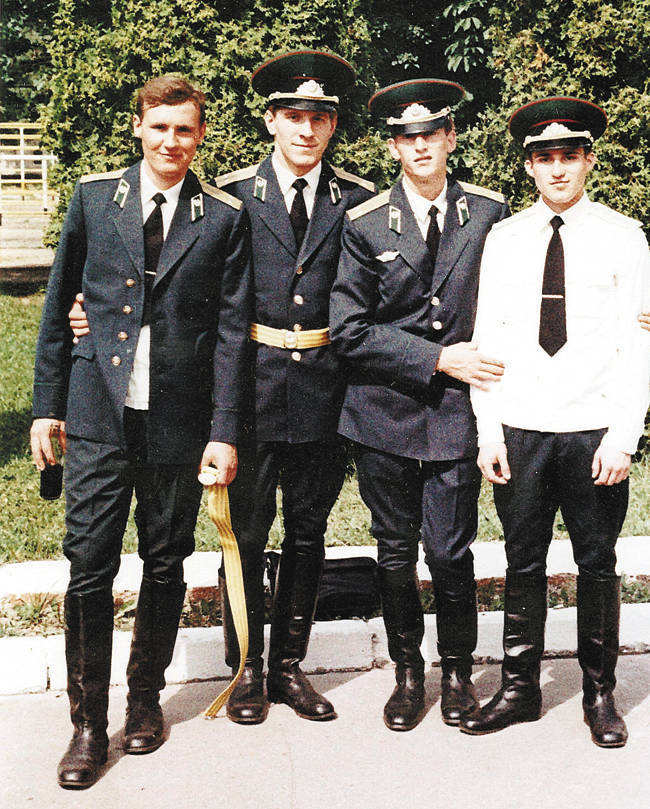 Viktor Shatskikh (second left) with his comrades from the Golitsyn Border School
When Vitalik entered the military school, I presented him a book about border guards and signed: "To my son. Go for it! And remember - courage is born in the fight. " And so, going on his last duty, he brought it to me and said: "Mommy! Let her lie down with you. And let's agree. You have a strong woman. You know where I serve. If ever something happens to me, give me a word - you will not show your tears to anyone. Okay, mamul? "-" Okay! I do not promise, but I will try. " Why I said so, I do not know so far. Why did I need this test? Later I learned that on the eve of this conversation one of his friends was injured.
I remembered this conversation when my son died. It is terrible to talk about it. It was even more terrible to find out!
The death of her son was also hard for his bride, Natasha, and her family. Acne was going to sign in January, they had already filed an application to the registry office. In one of the letters, the son reported that Natasha agreed to become his wife, despite the fact that his service was not easy ...
"I WANT TO PURGU, TO TSUNAMI ..."
His son was buried quietly, at the Volkovsky cemetery in the Moscow region. Then especially it was impossible to advertise the place of service of the son. A fragment of his poem was written on the monument:
We, not knowing peace,
We protect the rest
But fate for yourself
I did not look for another.
Every year, on the day of Vitalik's death and on his birthday, "Alfovtsy", friends from the school and the border school come to the grave.
Twenty years have passed. Sometimes you forget in work, and you will be left alone, or when on the street, in transport, you see a man who looks like a son, then someone rolls up to his throat.
In the family, we never put a photo of Vitalik in the mourning frame - for us he is always alive. We celebrate his birthday, he loved this holiday very much. I often talk with him, and it seems to me that Acac is on a long business trip. Anyway, it's easier for me.
In July, 2003 didn't become a husband, Viktor Alekseevich. His last post is the head of the department of foreign missions of the Main Directorate of Border Troops, colonel. After retirement, he worked in the non-state security system and the Advisory Board of the FSB.
It happened 28 July, the day of the thirty-fifth anniversary of our wedding. In the morning, Viktor Alekseevich went to work, although he was on the third day of his vacation. He told me and my daughter: "Prepare a festive dinner, we will celebrate the anniversary. Today - at the dacha, and on Saturday we will gather in a restaurant. "
He promised to return in the evening, but he did not come, his mobile phone did not answer. My daughter and I phoned all friends. At night, a friend of our family, Sasha N., arrived, he was with his son in Vilnius, and said: "According to the law of meanness, I held your son in my arms, and now I have brought you such news."
Then, an hour later, the former commander of Alpha, M.V. Golovatov, who had worked as a husband, and then-head of Department A, General Andreev Valentin Grigorievich, arrived. It turned out that Vitya died on the way - a blood clot went to his heart.
At the last moment, as I was told by the people who were sitting with him in the car, my husband managed to change lanes from the third row to the first. He slowed down, pulled over to the side of the road, barely said: "Something is bad for me" - and immediately fainted…
After the death of Vitalik, our daughter Maria also went to serve in the state security organs. Now she is a senior lieutenant, graduated from the Academy of the FSB.
I am told:
"Come after me…
And you will be happy with us ... "
But they lead home:
To sister, to father, to beloved mother,
And I want a blizzard, a tsunami ...
And that was all our son. Our family - both in the line of my husband and my relatives - honestly served the Motherland, defended her on the fronts of the Great Patriotic War and in peacetime. And we imagine no other life.
In one of the programs "Mirror", which Svanidze conducted, my husband and I met with the Lithuanian ambassador to Russia. He expected that he would hear curses against the Lithuanians from us, but I said that it was not ordinary people who were to blame for this provocation, Russians or Lithuanians, not Alpha employees. As the saying goes, "the lords are fighting - at the lackeys of the forelocks crack!"
I believe that the main blame for the tragedy of our family is MS Gorbachev, the former president of the USSR. He betrayed not only the Alfovites, but the whole nation. Well, God be his judge.
EPILOGUE. THANK YOU THAT YOU HAVE BEEN WITH US
Valentina Ivanovna left us in the last month of winter. She courageously struggled with a fatal illness until the very last moment. On the eve of the New 2014, she participated in the traditional meeting of Group A officers with the wives and mothers of the deceased employees, and nothing foreshadowed trouble.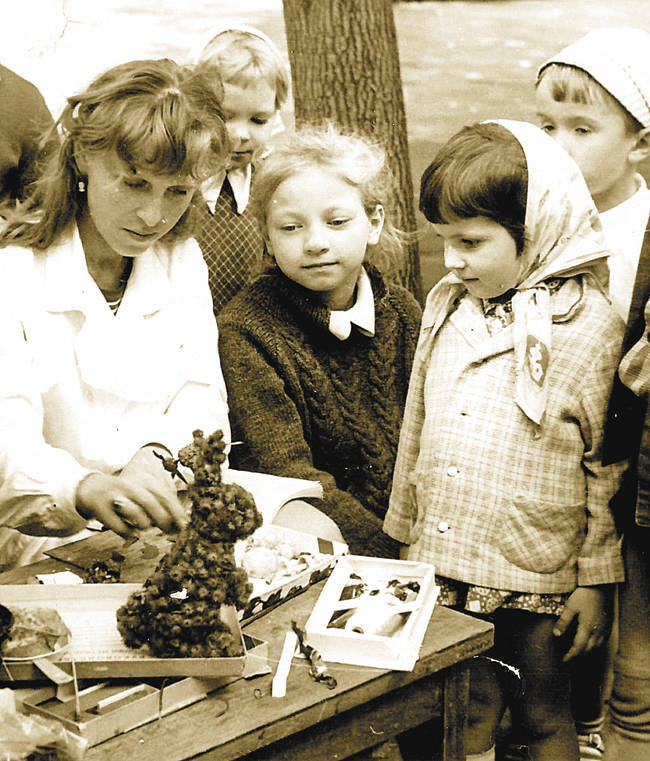 Head of the Moscow Border Kindergarten Valentina Shatskikh
Farewell to Valentina Ivanovna was held in the Ritual Hall of the FSB on the Infantry Street. Nearby, in the temple, the rite of burial was performed. And then the motorcade proceeded to the Volkov cemetery near Moscow, where, next to her dear and beloved people, her son and husband, she found eternal peace.
Commemorations for Valentina Ivanovna were held at the Central Museum of the Border Troops on Yauzsky Boulevard.
On this day, those who knew her and her husband Viktor Alekseevich (from the border school), and who served with his son Victor in Group A, came to say goodbye to this extraordinary woman.
Some came to the Infantry, others to the cemetery, others to the commemoration. These people could not come! Too many for many was the family Shatskikh. And such, however, it remains in the future. Nothing changes.
For the Alpha Association, since its inception, Valentina Ivanovna was a real mother. It was she who laid many traditions that favorably distinguish the commonwealth of Group "A" from other military teams.
The last photo of Valentina Ivanovna ... A festive meeting of Alpha officers with the wives and mothers of the deceased employees. Moscow, December 2013 of the year
She was a soul and at the same time a motor, as long as she had enough strength. I arranged trips, excursions, meetings and various festive events for families of veterans. I collected help when it was necessary for someone.
Shortly before her death, she visited the Cathedral of Christ the Savior and venerated the Gifts of the Magi, and before she died, she confessed and took communion. This, enlightened, she came to a meeting with her husband and son.