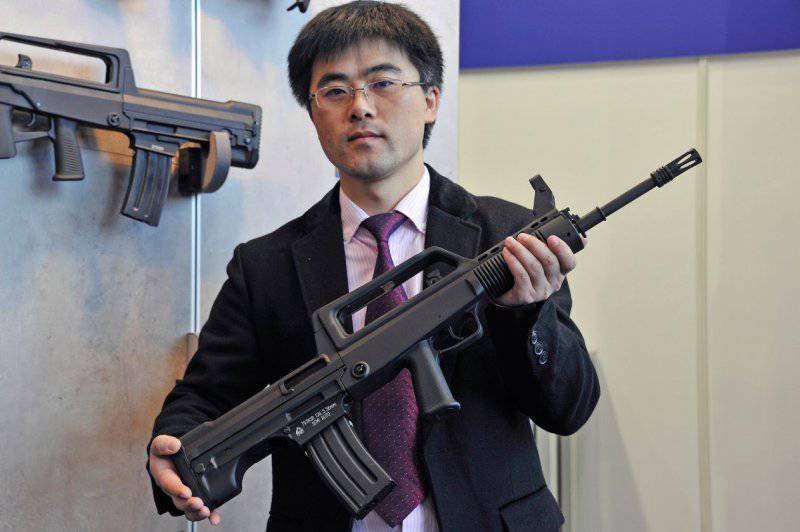 In the middle of the 90-s in China, the QBZ-95 assault rifle, designed for the cartridge of the caliber 5.8xXNNXXmm, was adopted. This rifle was equipped with units of the PLA (People's Liberation Army of China), as well as a detachment of Chinese police. The used bullpup system has a metallic design with a certain amount of use of a special thermal and impact-resistant polymer. The model is quite comfortable and quite reliable by Chinese standards, the site reports
all4shooters.com
.
Some time later, after a large-scale introduction of the QBZ-95 rifle, a shortened series appeared, which was performed on the basis of the 5.56x45mm caliber - for export purposes. For cartridges of this caliber, the store of the STANAG series perfectly suited. The main direction of sales of the modified rifle is the state of the Asia-Pacific region. The start of export deliveries was laid at the start of the 2000's.
A few years ago on the basis of
weapons
a semi-automatic model was created, which was named Type 97A. This weapon initially successfully entered the Canadian market, but after some time, the official Ottawa decided that the Type 97A urgently needed to be withdrawn from civilian traffic, while banning the import of such weapons from the Chinese NORINCO. According to the official version, the Canadian authorities decided that the rifle can be easily converted into a fully automatic version of the weapon even in the home workshop. According to the unofficial version, Canada simply decided to set up additional barriers for Chinese weapons products entering its territory, since the facts that someone in Canada simply took and remade the rifle into a fully-fledged machine gun are not represented.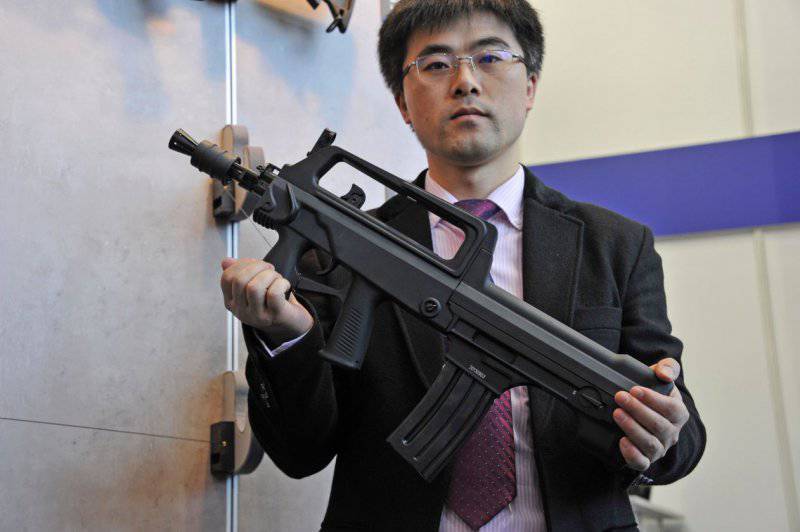 Where the base version comes with a barrel length of 18.5 inches; the ultracompact version comes with an 14,5 inch barrel length
After the ban on the Type 97A, the Chinese company decided to offer a new modification of the rifle itself. Variant of the name - Type 97NSR. The management of NORINCO was able to prove to the Canadian side that this rifle certainly couldn't be altered for more serious weapons in artisanal conditions, and the Canadians had no choice but to return to the fulfillment of contractual obligations, but for another weapon - Type 97NNSR. These rifles are imported to North America today.
At the IWA & OutdoorClassics 2014 exhibition in Nuremberg, Germany, the Chinese NORINCO presented its civilian-class semi-automatic rifle. The presentation was held at once for three variants of such weapons. In the first version, the loading process goes through the STANAG store. In this case, the standard barrel length is 47 cm. The second variant has the same magazine, but the barrel length is 14,5 inches (about 36,8 cm). And finally, the third option is designed for long-range shooting. Barrel length - over 558 mm. It uses a special low-profile magazine with a capacity of up to 5 rounds. The low profile allows an efficient approach to the preparation process for shooting from a prone position.