Protesters in camouflage blocked the exit from the building of the Verkhovna Rada in Kiev. They demand that deputies continue working without interruption and threaten some of them with beatings. On the protection of the parliament rose members of "euromaidan"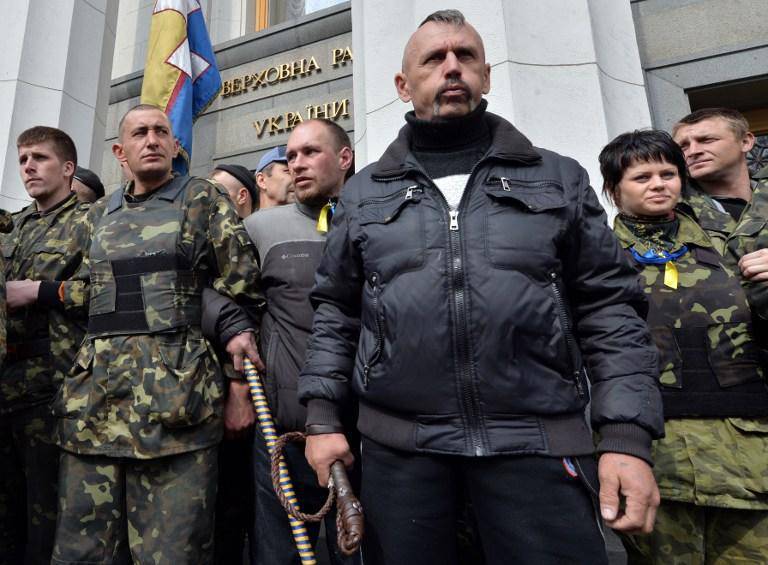 The protesters gathered at the entrance to the building of the Ukrainian parliament and demanded that the deputies abandon the traditional lunch break, Ukrainian media reported.
"If at least one deputy leaves the building The Verkhovna Rada "Break his legs," one of the protesters said.
People in camouflage, in particular, attacked a deputy from the UDAR faction, Roman Cherneg, who went outside in the usual way.
"Go and work," the assembled people cried to Chernego, after which they tried to catch him. The deputy, accompanied by security, was forced to return to the building of the Verkhovna Rada. Meanwhile, the participants of self-defense of "euromaidan" gathered near the parliament, who intend to protect deputies from possible provocations.
Protests in Kiev

On the eve of a rally in Kiev. After him, the protesters marched towards the Verkhovna Rada on Grushevskogo Street. Among them were activists of the Maidan and not indifferent Kiev residents, who demanded that they come to them. Interior Minister Arsen Avakov and Acting President of Ukraine Alexander Turchinov.
According to the calculations of journalists, there were more than a hundred protesters near the building of the Ukrainian parliament. It was also reported that the leader of the Batkivshchyna party, the presidential candidate Yulia Tymoshenko, said on television that hundreds of armed people surrounded the Ukrainian parliament building in the center of Kiev and allegedly want to overthrow the government.
However, closer to the night most of the protesters dispersed. The protesters announced that they intend to gather in the center of Kiev again in 09: 00 in the morning on April 15.
On the night of 14 on 15 in April, radicals beat presidential candidate Oleg Tsaryov in Kiev in Kiev. On the night of Tuesday, Oleg Tsaryov was blocked along with his team in the building of the ICTV channel in Kiev, where he came to participate in a live broadcast of the Freedom of Speech program, RIA reports News. The cars of the deputies were broken and the tires were cut.
For his salvation Tsarev thanked the Kiev "radicals". This is not the first beating in Tsarev's political career - he had already been beaten and threw eggs.