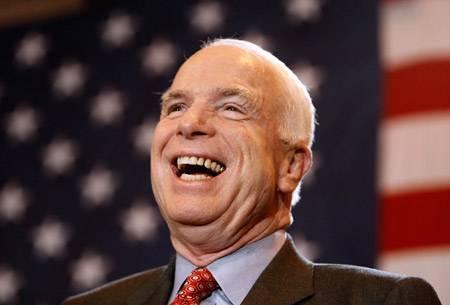 US must give Ukraine
weapon
so that she can defend herself from the imperial habits of Russia. This proposal was made by Republican Senator John McCain on Monday in the air of Estonian television. Senators McCain and John Hoven arrived in Estonia to meet with the local government and discuss the situation in Ukraine, reports RIA "
News
".
"We must give Ukraine a weapon so that it can protect itself. Now we see that Russia threatens its neighbor. It is regrettable that the United States does not give weapons to Ukraine," McCain said, stressing that "without Ukraine, Russia is just a country, and Ukraine is an empire. "
About the desire of Vladimir Putin to revive and lead the Russian empire, McCain has been talking for a long time. "This does not mean that we need to return to the Cold War, but it means that it is worth strengthening anti-missile defense, entering into alliances, helping countries get rid of energy dependence. And as soon as we understand this, we will build a realistic relationship with it," Senator last summer.
Increasingly, such proposals began to sound with the onset of a political crisis in Ukraine. The proof of Putin's aspiration to revive the empire, according to McCain, was the annexation of Crimea to Russia. "No more reboots. We will not ask Putin to pursue a more flexible policy - we must accept it as it is," the senator urged, adding that the West needs to strike at the export of Russian oil. "Russia is a gas station that disguises itself as a country. It is a kleptocracy, it is corruption, it is a nation that in reality depends only on oil and gas," said McCain.
In March of this year, the senator noted that he did not share his views on the need for military support of Ukraine and deployment of a missile defense system in Poland and the Czech Republic, but told Secretary of State John Kerry, who "took them seriously," about them.
Nevertheless, White House spokesman Jay Carney 14 April said that the US is not considering the possibility of supplying weapons as an aid to Ukraine. So far, the State Department has decided to limit itself to financial assistance and the training of military specialists involved "in the field of security."