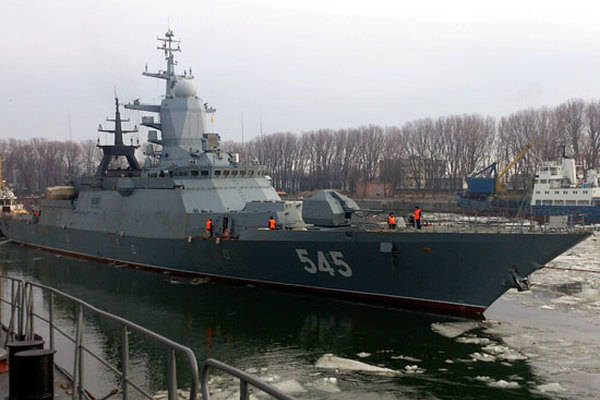 The crew of the latest Corvette "Resistant", built for the Baltic
fleet
, completed state tests in the marine ranges of the Baltic Fleet in the Kaliningrad region.
Now the corvette is returning to its place of construction - to St. Petersburg, where the ship will be inspected. After its completion, the naval flag will be raised on the corvette and the "Resistant" will be part of the Baltic Fleet, the information department of the Baltic Sea Fleet press service reported.
The first stage of the factory tests of the Stoyky took place in the sea ranges of the Leningrad naval base of the Baltic Fleet, then went to the main base of the fleet - Baltiysk. The speed, maneuverability and vibration qualities of the ship, the work of the power plant, communications and navigation systems, ship armament systems and sonar systems were thoroughly investigated.
After the factory trials, the state began, the purpose of which was to conduct a comprehensive check of the quality of the constructed ship and its compliance with the design of its tactical and technical characteristics. Representatives of the factory's acceptance team, together with the crew of the ship and members of the state selection committee, conducted the maneuverability and speed tests of the corvette, checking the work of all units, systems and components, weapons, navigation and radio equipment.
The crew of the "Stoykogo" in the naval training grounds of the BF successfully conducted missile and artillery firing at a target imitating a surface ship of the enemy. The goal was hit the first time. Shooting from 100 and 30-millimeter ship artillery systems against a towed shield was also conducted.
Air defense exercises were also held in conjunction with the naval
aviation
Baltic Fleet. An-26 aircraft performed overflights of the corvette to test its radar systems, air defense systems and communications systems. Tasks were also worked out together with the submarine.
Help "RG"
The Corvette "Resistant" - the third serial ship of the project 20380 - was launched in May 2012 in St. Petersburg. The lead ship of the series is the Corvette "Guarding", transferred to the Baltic Fleet in 2007 year.
Corvettes of the 20380 project have a 2 displacement of thousands of tons, a length of more than 100 meters, a maximum speed of up to 27 nodes, and an autonomous navigation distance of 4 thousands of miles. At their construction the technology "stealth" is used. We used the latest solutions to reduce the physical fields of the ship, in particular, it was possible to significantly reduce radar visibility. A 21 patent has been introduced into the project and 14 computer registration certificates have been issued.