When conducting combat operations, a soldier cannot be dispensed with by various special-purpose bullets: armor-piercing, tracer, incendiary, etc. Below we will discuss armor-piercing ammunition for rifle
weapons
. The main purpose of armor-piercing bullets on the battlefield is to increase the probability of penetration of various obstacles, such as the sides and hulls of vehicles, personal protective equipment, and various shelters. Such bullets are special ammunition that expands the tactical possibilities of using small arms.
In the simplest version, the pistol armor-piercing bullet is completely made of a material that is more solid than lead, for example, of brass or steel. At the same time, the use of such bullets accelerates the wear of the barrel of the weapon; because of this, the usual version of the shell bullet is used most often, in which part or all of the lead core is replaced with a core made of steel or another more hard metal. In some modifications of domestic armor-piercing ammunition for small arms at the head of the bullet, the solid core is not covered by the shell so that when any obstacle is broken through, energy is not spent on the deformation and penetration of the shell of the bullet itself by the core. At the same time, if they hit any unprotected target, armor-piercing ammunition behaves exactly like shell bullets with similar characteristics (speed and mass).
For example, the Russian pistol cartridges (5,45-mm cartridge PSM, 7,62-mm cartridge TT and 9-mm cartridge PM) have in their family bullets with conventional lead and steel armor-piercing cores. In addition to steel, tungsten carbide can also be used to make a bullet core. This material is 30% denser than lead and harder than steel, its main disadvantage is the high cost, due to the complexity and high cost of processing tungsten carbide. Another promising material for the development of cores is depleted uranium, which has an additional damaging effect.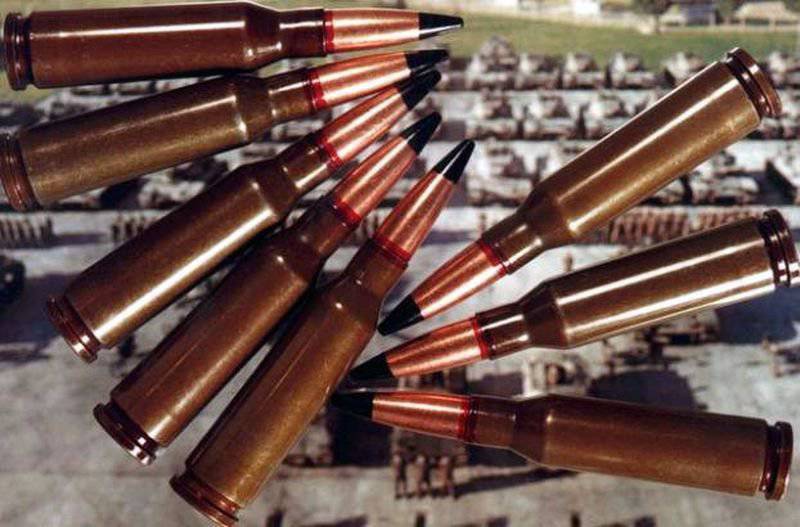 Armor-piercing bullets in comparison with conventional ammunition have the worst ballistic qualities. Since such bullets are lighter than lead bullets, they worse "hold" the trajectory when firing at long distances, they have a greater dispersion. Also, their disadvantage is a small efficiency in firing at unarmored targets. Armor-piercing bullets have a small stopping power. Such a bullet has less kinetic energy (due to its smaller mass) and does not change its shape at the moment it enters the human body. Despite this, armor-piercing bullets today are in service with almost all the armies of the world and are regarded as a rather useful type of ammunition, especially in connection with the increasing proliferation of personal armor protection means for military personnel (body armor).
Moreover, the first armor-piercing bullets were invented long before the appearance of the first individual means of armor protection on the battlefield. Initially, such bullets were intended mainly to combat armored vehicles. Even during the First World War, with the advent of the first armored vehicles on the battlefield and
tanks
there was a problem of effective struggle against them with the help of small arms. The armor of the first tanks, not to mention ordinary armored cars of that period, could provide protection for the crew and machine components only from bullets and fragments. The fire of machine guns and rifles with ordinary lead bullets was useless even against the lightest armor. But the gunsmiths were able to very quickly find a way out of this situation. They increased the strength of the bullet due to the inclusion of a steel core in its design.
The Second World War and all subsequent local wars and conflicts clearly demonstrated the increased importance of the use of armor-piercing bullets for handguns (pistols, machine guns, rifles, machine guns), as well as large-caliber machine guns, which can be used as an effective means of supporting infantry on the battlefield ( machine guns) or armored vehicles, helicopters, UAVs and airplanes.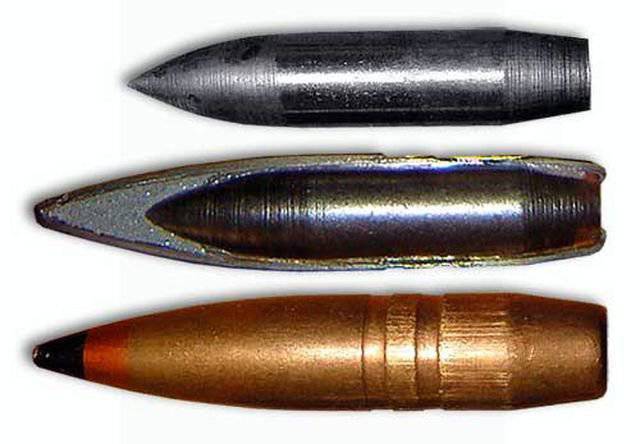 12,7-mm bullet 57-BZ-542 in section
One of the most important characteristics for any armor-piercing bullet is its penetration or penetration. Punching action is the depth of penetration of a bullet into an obstacle that has a certain density. This characteristic of ammunition directly depends on the caliber of the bullet, its mass, initial speed, design and shape, the angle of encounter with the barrier and its density. Any armor-piercing bullet demonstrates the greatest penetration effect at an angle of encounter with an obstacle around 90 degrees. It is not for nothing that designers of armored vehicles prefer the use of oblique armor, which provides it with the highest level of protection against damage by various penetrating-type armor-piercing ammunition.
The greatest armor penetration has cartridges of caliber 12,7-mm. For example, the widely used 12,7-mm armor-piercing and incendiary cartridge 57-BZ-542, which is used in the UHF-12,7 "Rock", "Kord" machine guns, is able to penetrate up to 20-mm armor on distance to 100 meters. The armor plate of this thickness makes its way in at least 90% of cases. In this case, the incendiary effect of a bullet on gasoline, located behind the 15-m armor plate, at a distance of 70 meters is at least 75%. It is rather simple to distinguish a domestic armor piercing bullet from a usual one, its upper part is painted black. The armor-piercing incendiary bullet has a red border around the black tip.
In the creation of armor-piercing ammunition for small arms our gunsmiths occupy a worthy place, and Russia is one of the leaders in this direction. Our gunsmiths succeeded in creating a whole series of armor-piercing cartridges for all the main models of Russian small arms, starting with 7,62 and 12,7-mm armor-piercing cartridges (40-50-s) and ending with modern 5,45 XXNXX, 39 XX9 and 21 XXNXX-mm armor. At the same time, the Soviet and Russian designers managed to develop not only armor-piercing ammunition with high penetrating ability, but also ensuring a sufficiently high accuracy in firing bullets of complex design, which is difficult enough to provide technologically.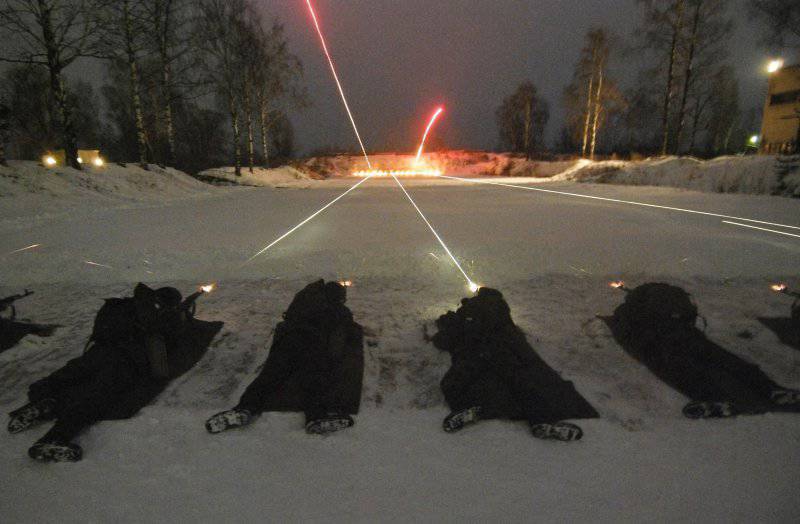 In modern armies, armor-piercing bullets are used primarily to combat enemy manpower, protected by body armor or located behind various shelters, to defeat unarmored and lightly armored vehicles and enemy fire weapons, as well as to defeat various air targets. The use of armor-piercing bullets became especially relevant in 1970-80-s, when individual armor protection began to appear in large quantities in the armies of modern armies, first of all - body armor.
The core of armor-piercing bullets is usually made from various grades of high carbon steel, as well as its alloys (high alloy steel with the addition of tungsten). In this case, the core of the armor-piercing bullet is located inside its body (shell) in a special lead shirt, which provides it with a fixed position and facilitates the bullet penetration into the grooves of the barrel, protecting the barrel itself from premature wear. Most often, the shell of an armor piercing bullet is made of bimetal. The vast majority of modern bullets use tompack-alloy, which on 89-91% consists of copper and on 9-11% of zinc. The shells of armor-piercing cartridges are no different from ordinary ones; they are made of mild steel or brass coated with varnish or tampac. In all modern ammunition for small arms, pyroxylin powder is used as a propellant charge.
In most modern ammunition, the action of armor-piercing bullets is combined with incendiary (such bullets are called armor-piercing-incendiary) and tracer (armor-piercing-incendiary tracer or armor-piercing tracer). Such ammunition combines optimal armor-piercing action with incendiary. Most often incendiary composition is placed in the back of the bullet and is a self-igniting substance with enhanced initiating properties.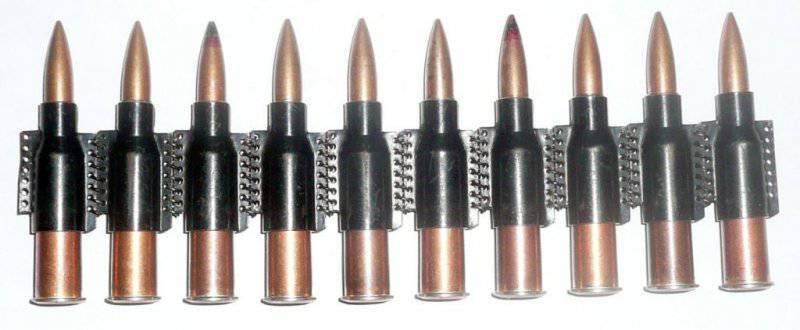 At the same time, in modern military operations, the role of such ammunition for combating enemy manpower, protected by body armor, has increased substantially. However, to fully ensure small arms only with armor-piercing ammunition makes no sense, since they are more expensive to manufacture, and real combat operations require the presence of ammunition with different characteristics in the soldier's ammunition. For successful performance of combat missions, machine-gun belts or machine gun shops can be loaded with various ammunition, with their subsequent alternation.
For example, to conduct a night battle, an automaton or machine gun can be equipped with one cartridge with a tracer bullet, two with an ordinary bullet and one with an armor-piercing bullet, and so on. If stealth is required from a soldier or unit, then when arming shops and ribbons, ordinary bullets can be alternated with armor-piercing incendiary. For example, in the mountains, day and night with the help of armor-piercing incendiary bullets, it is convenient to adjust the fire, guided by the ruptures of such bullets on stones. To effectively defeat air targets, every third or second cartridge must be tracer.
Information sources:
http://vooruzhen.ru/news/139/6172
http://www.straikbol.ru/weapons_and_equipment/2013/11/14/broneboynye-puli.html
http://world.guns.ru/ammunition/pistol-cartridges-r.html
http://vitaly.chuyakov.ru/337-puli-bronebojjnye-zazhigatelnye-trassirujushhie-i.html