Probably, many owners of a personal car would dream of refueling it not with gasoline, but with ordinary water. This way of refueling would greatly simplify everyone's life and save extra rubles. But such thoughts in most of us will only cause a smile. However, we live in a world in which the most impossible, at first glance, things can be implemented in practice. Currently, the US Navy is seriously involved in sponsoring the creation of fuel based on ordinary sea water. The goal of the U.S. military is to ensure its naval
fleet
fuel obtained from sea water. A facility that is capable of generating fuel from water was introduced by the U.S. Navy Research Laboratory (NRL) on April 7, 2014.
Currently, most American warships are powered by hydrocarbon fuels. For this reason, the cruising range of combat ships is limited by the capacity of their tanks. Partly, this problem can be solved by special ships - tankers, refueling, which accompany the American carrier-based groups. Today, nuclear reactors as the main power plants are installed only on American submarines (nuclear) and aircraft carriers, while all other escort ships operate on a more conventional type of fuel. In the Russian Navy, nuclear reactors are installed on the 1144 Orlan heavy missile cruisers, these include the Peter the Great heavy nuclear missile cruiser, as well as submarines (nuclear). At the same time, refueling ships at sea is not the easiest task, especially in bad weather, the refueling process can take several hours and requires complicated maneuvers.
The US Navy believes that they managed to find a solution to this problem - in carbon dioxide (carbon dioxide CO2). The idea is to extract it and hydrogen (H2) directly from seawater. In the future, CO2 and H2 can be quite easily converted into fuel, refueling ships right during the hikes. This perspective is very much like the military. In fact, at present, the US Navy needs to contain 15 tanker ships, which are able to transport up to 2,27 billion liters of fuel to refuel warships at sea. All this requires the competent solution of quite complex logistical tasks to support fleets at sea and requires constant monitoring of all maritime communications that may be needed to ensure supplies.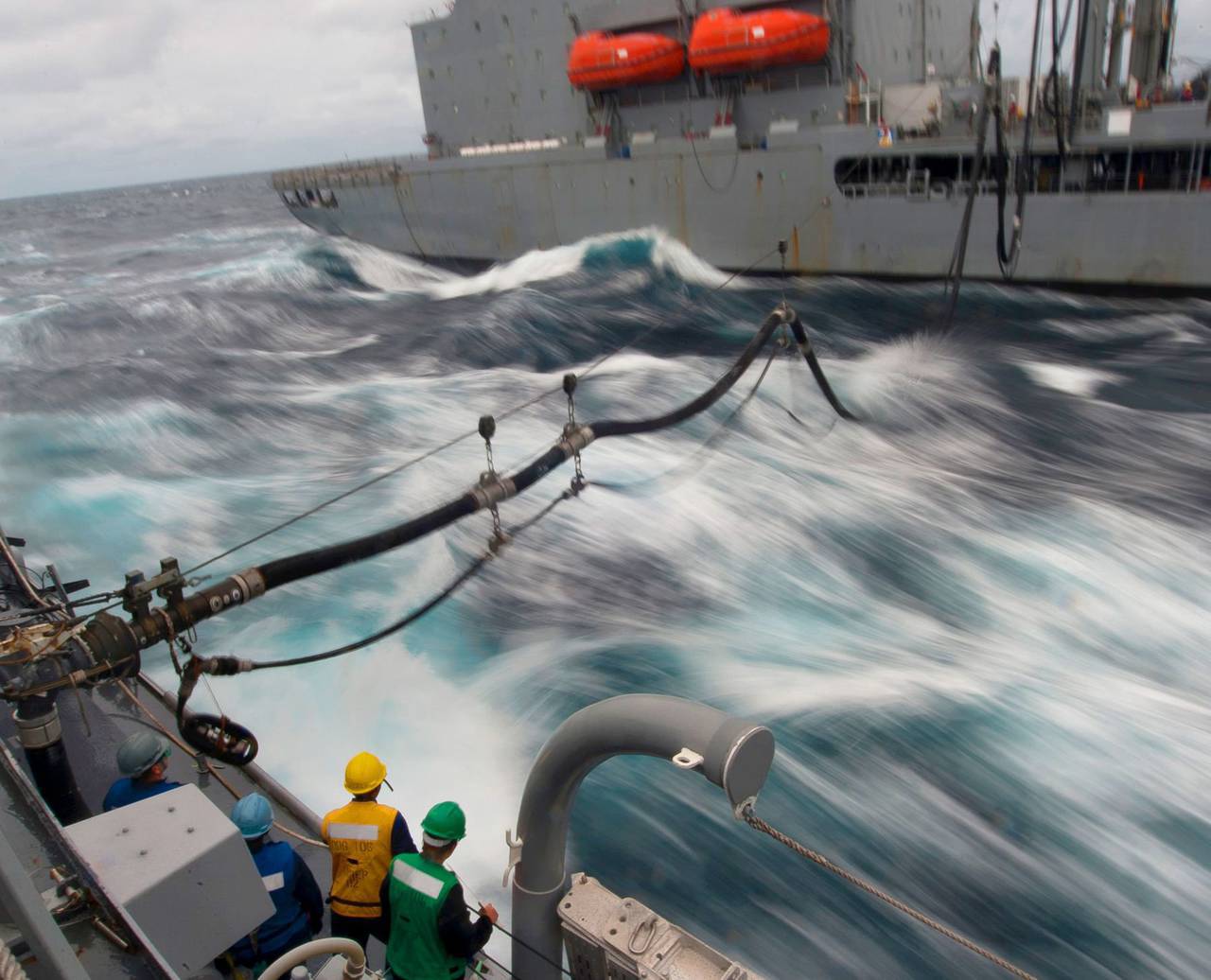 Ship refueling at sea
The concentration of carbon dioxide in sea water is approximately 140 times higher than in the atmosphere and only 3 times less than, for example, in the smoke of the pipes of a combined heat and power plant. In this case, 2-3% of carbon dioxide is presented in the form of carbonic acid (H2CO3), and the rest - its esters and salts: hydrocarbonates (96-97%) and carbonates (1%). It is worth noting that in combination with H2 carbon dioxide is a ready-made raw material that can be used to synthesize hydrocarbon fuels.
However, the two most important problems remain: how to simultaneously extract the necessary CO2 and H2 from sea water, and how to efficiently synthesize them into a hydrocarbon fuel that would be suitable for use. NRL specialists say that they managed to resolve both issues, but for the time being they have not disclosed specific details. It is reported that the new technology received the designation GTL.
The "heart" of the installation, which was demonstrated by 7 in April, is a special E-CEM module - a module of electrolytic cation exchange, which, according to the developers, is able to separate CO2 and H2 from sea water with very high efficiency 92%. The gases thus obtained are subsequently converted into liquid hydrocarbons. Under normal conditions, this would be methane (CH4), however, due to the use of specially selected catalysts (the authors keep the chemical formula in secret), the output succeeds in obtaining comparative long alkenes (ethylene hydrocarbons) in 60% of cases.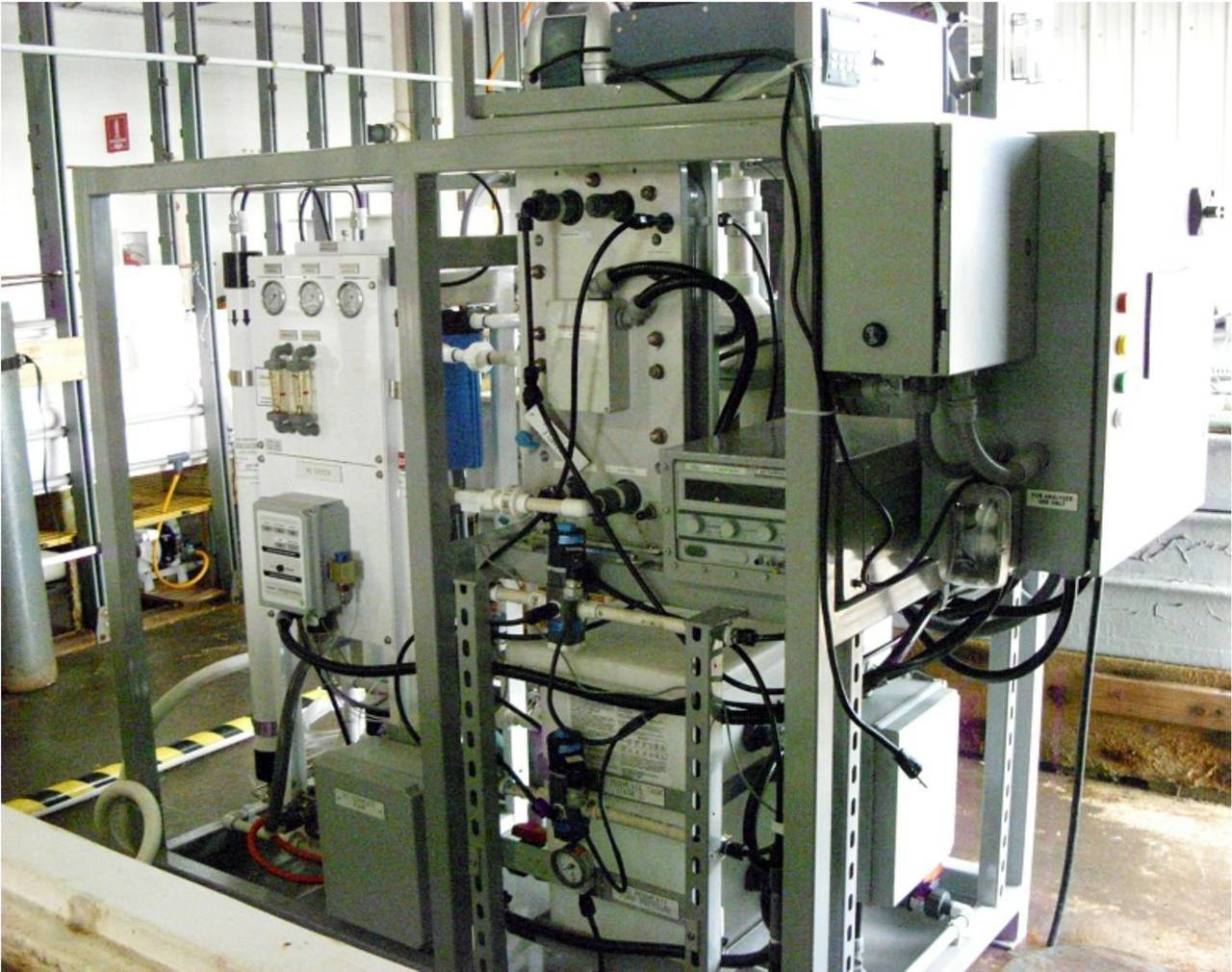 Electrolytic cation exchange module
Such hydrocarbons can already be used in modern chemical industry, as well as in some types of fuel. Subsequently, using controlled polymerization, they are converted into long chains, which already contain from 9 to 16 carbon atoms. Such indicators are close to the fuel that is used today in internal combustion engines - internal combustion engines. For example, gasoline contains fractions of carbohydrates in the C5-C12 range, kerosene - C9-C17, diesel fuel - C8-C24.
Until recently, such technologies could be observed only in laboratories that were engaged in the release of a few milliliters of fuel. However, the American scientists from NRL managed to scale this technology for the first time; moreover, they say that it can be used in the navy practically on an industrial scale.
The fact that the fuel obtained in this way can really make the engines work was demonstrated on a small radio-controlled demonstration aircraft. The radio-controlled model of the American fighter of the Second World War P-51 Mustang was fueled with fuel derived from sea water. The radio-controlled model, equipped with a small internal combustion engine, clearly demonstrated the potential of technology for producing carbon dioxide and hydrogen from seawater with their subsequent transformation into fuel. It is especially emphasized that the developers did not make any changes to the small two-stroke motor of a radio-controlled aircraft. With experimental fuel, a toy plane flew no worse than normal. According to the authors of the project, on real ships and airplanes, no alterations of internal combustion engines will be required either.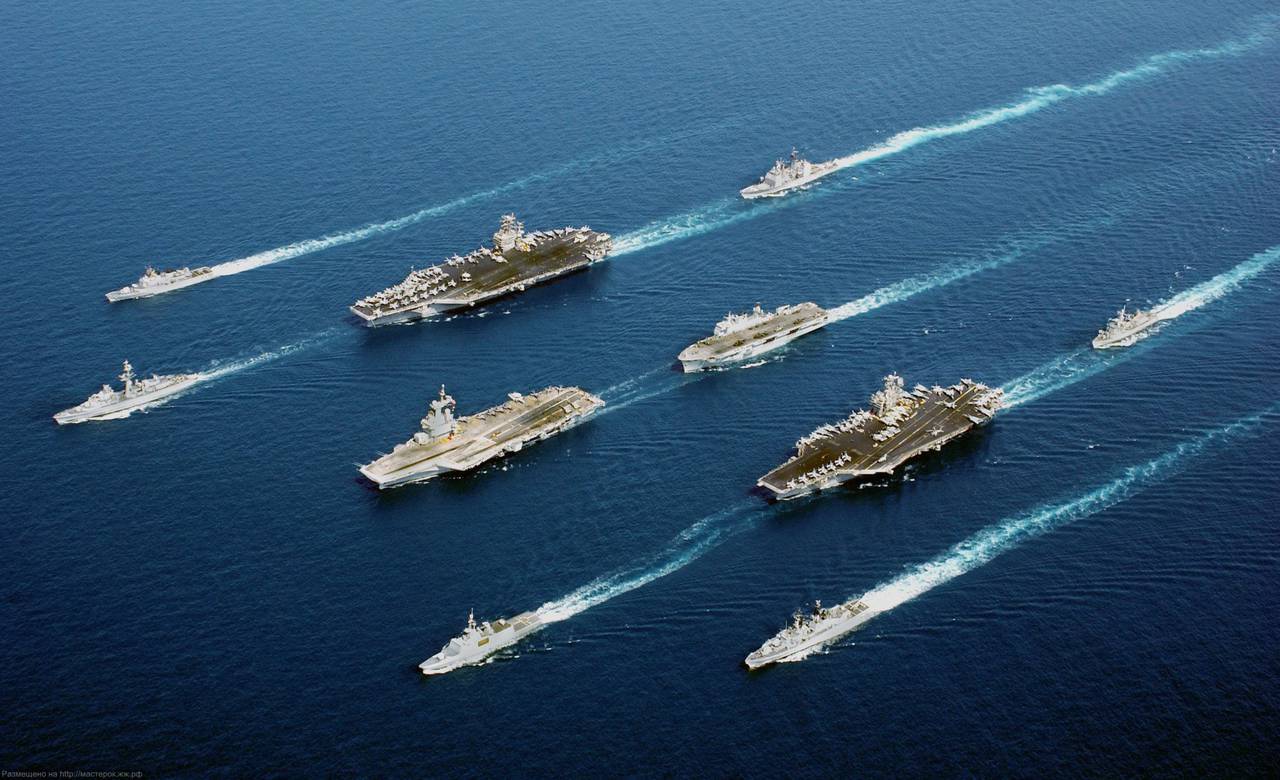 Scientists estimate that the cost of fuel derived from sea water will be only from 8 to 16 cents per liter. However, at the moment, the main problem of the whole project is scaling: the experimental setup available to the NRL is still not powerful enough to provide the entire ship with fuel. The creation of a full-fledged industrial installation can take at least 7 years, provided that the project will be funded in sufficient amount. By this date, the developers promise to build a full-scale ground processing plant, a floating installation option can be born much later.
According to the scientists working on this project, GTL technology can become commercially viable after about 7-10 years. The main work is now underway to create a more powerful installation. If these works end successfully, the fleet will have a real opportunity to provide fuel to remote ships, in particular, aircraft carriers and naval bases. Carriers that will be able to independently provide their escort ships with fuel will be able to significantly increase the combat stability and autonomy of the AUG - carrier strike groups. Currently, the United States Navy has 11 AUG on alert. 10 have the home ports of the naval base in the United States, one - the base in Japan (Yokosuka).
It is worth noting that not everything is so rosy on this issue, although progress has been made. The process of producing fuel from carbon dioxide and hydrogen, derived from seawater, is itself quite energy intensive. In order to produce fuel on board a warship, free energy is needed. Even when the ship does not need its own hydrocarbon fuel resource (as with nuclear aircraft carriers), it will need an increased amount of energy from other sources, which will be spent on the production of fuel from seawater. And this again brings us back to where we started - to the problem of refueling, although in a somewhat different aspect.
Information sources:
http://rnd.cnews.ru/army/news/top/index_science.shtml?2014/04/08/567300
http://rusplt.ru/world/dvigatel-na-morskoy-vode-9193.html
http://www.popmech.ru/article/11803-korabl-na-vode