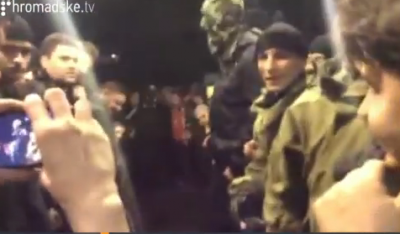 Ukrainian presidential candidate Oleg Tsarev was severely beaten by radicals, he was barely able to be beaten off from the Maidan activists, the deputy is in serious condition, the press service of the people's deputy said.
"It was with great difficulty that Oleg Tsarev recaptured the furious militants from the state security officers. As the assistant to the people's deputy, who was next to him during the events, Oleg Tsarev left the building of the ICTV channel about an hour ago. He was severely beaten and is in serious condition, "the press service said in a statement, RIA"
News
».
The press service of Tsarev also reported that he was taken away from the radicals by the Kiev police, who agreed with the attackers, that the paddy wagon would arrive for Tsarev and take him to the SBU.
People's Deputy Oleg Tsarev on Tuesday night was blocked along with his team in the building of the ICTV channel in Kiev, where he came to participate in a live broadcast of the Freedom of Speech program. The press service of the deputy also expressed concern for the life of the presidential candidate and his team. It was clarified that the cars of the deputies were broken, and the tires were cut.
Earlier it was also reported about the attack on another presidential candidate - Mikhail Dobkin. The radicals smashed his car and poured green paint over the candidate himself.
Earlier, the radicals have repeatedly attacked presidential candidates. So, on Wednesday, Ukrainian presidential candidate Oleg Tsarev was attacked in Nikolaev. Video of the incident is available by reference (there is profanity - approx. LOOK). Responsibility for the attack took the militants "Right Sector".
On Thursday, the presidential candidate of the Party of Regions, Mikhail Dobkin, was beaten at the entrance to the building of the SBU in Lugansk, taken under control by supporters of federalization.
On Thursday in Odessa, the activists of euromaidan threw the eggs of presidential candidate Sergei Tigipko with eggs.