About 15 people suffered as a result of a fight in Mariupol, where two groups of citizens held rallies near the building of the Municipal Government. "Among those present were people with different views regarding the political situation in the country. As a result, a conflict arose between opposing protesters that resulted in the infliction of bodily harm. About 15 people were injured, "the press service of the Mariupol GU MVD in the Donetsk region reports.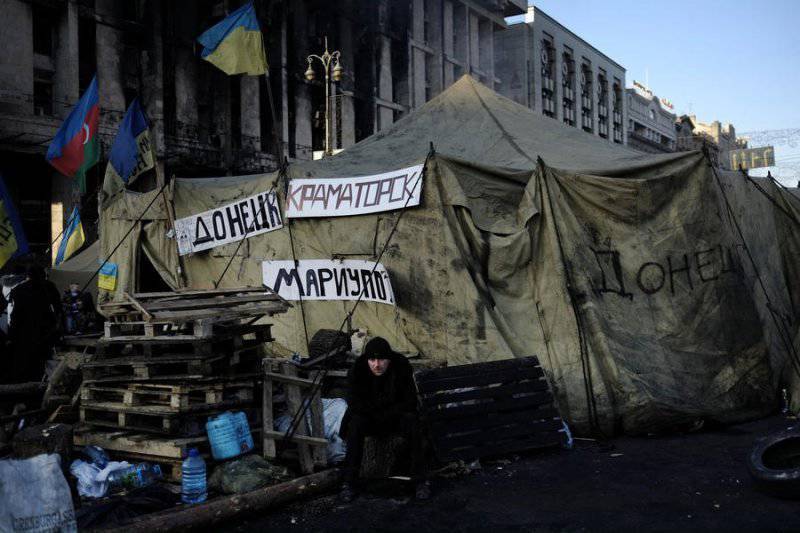 Also received operational information about the possible violent seizure by protesters of the police building, - reports Interfax-Ukraine. "However, the necessary security measures have been taken so far, and this message is being checked. The similar situation developed with a military unit of internal troops », - it is noted in the message.
Meetings of supporters of federalization from March are held on eastern Ukraine - in Donetsk, Kharkov and Lugansk, their participants demand to hold referendums on the status of their regions. On Saturday, the protests spread to several cities in the Donetsk region - Slavyansk, Mariupol, Yenakiyevo, Kramatorsk and a number of small towns. On Sunday after the rally for the creation of the Donetsk Republic, supporters of the federalization of Ukraine occupied the building of the city council of Mariupol.
Appointed by the Verkhovna Rada. president Ukraine Oleksandr Turchinov signed today a decree on the start of a special operation in the eastern regions of the country covered by protests. He will personally lead the operational headquarters. The immediate implementation of the special operation will be handled by the first deputy head of the Security Service of Ukraine, Vasily Krutov.
In turn, the Russian Foreign Ministry warned the Kiev authorities that if the Rada decides to use force during the settlement of the situation in the south-east of Ukraine, the Russian cooperation with Kiev in this matter will be undermined. This was stated by Foreign Minister Sergei Lavrov at a meeting of the World Coordinating Council of Russian Compatriots.