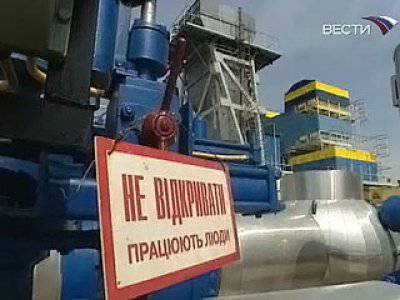 Ukrainian pseudo-power continues to claim a place in the Guinness Book of Records in terms of the number of absurd decisions made. The head of the Ukrainian National Bank, Stepan Kubiv, added the next "points" to the piggy bank of records of new Kiev "authorities", who said that Ukraine is not going to pay Russia $ 485 for 1000 cubic meters for gas and will simply ignore the cancellation of discounts on blue fuel supplies. At the same time, Kubiv even himself determined what the "red price" of Russian gas is for Ukraine today, and voiced this price: $ 386 - neither a cent more, nor a cent less! It is at this price that Ukraine, according to the head of the National Bank, will buy gas from Russia. Ready to buy ...
Stepan Kubiv added:
Ukraine has always paid its creditors on time. Based on market and contractual prices, we will pay all our debts, otherwise it can not be.
Well, after all, this Kubiv is lying and does not even blush.
Stepan Ivanovich, and "in time" is, forgive, in your opinion, how? If the Ukrainian "accuracy" is when two or three months after they start beating the rail with a crowbar, then yes, in time ... But accuracy, as you know, is the politeness of the kings, and nobody seems to have declared himself king in Ukraine. There is a self-proclaimed acting president, there is a self-proclaimed prime minister, there is no self-proclaimed monarch ...
And what is, Stepan Ivanovich, "based on market and contractual prices"? Apparently, "market" and "contractual" prices are the prices that Ukraine itself sets on the basis of some of its own "market" realities. The contract from 2009 of the year, in which all sanctions for late payments are stated, Kiev is stubbornly ignored, and Ukraine is ready to act in international arbitration in Stockholm (it just so happened: without Sweden in Russian-Ukrainian issues it's traditionally nothing ...) to get legal grounds for cancellation of the contract between Gazprom and Naftogaz.
That is, after all, the price in 485 "bucks" Kiev does not suit. Surprisingly ... But the Kiev "democrats" were shouting with all their might that Tymoshenko, who had signed the same agreement in 2009, under the very same conditions, had imprisoned him illegally. They shouted that, they say, she did everything for the welfare and prosperity of Ukraine, but Yanukovych did not appreciate this, and the court did not appreciate it ... It turns out that they were still in a hurry with her triumphant release from prison. It turns out that a woman with a scythe is still guilty ...
So, the head of the National Bank of Ukraine "himself" determined the price at which Ukraine would buy gas from Russia. Interesting movie! And when will everything be as easy with us as this Stepan Ivanovich. We want gasoline for 30-35 rubles not to buy per liter, but only for a full tank ... We want utility bills, gas, and electricity not for 5-7 thousand rubles, but, for example, a thousand - no more. But they will say only to us on these "Wishbones", except that: look for gasoline at 30 rubles for a full tank not in this life. Well, or just send it far away - at a very, very far gas station ...
It is noteworthy that Kubiv dictated his price to Russia not even from Kiev, but from Washington. Considering the fact that today Washington is the new capital of Ukraine, it seems, the tendency to articulate prices, conditions, claims and other things to Russia by the Ukrainian "authorities" does not look strange from there. We noticed that all of their enchanting thoughts of the ukrovlasti are expressed either when visiting Washington, or after visiting it, or after guests from this locality themselves visit them. If the city that bears the name of the first American president is not yet officially designated as the Ukrainian capital, then what is the matter? - Ukrainian authorities do not need to be shy, you need to call a spade a spade ...
It remains to wait for the official reaction of the Russian authorities. Of course, a compromise can and should be made, but only a) with whom to go? b) for what purpose to go? After all, today at the power in the National Bank Square - Kubiv, tomorrow - there is no Kubiva, the day after tomorrow - they completely forgot what a kind of Kubiv ... Agreed with Kubiv (th) - so look for Kubiv (a). Approximately in this way today, Ukraine's business is conducted with other states.
If we now make a compromise with this "power", then this will mean the actual recognition of the Kiev self-proclaimers. But they are just waiting. They will understand that Russia is ready for $ 386 - tomorrow they will come up with new "market" recalculations, saying that they are ready to pay no longer $ 386, but, offhand, according to 250. Like, for your undemocratic gas and 250 - a lot ... The commercials will feel more powerful in their power to dictate prices, because behind the back is the "capital" ...
In this regard, today, agree with the "conditions" of the head of the Ukrainian National Bank - not just more expensive, but will not fit into any gate at all. Russia is ready to support the normalization of the situation in the neighboring state, and President Vladimir Putin has repeatedly spoken about this, but to do it alone, and even on conditions that run counter to the interests of Russia itself - too much. If Washington is so important "democratic" transformations in the Square, then why not just share 99 dollars to those 386 that can afford to pay Kubiv and all ukroeconomy for 1000 cubic meters of gas ... For trillions of American debt, this is utter nonsense: include "Typographic" machine at the time of the lunch break at the Fed - and all things ...