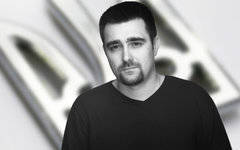 A resident of Sevastopol Platon Besedin on double Ukrainian standards
This text is not for everyone. Only for friends and acquaintances, ardent supporters of Euromaidan. A kind of letter. So if you suddenly come across - you can skip, do not read.
However, in a letter to friends, acquaintances have their advantages. It is possible not to use round phrases, not to be soared over tolerance and not to try to select words at all. So this letter is in a trusting tone, without confusion and euphemism. Could it be otherwise between friends, acquaintances? ..
You often write, call me. Especially those from the "mainland Ukraine". Activated when Euromaidan started, and became frequent during the Crimean referendum.
They started the conversation from afar, but inevitably reduced them to politics. "Are you digging trenches? Are you armed with sticks? "- you were joking, and then you switched to the main thing - to the superiority of your ideology over mine. You did it so confidently, so often and eagerly that sometimes I myself began to believe that my ideology was really the one you are talking about, and more and more doubted the validity of Euromaidan.
After 16 March, you began to greet me differently. The arsenal of phrases was not rich: "Hello, unwashed Russia!", "Did you not die of hunger there?", "Were you not killed yet?" Then - according to the list. Confidence in who the Crimea did wrong. Accusations of separatism, betrayal. Strange questions about passports. And, finally, for how much homeland sold.
I understand, it is necessary to speak out. Who but a friend, a friend? Especially since psychotherapists are now expensive, and work is getting worse.
But why these new, even more vicious questions about the events in Donetsk, Lugansk and Mariupol? Besides, judging by your rhetoric, you yourself are ready to respond, but objections, on the contrary, are not acceptable. But they will.
Because, sitting on a beautiful Sevastopol hill, I see a different picture than you. Sorry, apparently, Putin's propaganda completely disfigured my already poorly functioning brain, but I really don't understand.
I do not understand when you say: "The situation in Lugansk and Donetsk is fundamentally different than on Euromaidan."
Why? Find what is called ten differences.
"We," you declare, friends, acquaintances, "stood on Euromaidan against the government that is not pleasing to us." But unless those who rally in Donetsk or Lugansk, did not come out against the disagreeable government - the junta, as they call it?
"Our demonstration was peaceful," you say. And their demonstrations were aggressive, when people initially, prior to the seizure of the regional administration, wanted one thing - to be heard? Instead, the junta, as they call it, arrested their leaders and sent their people to the places.
Didn't you, Olya from Kiev, or you, Slava from Bila Tserkva, said that in Donetsk there was one trash, alcoholics and moles, unable to utter words? So - they peeped.
But you, friends, acquaintances, having deprived them of the right to be themselves, said: "No, they are not residents of Donetsk and Lugansk: they are paid Russian activists". Who exactly? Where is the list? Give specifics! Family of medics, my good friends, from Mariupol, who came to the rally, are paid activists? Tell them: let them rejoice at money, albeit hypothetical.
But to whom am I appealing? To those who still believe that in the Crimea, people went for the Russian petrodollars, in the name of Putin, and went to vote at gunpoint?
You, friends, acquaintances, confuse Russian flags in Donetsk, Lugansk, Kharkov? And they were annoyed by the American, Polish, German flags on Euromaidan. Are you talking about the Russian influence in the East and South-East of Ukraine? By the way, have you seen many Russian politicians there? But katrinesthoons, victorians, jeffrypayeta, like Khreshchatyna prostitutes during the "Euro-2012", grazed on Euromaidan regularly. Oh, I'm sorry, they were present as notorious independent observers, right? Then why, when armed activists seized the buildings of the ministries, with the request to release them they appealed to the American ambassador Jeffrey Payette? And - lo and behold! - he helped.
Although what am I talking about? What kind of armed activists?
Weapon
because only in Donetsk and Lugansk. He was distributed by minions of Putin and Yanukovych ... By the way, who exactly? You really decide.
On Euromaidan, of course, there was no weapon. "Berkut" poured barehanded, the building took the power of thought. Western investors did not contribute. Nobody took warehouses with weapons in Western Ukraine. And Sashko Bily himself shot himself twice in the heart.
You see, friends, acquaintances, when you call, write to me, provoking endless disputes that there is a huge, fundamental difference between what is happening on Euromaidan and what is happening in Eastern Ukraine, I remember the policy of double standards. But, as a rule, it is conducted deliberately, to those who initially understand that he is lying.
You are sacredly sure of your rightness and innocence. As if you are showing two identical walls, but on one you see sacred patterns and symbols, and on the other, secret signs of hatred and destruction. But the walls are the same. The question is solely in your perception.
Therefore, listening to you, friends, acquaintances, I often recall the definition of "nonsense." When the adequate perception of reality is broken, the causal relationships are lost, and the logic is rejected as superfluous. This happens in people with mental disorders, but you, friends, acquaintances, people — well, except you, Alex, are adequate, conscious, and not without reason call yourself "svidomymi Ukrainians." Surely your delirium Svidomo?
You have the right, what is there. Pluralism of opinions, all things. And it's not about who is right and who is to blame. We all have good eagles, as the classic used to say.
The question is different. The fact that while you measure other people with your own measure, it will be impossible to understand them. So, conflict is inevitable. And there will be no winners in the current Ukrainian reality, everyone will be guilty. What Svidomo nonsense under the excuse or tying.