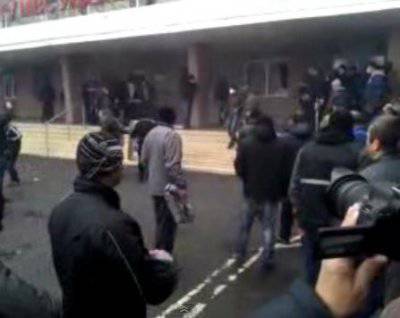 In the town of Gorlovka, Donetsk region, protesters blocked the central street, blocking the passage to the city administration building of the Ministry of Internal Affairs. Supporters of the federalization of Ukraine also penetrated the premises of the city police department.
Several hundred supporters of the federalization of Ukraine entered the building of the city police department in Gorlovka, Donetsk region, reports RIA
News
. Earlier, protesters entered the courtyard of the building. The sound of gunfire was heard outside.
In addition, the protesters got up with a human shield on Lenin Street and do not allow cars to the ATC building. There was a big traffic jam on the street. Transport can not travel to the railway station, as well as in other directions. Cries are heard: "The police with the people!".
The protesters called the government illegitimate and demanded that the head of the Gorlovsky police be changed.
Meetings of supporters of federalization since March are held in the east of Ukraine - in Donetsk, Kharkov and Lugansk, their members demand to hold referendums on the status of their regions. On Saturday, the protests spread to several cities in the Donetsk region - Slavyansk, Mariupol, Yenakiyevo, Kramatorsk and a number of small towns.