12 April 2014 at the American shipbuilding enterprise Bath Iron Works of General Dynamics corporation in Bath (Maine) was held for six months late with the official ceremony of the baptism of a new type of destroyer of the United States Navy destroyer Zumwalt. Initially, the baptism ceremony was scheduled for October 1000 19 (even before launching), but due to the then default of the American government, it was postponed several times.
Bath Iron Works received a US $ 10 billion worth of US Department of Defense contract to build the lead ship DDG 1,4 Zumvalt 1000 February 14. The actual construction of the Zumwalt at the shipyard began on February 2008 11 of the year, and the official bookmark ceremony took place on November 2009 of the year 17. The ship was launched without much publicity on 2011 October 28, and is now in the process of completion afloat. Under the terms of the contract, the initial time for the transfer of the Zumwalt to the United States Navy for the testing program was in April 2013, but then it was postponed for a year, and now the start of testing is expected at best at the end of 2013. Entering the destroyer in the US Navy will be possible no earlier than 2014 year.
In 2009, the US Department of Defense made the final decision to limit the series of DDG 1000 Zumwalt-type ships to just three units. From the year 2010, Bath Iron Works is also building the second homogeneous destroyer DDG 1001 Michael Monsoor (his official bookmark ceremony was held on 23 on May 2013). The third ship DDG 1002 Lyndon B. Johnson was launched by building at the Bath Iron Works at the start of 2013.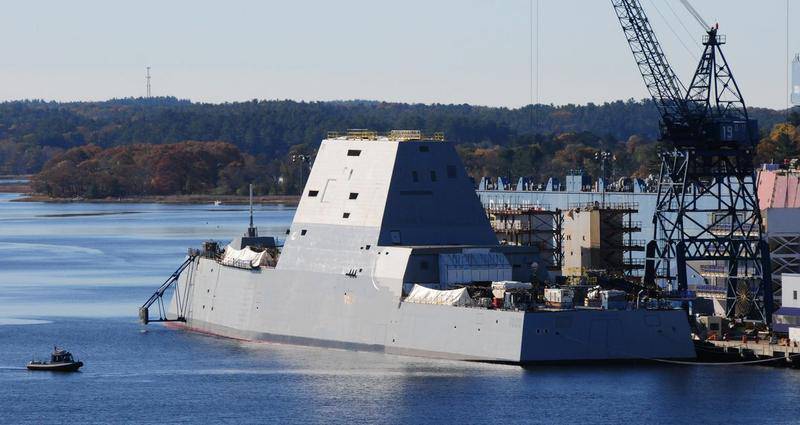 The squadron destroyer DDG 1000 Zumwalt, who is being built for the US Navy at the Bath Iron Works enterprise of the corporation General Dynamics, a day before the baptism ceremony. Bath, 11.04.2014 (c) Halidon / www.militaryphotos.net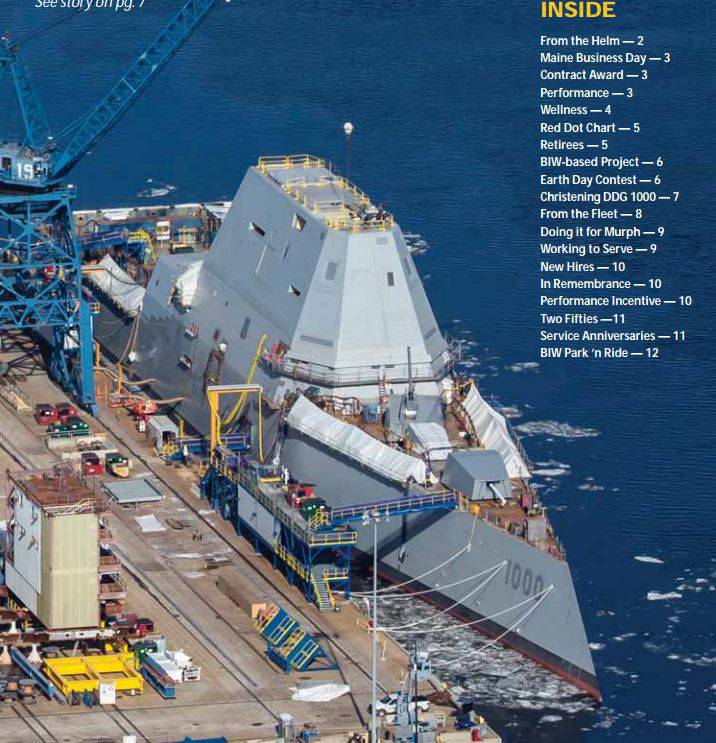 High-quality photo of the destroyer DDG 1000 Zumwalt being completed at the Bath Iron Works enterprise as of January 2014 of the year (c) snapshot of the factory newspaper of the Iron Iron Works shipyard for March 2014 of the year / www.militaryphotos.net
The squadron destroyer DDG 1000 Zumwalt during the baptism ceremony, which is being built for the US Navy at the Bath Iron Works corporation of General Dynamics Corporation. Bat, 12.04.2014 (c) Sam LaGrone