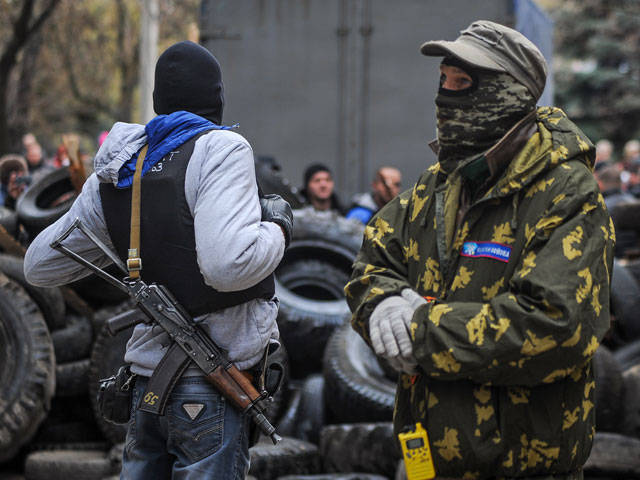 In the cities and towns of the Donetsk region are growing new barricades. According to the latest data, the city executive committee in Makeyevka came under the control of supporters of federalization, where about a thousand people are going to keep the defense. In Mariupol, after the rally for the creation of the Donetsk Republic, the city council was occupied. In the homeland of Viktor Yanukovych in Yenakiyevo, under the control of self-defense, the city council, the prosecutor's office and the city police department. Last weekend city councils, police departments and the Security Service of Ukraine in Krasny Liman, Kramatorsk and Druzhkovka are also busy. In Donetsk itself, a volunteer is recruiting near the city occupied by the protesters of the Donetsk Regional Administration, who are going to go to other cities of Donbass.
In Lugansk, in the ring of barricades - the local branch of the SBU, which was taken under control by supporters of federalization. They are preparing for a possible assault, and local residents bring food and water to the fighters of self-defense. In addition, according to recent reports, the police have already moved to the side of the protesters. In Kharkov, thousands of people came to the building of the City Council, and on Monday, April 14, they plan to gather at Freedom Square. In Odessa, after a rally of many thousands on the Kulikovo Field, people went to the port to protest against the possible mooring of the American destroyer. The leaders of the protesters did not rule out that Odessans could go on to more active actions. Later it became known about the picket at the city branch of the SBU.
In Zaporizhia, a rally at the Walk of Fame ended in clashes between supporters and opponents of federalization, reports the Russia 24 TV channel. There, evromaydanovtsy for seven hours kept their opponents surrounded, and all this time they threw people with eggs, flour, and milk bags. All this - under the insulting cries and demands to kneel. Radicals were many times more, but none of the supporters of federalization did not obey. Officially, the victims are not reported. Then all those who spoke out against Kiev were taken to the police.