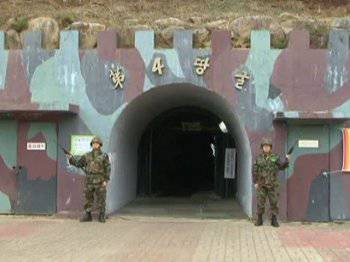 South Korea has shown journalists a secret tunnel on the border with North Korea. The military found him back in 1990 year, in the border of the South Korean province of Gangwon. Presumably, with his help, the DPRK military penetrated freely into the Republic of Korea.
Construction of secret underground passages for the DPRK is not new. Under Pyongyang there is a whole network of secret tunnels. They were built in the 50-ies, shortly after the signing of the armistice agreement, which put an end to the Korean War. The tunnels are connected between several strategic sites, and in case of an emergency, high-ranking officials can with their help leave the capital and even move to China.
Relations between South and North Korea sharply worsened last year due to the death of the South Korean corvette "Cheonan" and the shelling by the North Korean artillery of Enphendo Island. Both cases resulted in the death of South Korean citizens. North Korea recognized the shelling of the island, but denies any involvement in the sinking of the ship. In Seoul, they are sure that the Cheonan was killed by a torpedo launched from a North Korean submarine.