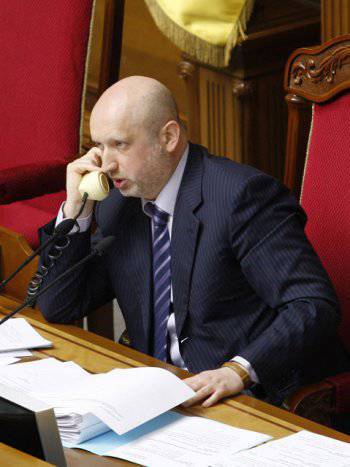 The president of Ukraine, appointed by the Verkhovna Rada, Oleksandr Turchynov, announced the beginning of an anti-terrorist special operation in the east of the country. By decision of the National Security and Defense Council, the army will participate in the operation together with the SBU.
Turchinov stressed that he hopes to avoid a repetition of the Crimean scenario, and intends to prevent human casualties. However, the acting head of state noted that Kiev is ready to rebuff "attempts to destabilize and terrorist acts with
weapons
in hands, transfers "Interfax".
Turchinov issued an ultimatum to the forces of self-defense of Slavyansk with the requirement to lay down their arms until Monday morning. He also added that Kiev is ready to discuss the empowerment of regions and the issues of local government reform. At the same time, the acting Ukrainian president promised to renew the local authority.
If Kiev had enough forces to suppress the protests, the operation would have been carried out much earlier. The new government obviously lacks loyal armed forces, against the background that both the police and the military are demoralized and refuse to shoot at their fellow citizens. That is, the new ultimatum may well be just another helpless threat, reports the Russia 24 channel.
In the Donetsk region a growing number of cities where supporters of federalization take control of administrative buildings. In Mariupol on Sunday after the rally for the creation of the Donetsk Republic, a group of protesters occupied the city council. In the city of Yenakiyevo, demonstrators at night captured the city council, the prosecutor's office and the city police department. On the eve of the city council, police and security services in the Red Liman, Kramatorsk and Druzhkovka. In these cities, the police did not intervene and in fact expressed their support for the militia.
In Slavyansk, where all the administrative buildings are under the control of the protesters for the second day, the militia fighters are preparing to repel a possible security attack. In the morning, the leadership of the Ministry of Internal Affairs of Ukraine announced the start of a special operation in this city. According to the authorities, there was already a battle on the outskirts of the city, there are dead and wounded. However, the command of the national militia in Slavyansk denies information about the collision and the victims. They declare that the city is calm, there is no destruction. True, they admit that they are preparing for an assault on the part of the Ukrainian security forces.