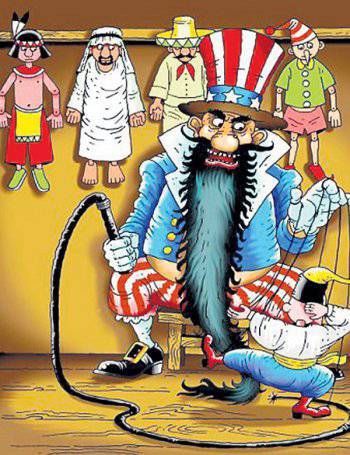 Wow: in Ukraine, by chance, a real civil war had entered, albeit without much blood. But what was the reason for this casus belli? This is not understood even by German journalists, who have flown to support the Ukrainian people who have suddenly become a fraternal people against the hostile Russian.
In one TV program not for ours
news
young crest being tortured: what are you fighting for? "Schob buti people" - that is, to be a man. "And what does this mean for you?" - "But the journalist beats on, no more specifics can be squeezed out of the heroic lad.
But in the background, in the whole context of the plot comes through: to fight off the Muscovites, from their contagion, crush, like some kind of crap, the separatists - then we will immediately heal!
Where did this idea come from - and why did she suddenly seize Kiev Maidan and Western Ukraine? At first, the Maidan slogan was: "Down with thieves and oligarchs, the government should serve the people!" But its implementation went to the mind in an incomprehensible way: they began to rob shops, put oligarchs in eastern Ukraine's oligarchs - and a new cry emerged: "Death moskalyam! Who does not jump, that Moskal! "As one is connected with the other and with this" bootie of people "- again, the mind is for the mind.
What, to be a man - is it for the crest to make the Russians jump the goats for the fun of the hooded area? To take away their language, culture, bend bow to fascist Bandera, crush the industry of the southeast, feeding the whole of Ukraine? Well, yes, it can give some kind of instant moral delight to a savage - but then what?
And it seems to me that neither Turchinov nor Yatsenyuk even thought about this "further" from the very beginning of their power obtained in the course of the well-worn Maidan for the sake of the government itself. And all their Napoleonic arrogance - for a long time, but they were in hetmans and kissed the shoe to Obama himself! - they put this wild idea of ​​taming the southeast into one. And how is it: who does not tame, that is not Napoleon!
But why it became necessary to tame that region? From the very beginning, he did not want anything from the Kiev authorities, he worked for himself and worked, while the idle maydanschiki were looking for some kind of magic, by means of protesting of the whistle, cleansing. And then suddenly it turned out that it was necessary not to be cleansed from thieves and oligarchs, but from "klyatyh Muscovites". That is, when it became clear that one of those whistlers didn't fix life, the Ukrainians decided to simply spoil it with people with a different face.
I once lived 10 for years in a communal apartment and experienced this vengeful syndrome. My, as I called them, "professional neighbors" firmly believed that it was worth creating hell for me, paradise would come for them. They punished me with a "telephone", put him in my room, demanded a "respectful" attitude towards them, they knocked the police officer on me - as now the Ukrainians in Europe. But he, still a Soviet district police officer, valiant, by the way, the crest Savchuk, conducted a meticulous check of the bloodthirsty complaints and squeezed the tail of those sums, be healthy. Thank God, they had no right to keep me from communal "separatism," and I, as soon as I could, moved away from them.
In the same communal way, the "professional Ukrainians" also behaved. And what, their Russian neighbors need to be punished only for their unwillingness to jump up under the oligarchs who, like a big-minded man, raided against them Maidan, popped up under them? What, Ukrainians can not be people except through the humiliation of fellow?
There is one type of vote, even more convincing than a referendum - a vote with your feet. When in Russia in 90 it was very bad, its inhabitants trooped out of her. Now it is also not the paradise itself - but flows of refugees from Ukraine rushed into it, including, by the way, and Ukrainians. People run from there alone, with families and entire territories: Donetsk, Lugansk and Kharkov have already joined the queue to escape after the Crimea. The West, heart-rending, assures them that Russia is rubbish and a reptile, but they still run into it!
Where did those separatists in Ukraine come from, which a few months ago were not mentioned? It means that something like that happened there, why the legs and legs of the mass of people and territories grew. But Turchinov and Yatsenyuk, instead of finding out and eliminating the reason for this, are knocking to Europe, that they have everything in their openwork, and the source of their separatism is hiding in Russia! De only extinguish it - and he will die! Brad and only - but the cunning West is happy to play this card for its own purposes, which ultimately will fuck most of all Ukraine that has gone astray from its madness!
At the same time, all the slogans about cleansing from thieves and oligarchs there were replaced by the same one: to pacify the separatists at any cost - or, according to Tymoshenko, completely destroy them. And yet: with the filing of the same West, which is observing its business interest, to prohibit the southeast from selling its products to Russia. And for the sake of such a click, Kiev completely snapped at us is ready to deliver such a suicidal blow in itself!
Let us even assume that he will be able to insect Donetsk and Lugansk Russians to the delight of pathetic Lviv Khokhlov. But in order to keep such an order, in which the southeast becomes a ball, a concentration camp with barbed wire around the perimeter will be needed. Even with the help of Europe it will be possible to build it - and the heirs of Bandera will feel themselves people through the sweet humiliation of others for the villains. But this concentration camp will have to somehow contain something - and I can't comprehend this Kiev calculation again: turn the profitable region into an unprofitable prison!
So I see how Yatsenyuk opens his eyes in the morning - and searches for a saber with his hand in order to chop off the knot she was tied to by himself and his like temporary worker. But this knot is not so chopped. Especially since their saber is stupid, and the gun, which they dream of replacing with a NATO rifle, does not fire. Their "Alpha", being more intelligent than them, didn't go on their bloodthirsty storming of Donetsk, for the sake of their hetman's ambitions. But also be taken southeast with the help of soldiers of fortune sent from the USA - the Napoleonchiki dreaming about the capture will end up in the position of Napoleon in scorched Moscow. Or Shakespeare's character: "Even if you have achieved your goal - you took the city, but you burned it!"
There is a cynical expression: nothing personal, only business. The Yatsenyuk who have imagined themselves as Napoleons have struck in the opposite: no business, one personal. But even three times the cynical business would be better than their lousy arrogance, because of which Ukraine, having forgotten to plow and sow now, went into civil war - and the inevitable further famine.