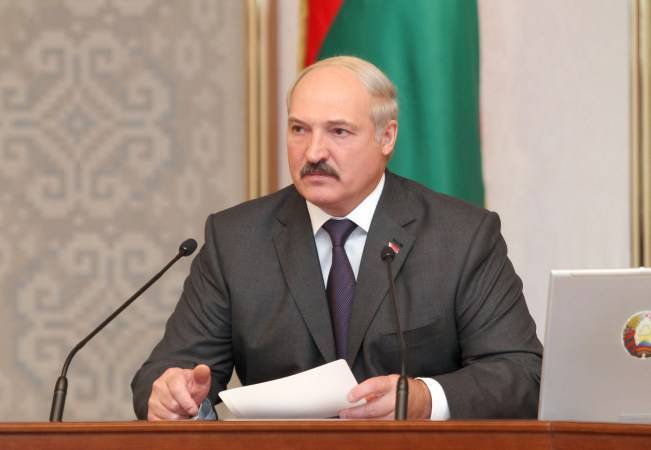 13 April, Minsk / Corr. BELTA. President of Belarus Alexander Lukashenko notes that in the West they are more engaged in talk rather than real help to Ukraine in stabilizing the economy. The head of state said this in an interview for the Today program. The final program of the NTV television company, BelTA informs.
"They" threw "Ukraine. What kind of help is there? This is still talk. The country that played the main violin there, the main role, the USA, which prints these dollars, first gave dry rations for the army, and now promised one billion dollars. IMF - you you know under what conditions you promised, "said Alexander Lukashenko.
"I understand that the government Yatsenyuk thinks that the revolution will write off everything. That's raised by 70% or 50%, according to various estimates, gas prices for the population, and the population has no money at all at these prices, there's still new Russia energy prices. And they think: well, this is a revolution, we are not guilty, it is they who are guilty, "the President of Belarus said." Yes, they are guilty, but the people will connect everything with you. And the revolution will not write off anything. that civil war revolution could have been written off. "
"They are doing wrong, that they went in the wake of the IMF and the West and began to give up all their positions. We have republics that have acted in this way, and now they don't know what to do," the Belarusian leader believes.
"Therefore, today the West, destabilizing the situation, aggravating it even, the Americans" threw "Ukraine. And if you still have Russia, you know, it will go away, our man's heart there, on the eastern borders, will help you. Because Ukraine's interest here is not commensurate with their interest in the West, "the head of state added.
In an interview, Alexander Lukashenko also expressed his opinion on the imposition of sanctions on the Russian side. "They introduced me, I'm watching, against the leaders of some companies, supposedly Putin's friends. Well, tomorrow there will be other company executives and they will travel freely to the West. What kind of problem? I wouldn't have strained on this subject yet," he said. President. "Anything can happen, but this is right for you to say, to yourself harm. Against Russia, imposing sanctions is harming yourself."
"Yes, the Americans will pressure Europe to more and more fit into these sanctions, but Merkel and others, they are not fools, they understand how dependent they are on Russia today. They have a huge real high-tech economy, but for he needs resources, and these resources are in the east, "said the head of state.
"Therefore, there is absolutely nothing to fear from any kind of sanctions," Alexander Lukashenko believes.