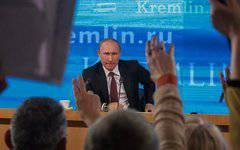 Putin wants to make Russia strong and great again, says the author of the article in Foreign Policy
Ah, Vladimir Putin! Former KGB Colonel, Ice Looker, a man everyone likes to hate so much. Is his ambition limitless? Is it difficult for him to behave well? Why should he not listen to the voice of reason? All these tantrums are absolutely meaningless. In fact, it is the mind that is Putin's strength, and the West could learn a lot from him.
Putin wants to make Russia strong and great again and thus remain in
stories
as a strong and great leader. Since the current state of affairs does not allow this, he needs to change the global balance. At the same time, he does not want to take a lot of risk: every time he makes a risky bet and loses, Russia begins to look weak and stupid. Therefore, he always follows a simple three-point scheme, which should guarantee him success. It seems to be taken from a textbook on game theory and, in my opinion, works something like this:
1. Identify opportunity. All games, except for hockey, in which Putin plays, are games in which he is guaranteed can win. As required by game theory, he calculates his possible moves and the moves of the opponent. He considers all scenarios to the very end. If he wins completely, or at least he remains at least in any gain for any possible outcome, then he enters the game. And only very rarely is he forced to participate in games that he does not want to play.
2. Change the status quo. If Putin will be inactive, everything will continue to go on the groove that does not suit him. Therefore, it is necessary for him to give events an impulse that will shift the situation in the direction he needs. He can do it himself or with someone else's hands, and those he uses may or may not understand what is happening. It is only important that they can achieve change, even if they are not able to secure success without help from others.
3. Force opponents to accept the new status quo. Putin prefers opponents who are willing to put up with defeat and accept change. To achieve this, the Russian president is trying to make other type of reactions unprofitable.
Putin's actions in Ukraine fully comply with this scheme. His main goal was to increase the power of Russia and force the West to retreat, expanding its sphere of control and influence. He would prefer to do it in a peaceful way throughout the whole territory of Ukraine, but he is ready to act in stages and, if necessary, resort to violence.
At the end of last year, he probably calculated the situation as follows. First, he offers Ukraine a package of financial assistance. He knew that his ally, the pro-Russian President Viktor Yanukovych, would accept this package. If this is all over, fine: Ukraine is once again becoming a customer of Russia. If not, then there will be unrest, protests, riots, or all at once, - the situation in the country is destabilized. And an unstable Ukraine will not be easily taken under control, especially when you consider that a fair amount of its territory sympathizes with Russia.
If instability reigns in Ukraine, Putin's next move will invade the Crimea and legitimize the return of the Russian peninsula in one way or another. This will be the first step in the gradual restoration of Russian power over Ukraine. Take control of the Crimea will be easy. However, you will need to force opponents to accept it.
Similarly, if we destabilize the situation in eastern Ukraine, this will raise the stakes. As a result, the Ukrainian authorities and the West will fear that Russia will go further, and the situation will slide into open war. We are now at this stage.
Further steps Putin is quite obvious. Having created enough tension in Eastern Ukraine so that opponents get worried, he "will listen to the voice of reason". He will deny pro-Russian forces in the region (whose actions he had previously encouraged), privately assuring them of his support and explaining that it is too early to act. The West will call it a step in the right direction, will express cautious optimism and allow its economic sanctions to lose force. Putin's opponents, including the government in Kiev, seeking to return to ordinary political games and needing Russian energy, will declare victory: Russia has retreated, and the war has been avoided. The return of the Crimea to Russia will become a historical fact, which will be reminded only by small annual meetings at the White House and the UN building at the end of February.
Good results for six months of work. Russia will demonstrate and increase its power, and Putin's opponents will never understand anything. What lessons would it take to endure? They, again, can be reduced to three points:
1. Find vulnerabilities, current and potential. Putin's games are not always so obvious. The situation in Ukraine was not unstable, but Putin saw how it could be destabilized. The situation needs to be assessed not only at a specific moment, but also taking into account possible options. It is important to see which cards Putin can play, and deprive him of these trumps.
2. Understand the goals of the enemy. The West could not stop Putin, because for Putin the Crimea was more important than the damage that the West could cause. He was willing to pay for the peninsula and a much higher price. However, by showing this, he also demonstrated how highly he appreciates the various currencies of the geopolitical market — territory, money, reputation, and the like.
3. Use reverse induction. This is a key tool in game theory that allows analysts to predict in advance the actions of players, given how they will behave in the final stage of the game. For example, if I know that in response to a blow, you always turn the other cheek, I will be less inclined to compromise in negotiations and more likely to attack if they fail. Sounds familiar, doesn't it?
Recently, German Chancellor Angela Merkel remarked that Putin broke away from reality and lives in his own world. It's not like that at all. Putin is a rational player, consistently pursuing his own interests, which are generally well known to the world. Appeals to morality, international law and other regulators of behavior that are not limited to pure pragmatism can hardly work with it. At the same time, his straightforward approach makes him an extremely convenient adversary for any strategist who is able to think in a similar way. Probably, he is surprised that the West is so clumsily playing against him.