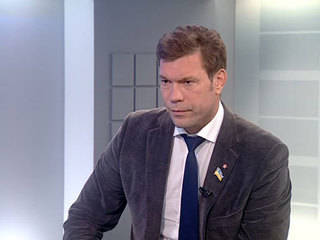 The candidate for the presidency of Ukraine, Oleg Tsarev, who had been missing for almost 24 hours, made contact. It turned out that he had to hide from the Odessa hotel through the back door. He described the incident in a telephone interview with the Russia 24 television channel.
"Almost immediately after I got into the car to the special forces, my mobile phone was discharged and disconnected. Since I had neither assistants nor anyone else near me, my press service panicked. When I arrived in Dnepropetrovsk, I immediately charged the phone, saw the concern about my disappearance, and immediately posted a message to the Internet that everything was in order, "says Tsarev, explaining his silence.
Now Tsarev is heading to Donetsk and hopes that he will be able to get there normally. "I will meet people and try to defend and defend their positions," he says.
Today, the ultimatum expired by Arsen Avakov to residents of south-eastern regions expires. Oleg Tsarev does not exclude that shooting may start in Donetsk and Lugansk regions. He intends to try to eliminate such a development of events and bring the situation in these regions to a peaceful resolution. The Tsarev strongly doubts the ability of the Kiev authorities to maintain a peaceful dialogue with the population.