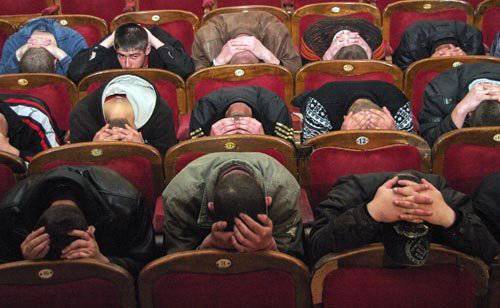 Walked yesterday on the remnants of Khreshchatyk. At the Kyiv City State Administration (KSCA) a large banner "We are against the police state." Guys, you gave birth to him! In full accordance with the laws of dialectics, by the way.
"They sent Muscovites to Russia for years — so the Russians decided to leave."
In general, I am terribly amused, as the whole liberal public, hypocritically and pompously ranting about freedom and "dictatorship in Russia", welcomes the real dictatorship in Kiev and calls for the most cruel and merciless reprisals against dissidents.
And, outwardly, it is paradoxical that I, always speaking for the dictatorship of the Progressors (Progressors! And not corrupt prostitutes!), Are fighting for freedom of speech and political will. I love to work on paradoxes - a real pleasure for a philosopher.
True, there is nothing new in what is happening for the researcher. Gustav Lebon and Erich Fromm described all this long before me - the "freedom" of the bourgeoisie always brings the ultra-right dictatorship to power.
And democratic rhetoric is only rhetoric, like a smoke screen. At the level of public declarations, "One Country," and in cozy places, "cut katsapchegov" (I also have screenshots).
And then they sincerely wonder why this Crimea and the South-East do not want to have anything in common with them. They merely call them "genetic slaves" and urge them to drown the Southeast in blood - is this enough reason to want to separate?
After all, it is so European and democratic - to call for reprisals against dissidents, and at the same time record it in video clips and post it on YouTube. And in general, public and indicative Russophobia is now so fashionable in Ukraine. The latest fashion trend.
If they are so confident, as they say, that all residents of the Southeast dream of living in Ukraine, and the "separatists" are a tiny minority, there is a very simple practical way to prove this — a referendum. After all, the referendum confirms what they say. Or not?
Why are they afraid of the referendum, how the hell is incense? I think that the "Ukrainians" are lying, and they understand that they are lying.
And they are afraid of a referendum on any key issue. They say that the majority wants in the EU - but they refuse the referendum on this. They say that the residents of the South-East do not want to separate from the nationalist and Russophobic version of Ukraine - but here they also refuse to hold a plebiscite.
They are not democrats, they are supporters of the dictatorship! They are already proposing for criminal appeals to call for referendums. They can not be allowed to Europe (and no one is going)! Barroso stated in a straightforward text: "Ukraine is not ready for EU membership, neither today nor in the near future. Just as the EU is not ready to accept a country like Ukraine. "
In Europe, the right to self-determination of territories is sacredly honored. The referendum in Venice, the referendum in Catalonia, the referendum in Scotland - these are European norms. But toughening criminal penalties for dissidents, silencing them and solving all conflicts by police and repressive methods is not European-style, this is the methodology of Adolf Hitler and other dictators.
For years, they sent Muscovites to Russia — so the Russians decided to leave. But all together and with his native land. They, Russians, are so friendly. And here it turns out that "we did not mean that at all all these years."
And again, "edinoukraintsy" lie. That is what they meant. Vaughn, their beloved Fahrion, directly says: "We need mass executions of these" creatures ". Just the realization of their desires was not the same as they wanted. Wishes, they are - you have to be very careful with them, because they are often fulfilled in unexpected ways (hello, "60 Track").
Russophobes recognize their sins, ask for forgiveness. But instead, they only continue to curse, threaten, and insult Russians. Leopard change his spots.
And they think that it is possible to persuade someone to continue to live with them? Do not go, nasty slaves, we love you (and we will kill and torture). It seems that they are clinical inadequate (and this is a medical fact). When I started to write this text, there was no capture of the Kharkov regional council by special forces yet.
And now, around 70, people were taken to an unknown destination in the best traditions of the terrorist dictatorship. Did they provide lawyers? Do they have the opportunity to communicate with relatives? Will they have a normal court where they can defend their rights, their beliefs and their positions? No, they have already been accused, convicted and will be kept locked up in an unknown place.
I don't buy me the rhetoric of dictatorship: I grew up on The Beatles and Pink Floyd. See "The Wall" - these are today's Ukrainian realities. See "V - means vendetta" - methods of the Ukrainian provisional government from there. Night visits, arrests, abductions and terror. Black funnels. The impact of telepropaganda on immature minds leads to the following result: "It will be fulfilled!" Guy shouted, overwhelmed by indescribable delight. A wave of joy, pride, happiness, a hot wave of ecstasy devotion swept over him, picked up, carried to the sky.
He gets up, this tall, strong, handsome, pride of the brigade, our corporal Varybobu, like a fiery torch, like a statue of glory and loyalty, and he sings, and we all pick up, all as one ... ... But what is it? He does not sing, he stands and turns his stupid brown head, and runs around with his eyes, and everything grins, everything is grinning ... Whom do you grin, you bastard? Stand up, you bastard! Stand still when the guards sing their march! And on the head, on the head, on the dirty face, on the arrogant eyes of a crayfish ... ".
This is from the "Inhabited Island" of the Strugatsky, a description of the impact of the towers. Oh, to blow up all these towers of telepropaganda! In the meantime, hysteria, espionage, witch hunts, the suppression of dissidents are flourishing in Ukraine.
Snitching has become a form of patriotism. What? You do not like our neizbrannoe self-appointed government? We will write you a denunciation to the Ukrainian Bull Terriers Service! We will post this denunciation in a public place, and other svidomye citizens will praise us for vigilance and integrity.
Do you know what the new "democrats" lack? Mass executions of "enemies of the people." And joyful crowds, engulfed in patriotic ecstasy, chanting "More! Still! More blood! More torture! " And all this is necessarily online - like Miroshnichenko, like Fahrion, like yesterday's attack on Simonenko in the Verkhovna Rada. There must be only one thought, one gyrus at all! March, march left!