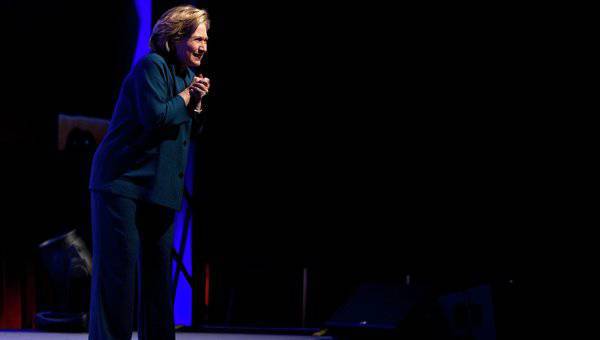 Former US Secretary of State Hillary Clinton, who lectured in Las Vegas, was not welcomed by a warm welcome. After she stepped on the stage, a shoe flew out into the room.
The meeting was held at the Mandalay Bay Hotel and was devoted to the recycling of industrial waste. About a thousand people came to listen to Clinton, writes USA Today.
A woman threw shoes at her, which, according to the organizers, was not on the list of invitees. Clinton managed to dodge and reacted to what happened with humor. "God, I didn't know that solid waste disposal is such a provocative topic," RIA quotes it.
News
". The guards immediately twisted the culprit of the incident and took out of the hall, she is currently in custody. The motives for her action are not yet known.
Two years ago, when Clinton, while she was US Secretary of State, visited Egypt, she was showered not only with shoes, but also with tomatoes. This happened after the speech of the former first lady in Alexandria, where she participated in the opening ceremony of the American consulate. Clinton ran into an angry mob after being escorted by Egyptian officials out of the building and headed for her car. Throwing various objects at her, local residents expressed their dissatisfaction with the fact that the United States supported the then President Mohammed Mursi.
Perhaps the most memorable case of throwing shoes at a high-ranking politician occurred in 2008 in Baghdad. Then in the US President George W. Bush launched two shoes at once. In Islam, such an action is tantamount to a strong insult.
During the press conference, journalist Muntadar Zaidi jumped up from his chair and one after another launched both of his shoes into the American leader, next to which Iraqi Prime Minister Nuri al-Maliki stood behind the podium. "This is a farewell kiss for you, a dog! This is for you from widows, orphans and all those who died in Iraq," the journalist shouted at the same time. Bush managed to duck twice, so the "shells" did not reach their goal.
The shoes thrown at the president were destroyed because of suspicions that explosives were hidden in them. But in Iraq, what happened was remembered for a long time. A year after the incident, a giant shoe was unveiled in the Iraqi city of Tikrit, the homeland of Saddam Hussein.