The Swiss company Sphinx Systems SA is based in the city of Porrentruy. Her work in the field of production
weapons
began in the 1990s after the acquisition of the well-known company ITM - Industrial Technology & Machines AG, which already had a license to produce high-quality clones of the Czechoslovakian CZ-75 pistols under the names AT-84, AT-84S and AT-88. The company's specialists have improved the design of the pistols produced by ITM, having won worldwide recognition among professional operators and civilian shooters, having begun production of the AT-2000 and AT-3000 pistol series.
all4shooters.com
.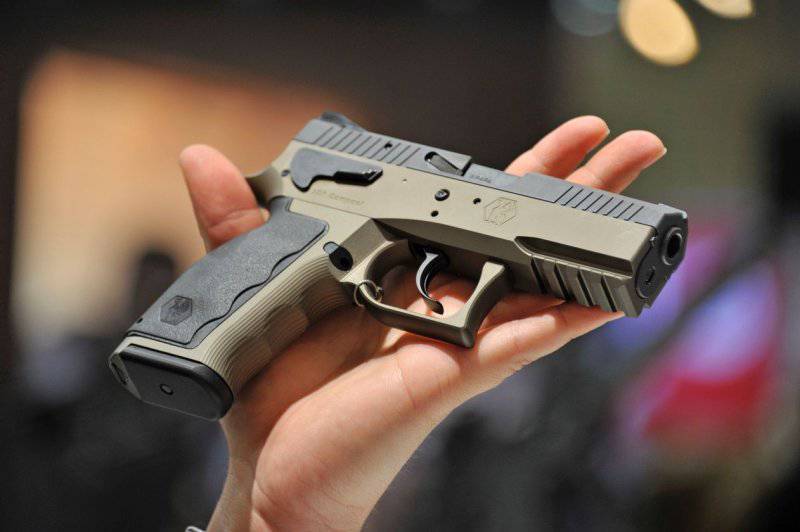 Currently, Sphinx Systems is part of the KRISS International group. Since 2012, she has been developing a whole family of more "advanced" mixed-action pistols. At the heart of their mechanics is the CZ-75 model, called SDP. It uses a frame consisting of two parts - the handle and the top of the frame, which enhances the modular potential.
There are many different options in the DSP line now. And at the recent IWA & OutdoorClassics 2014 exhibition in Nuremberg, Germany, the company presented two more models.
The SDP Compact Krypton Pistol was designed to be worn openly or hidden by police officers, as well as state and private security organizations. Its frame is made of anodized aluminum with a protective coating of sand or olive green color. The material of the casing was stainless steel matte black, which was machined. To increase the level of resistance to adverse effects, it was subjected to physical vapor deposition (PVD).
Up to fifteen 9mm cartridges can be found in a single row row in a two-row pistol store. Mounted on the frame are the Picatinny MIL-STD-1913 guides, allowing you to install accessories. The back side of the handle is equipped with a replaceable polymer lining that facilitates adaptation to the hands of the shooter. The length of the gun is 18 cm with a barrel length in 9.5 cm.
The dimensions of the Sphinx SDP Production Duotone model, on the contrary, are larger. It was developed for a dynamic shooting competition. The pistol store contains 17 cartridges. Its total length is 21 cm, and the length of the barrel is 11.5 cm. The casing of the shutter and the two-part frame are made of stainless steel. On the upper part there are two guides, guaranteeing a high level of accuracy and stability. SDP Production Duotone received a match trigger and a high-speed trigger of the Sport type, as well as an unregulated fly with a negative angle.