War is a dirty business in which one succeeds who moves faster and shoots. And until they were invented and built
Tanks
with airplanes, military people used bicycles. For decades, they have been experimenting with machine guns on bicycles, military quadricycles and bicycle infantry regiments. Let's take a look and remember the brightest moments of the military
stories
bicycles.
Perhaps the first military bike was the Premier 1888 of the year:
In 1892, Pope Manufacturing Co. ("The oldest and largest bicycle manufacturer in the United States," read the flyer) released a model with the straightforward name Soldier's Standard Bicycle.
And here is the whole military unit - 25-th bicycle corps of the US infantry army. Photos taken in 1896 year. Scenic view behind the backs of military bikers - Minerva Terrace in Yellowstone Park:
A tricycle for two, equipped with two Maxim machine guns and large ammo bags. Manufactured by Gregory & Co. 1898:
The first combat bicycle machine! The quadricycle is still with the same maxim, but now also with a shield. Created by FR Simms in 1899: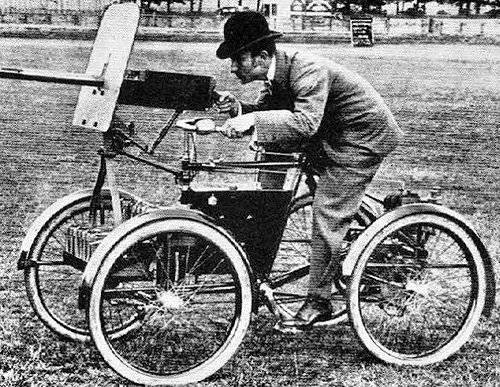 Fighters from the Lancashire bikers regiment (1910 year):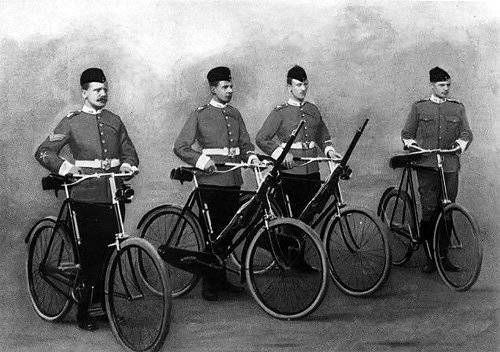 Another military bike produced by Pope Manufacturing Co. with a gun on the steering wheel. Year of production unknown, the beginning of the XX century: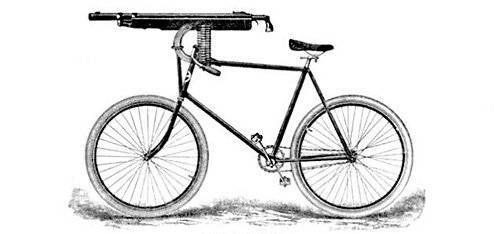 And here is the German cycling on the western front at the very beginning of the First World War (1914 year):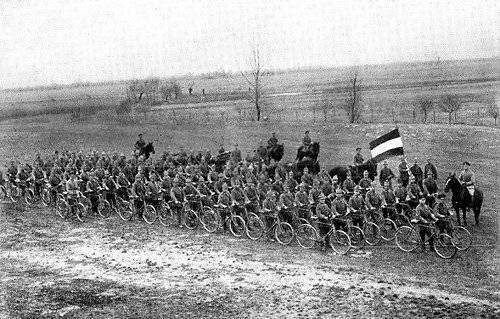 "Iron horses" dead tired. And the soldiers from the Italian rifle battalion gave them some rest (1915 year):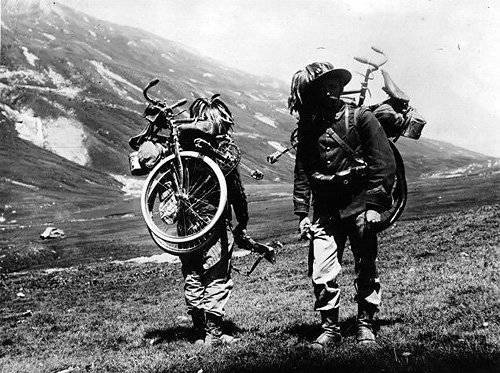 And once again, our favorite Pope Manufacturing Co., this time with a tandem bike: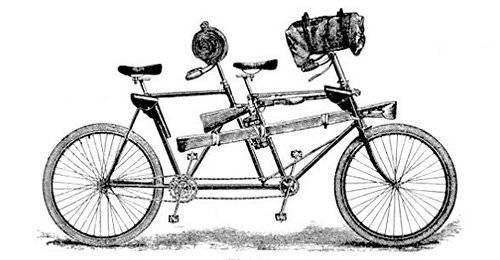 And this is the "continuation" of the very first military bike, "Premier". Model №11 1915 year of manufacture: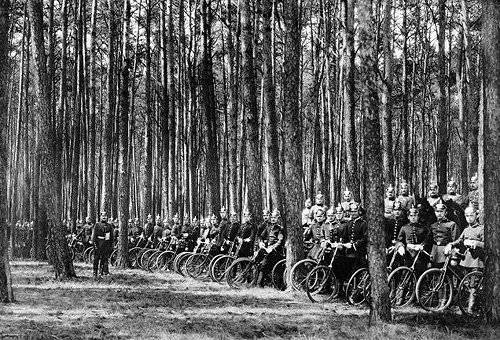 German bike rifle either hides in the forest, or trains (1915 year):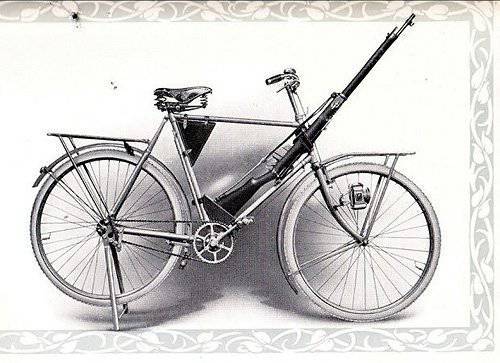 The evolution of military bicycles according to The Illustrated War News magazine, issue for February 21 1917 of the year: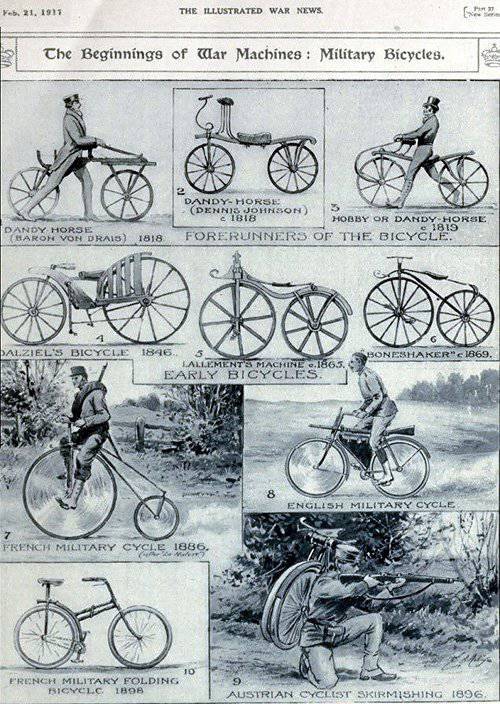 Hungarian troops enter Ipelstag (Czechoslovakia; now Steps, Slovakia) to occupy the city of October 11 1938. This is quite a symbolic occupation, which was preceded by a meeting of Czech and Hungarian ministers, who discussed the conditions for the Hungarian annexation of Czech territory: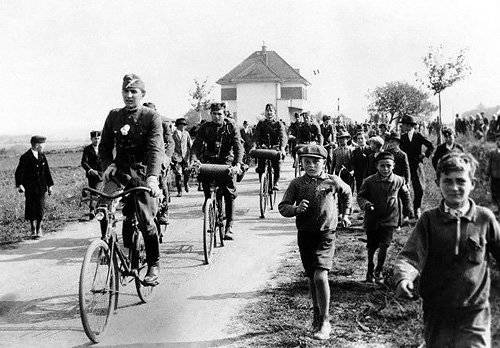 20 April 1939, Hitler turned 50 years. Of course, no parade was done. It is unlikely that cyclists were his main highlight, and yet, all the same: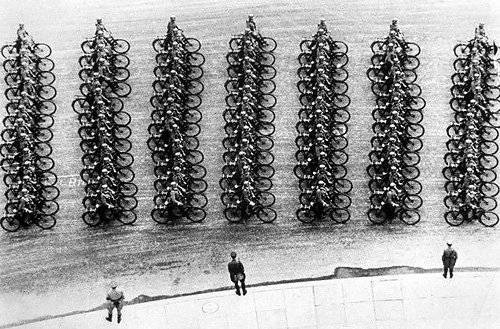 The Finnish Military Cycle Patrol transports spare bikes during exercises at the border with the USSR (1939 year):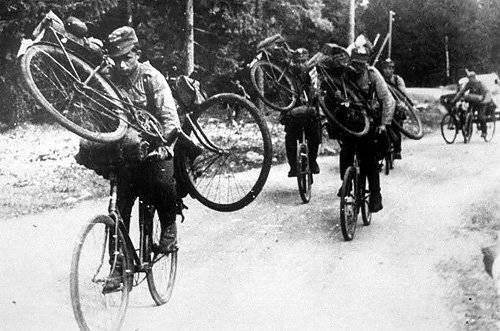 "Military bike" (Truppenfahrrad), Third Reich, five modifications: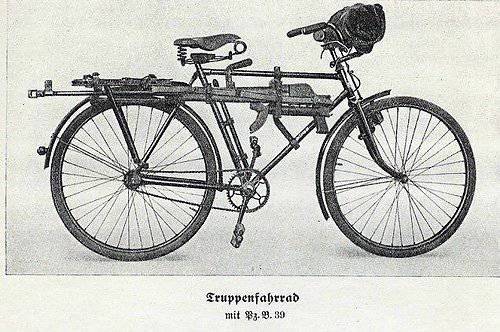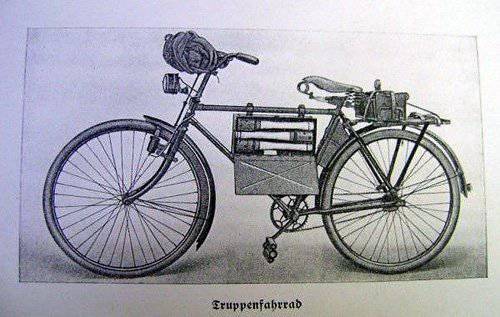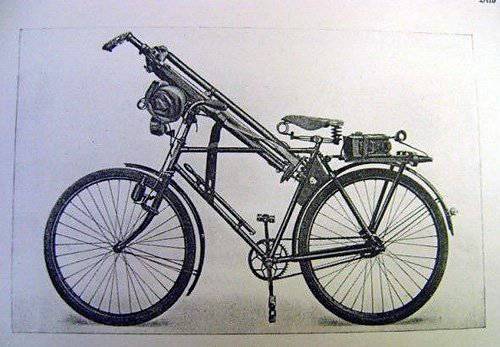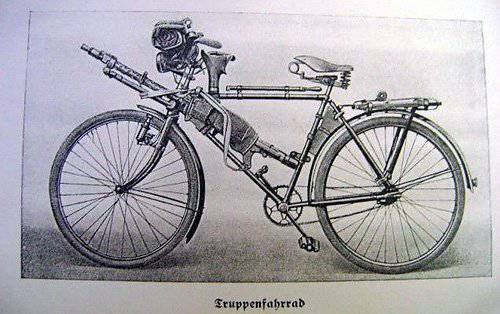 Columbia's Compax folding bike for paratroopers (1941 year). There was also a model with a motor. And, yes, the paratroopers jumped out of the plane with the bikes and, safely landed, laid out the "horses" and went to fight. When folded: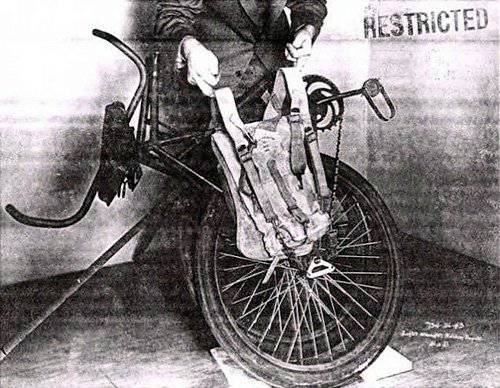 A paratrooper with his "iron friend":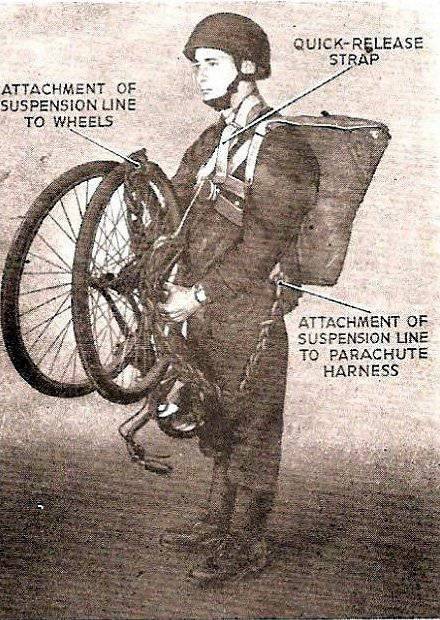 Another paratrooper - also with a folding bike, but from the UK: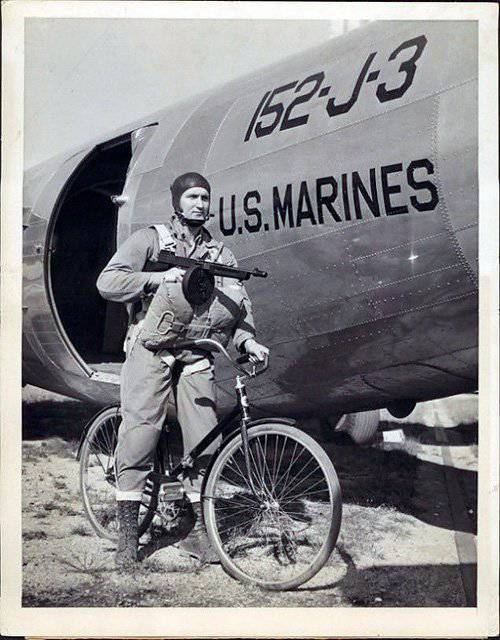 The Belgian Congo Cycling in Tevfik (Egypt, 1943 year):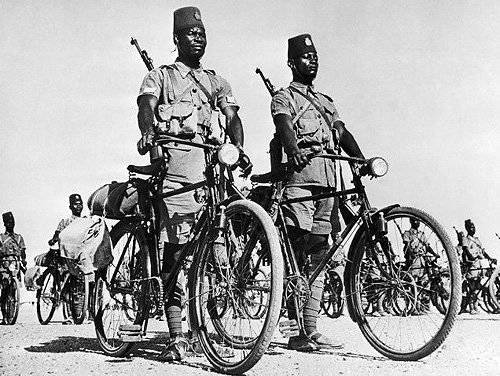 5 May 1964. After completing the 40 mile march from a camp in southern Cyprus, the Finnish UN peacekeeping forces in Cyprus lined up for inspection at Camp Elizabeth, near Nicosia. These troops used bicycles to patrol. At that time, the UN was still trying to preserve peace between the Cypriot Greeks and the Turks ...