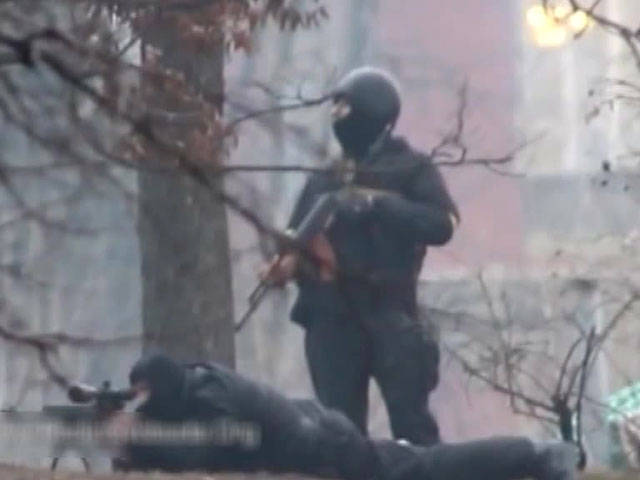 The Ministry of Internal Affairs of Ukraine recognizes that on February 20, there were two snipers of a special rapid response team of the Sokol Main Directorate for Combating Organized Crime in the cabinet building.
At the same time, Alexander Yershov, the deputy head of the Sokol special division, denies that the snipers were on the roof and fired on the protesters, ITAR-TASS reports. "The snipers did not fire," he stressed. According to the deputy head of the division, ballistic expertise seized from snipers
weapons
It was not conducted, and only a service check was carried out.
"Its results were transferred to the Prosecutor General's Office," he explained. Ershov also noted that since February eighteenth, an operation "Fortress" was conducted on the territory of Kiev, according to which Falcon fighters guarded the buildings of the Ministry of Internal Affairs and the Main Directorate for Combating Organized Crime. Sergei Rudenko, head of the National Bureau of Anti-Terrorism Protection, argues that, to implement this plan, by personal order of ex-Interior Minister Vitaly Zakharchenko, sniper teams from Luhansk, Zaporizhia and Khmelnitsky were deployed to Kiev.
Earlier, the head of the Security Service of Ukraine, Valentin Nalyvaychenko, said that allegedly snipers on Independence Square were fighters of the special division of the SBU "Alpha". Meanwhile, according to the former head of the Security Service of Ukraine Oleksandr Yakimenko, who fired at the protesters and the Berkut fighters on February 20 were in the building of the philharmonic society. "The commandant of Maidana Parubiy was responsible for this building," the former head of the SBU stressed. By Yakimenko, by his own admission, he even turned to the Right Sector with a request to use the Alpha group for cleaning buildings from snipers.
However, Yakimenko was unable to give such an order due to the lack of consent of Parubiya.