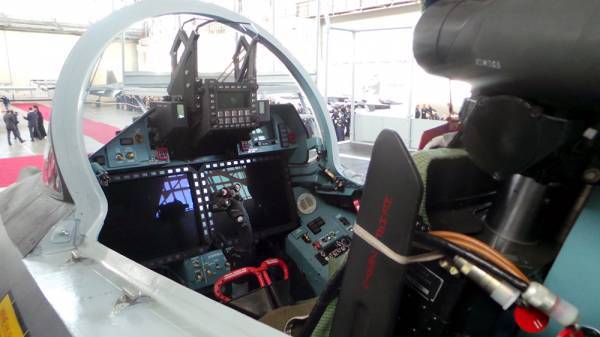 A new contract is being prepared for the supply to the Armed Forces of the newest super destroyers. By 2015, the Air Force will get 48 Su-35C.
This was reported by the ARMS-TASS news agency with reference to the UAC president Mikhail Pogosyan. According to Pogosyan, this year the corporation will supply the Su-24S fighter aircraft in full serial configuration to the 35 air force. Twelve fighters were transferred to military pilots in early February, and the next twelve will be delivered before the end of the year. In 2015, the transfer of the final 14 aircraft of this type is scheduled. Given the previously delivered four flight test vehicles and six Su-35s transferred in 2012, all 48 fighters will go to the Air Force.
The signing of a new long-term contract with the Ministry of Defense for the production of Su-35С is expected at the end of this - the beginning of next year. Thus, the Su-35S will become the main heavy fighters of our Air Force. However, Su-27, after repairs and upgrades, will still be able to continue its service. It must be said that the development in the troops of the new machine goes without any problems, since at its core is the platform Su-27, which the pilots are well mastered.
According to its characteristics, the new fighter comes close to the fifth generation. Su-35S develops speed up to 2400 km / h and flies nonstop to the distance to 3600 km. Combat load - 8 tons. On the external suspension of the machine can carry all types of aircraft weapons. The aircraft is equally good as a fighter, as a long-range interceptor, and as a bomber-rocket carrier. It can hit air, ground and surface targets.
Radar system "Irbis" installed on the fighter, the most powerful in the world. She sees at a distance of 400 km, makes it possible to accompany simultaneously up to thirty, and to fire up to eight targets. The Su-35S is equipped with a navigation system that autonomously determines the location of the aircraft and the parameters of its movement in the absence of satellite navigation and communication with ground services. That is, if the GPS or GLONASS are turned off, the fighter will not get lost.
It may be recalled that the Deputy Prime Minister and Chairman of the Military Industrial Complex Dmitry Rogozin will participate in the shooting of the author's documentary film "Dry". The choice of the goal ". The main role in it is assigned just Su-35C.