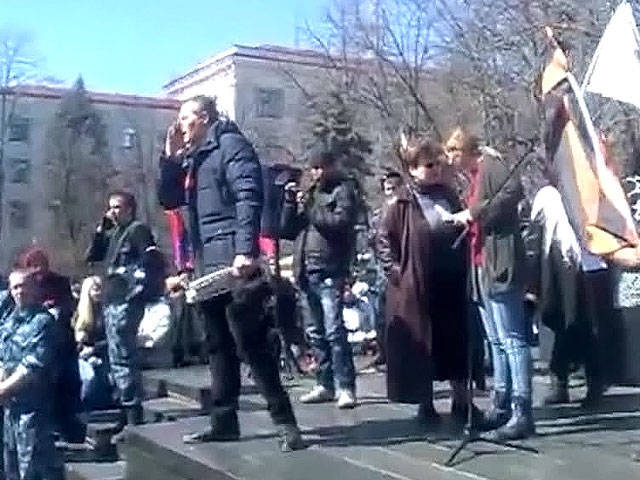 Antimaydanovtsy holding the building management SBU in Lugansk, organized a press conference for journalists. In the course of it, they told about the ideology of their actions, ITAR-TASS reports. The representative of the activists, detachment commander Oleg Desyatnichenko said that the manifesto of the "United Army of Southeast Ukraine" had been previously published, and revealed its contents.
In this document, activists refer to the residents of Lugansk and to all who disagree "with the armed coup in Kiev." Antimaydanovtsy point out that, having seized the building of the SBU, they took upon themselves the responsibility to protest the "Kiev junta." "We put ourselves outside the law, putting our lives and destinies under direct blow, not because of excessive ambitions, but in the hope of you, our fellow citizens," the document says. "In the hope that you support us and the referendum. And together we will say our firm "no" to the reforms on blood and fear that today Kiev is holding in relation to the entire Southeast, and indeed to all of Ukraine. "
The detachment commander, Oleg Desyatnichenko, also said that the protesters continue negotiations with representatives of the Ukrainian authorities. And until the authorities accept the conditions proposed by the activists, the building of the SBU, in which there are less than a thousand people, will be blocked. In the event of an assault, activists intend to fight back.