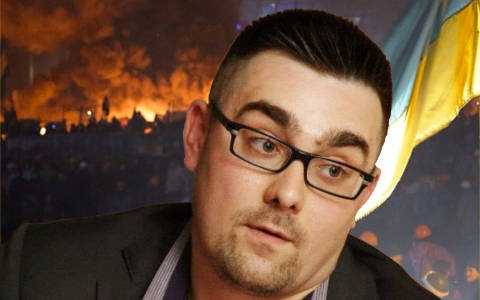 Writer Platon Besedin - about the Ukrainian revolution and counter-revolution
What is happening today in Kharkov, Donetsk, Lugansk, Mariupol, is logical and predictable. It is possible, it was necessary to prevent. But none of the new Ukrainian authorities did not do this. And did not even try. Because everything that happens is particularly tragic.
Yanukovych also hoped that Euromaidan would end, it would resolve itself. Did not work out.
Instead, Euromaidan dictated new rules. Fighters with monsters turned into monsters themselves. And the virus has spread around the country. And destruction came. Insane, self-induced, uncontrollable.
"Molotov cocktails", bats, bullets, Ukrainians beat in a dogma that dooms in its hopelessness: the one who is ready to defend his case by any means is right. Dialogue is not possible. There are those who are with you, and there are those who are against. The first must obediently obey, cheat, indulge. The latter are initially guilty and subject to either punishment or destruction. Stiff, inflexible logic that you must accept. If you want to live in Ukraine.
At such moments, truisms, banalities turn into the most accurate, the most correct things in the world. And the more they forget, discarding as unnecessary.
"Good intentions lined the road to hell." How many times have you heard? And how many times still need to hear to understand, reflect, realize?
I have been on Independence Square since the first day of Euromaidan. Even then, when there were burning candles, reading psalms and exchanging books. I was there among honest, decent people, eager, in fact, only one thing - justice. I understood them. And he was afraid. Because he knew how it would end. You do not need to be a beacon or a prophet: it is enough to see the obvious.
First - the Crimea. Then - Southeast, East. And Ukraine will go at the seams, roughly imposed by Soviet surgeons. Euromaidan gave all grounds for this. Because the place of the righteous in the world, the wisdom of which is madness before God, inevitably comes great sinners.
Under the conditions of revolution, the bastards rule the ball. They are not bound by conscience, kindness, or honor. Only fools feel better than them. They, unlike even the most notorious villain, never doubt that they are right, confident that they always and in everything do the right thing.
Studying the textbook on
stories
Ukraine, you think about how much we, Ukrainians, fought, fought, protested. Many and useless. "Ukraine without Kuchma", "Orange Revolution" - continue the list. But there were still seventeenth and ninety-first year. This is only from the new.
Wood chopping - chips fly. But this was not enough. It is better to uproot the cherry colo hut with a root. Planting anything is optional.
And suddenly it turns out that oxygen is a problem, there is nothing to breathe. And the situation, as in the film adaptation of Philip Dick "Recall all": shoot, free, revolutionize, lyustriruyut, puchu eyes. To perish.
After all, action is always equal to counteraction. And for every revolution there is a counter-revolution.
She happened. Start given. Ukrainians came out to claim their rights, to convey their opinions. The seizure of regional administrations, burning tires, fights, slogans - we all saw it, right? And even the rhetoric is the same: "Fascist thugs", "provocateurs". " Only before some were infuriated by the flags of the United States and the European Union, and now others are irritated by Russian tricolors. The medal is turned, but the medal is the same. And the background - the cries: "Bring down in your rotten rashka."
Crimea taught Ukraine nothing. And the East will not teach. On themselves do not turn. They will look for an external enemy, as they were looking for. To justify their own spinelessness.
Although, it would seem, make one simple, to slash in the eyes of a logical conclusion: a dialogue is needed, a change of rhetoric is needed. And it will be easier.
No need for high-profile statements, labels, accusations. We are annoyed, annoyed by all this talk about machines, under which they voted at a referendum in the Crimea, about the arm, leg, the spleen of the Kremlin, about the omnipresent Putin, about the upcoming war, about mobilization ... How much can you frighten? To what extent?
Yanukovych did not send troops. If the new government does this, it will sign not only a death sentence - a post-death sentence. And the path to hell will be trampled, fertilized, and on the sides - bloody, flaming roses.
Because hell is different. Hell is a misunderstanding. So, he is already here.
The worst thing in Ukraine today is that nobody wants to hear each other. Creepy, glaring, hypertrophied polarization of opinions. People are just waiting for what they initially want to hear. So much was said about European values ​​(it all started with the same!), But they forgot about the main one - respect for the opinions of others, about that notorious tolerance, tolerance.
You write an article, speak on the air - the audience is waiting for confirmation of their thoughts. They want to make sure that they are right. But so, in general, no doubt. However, come on, give us excuses.
Who is guilty? Putin And who is your fault? Junta. How convenient it is to have someone to blame! Especially if the wine is collective. Blame all of us, Ukrainians. Each of us. The one who did not keep silent when to be spoken. And the one who spoke when should have been silent.
Live broadcast of events from Kharkov. To the right of the picture is a message ribbon. People write there. Or how to call them?
Who are you, man, writing: "Banderva, suck, will you, beasts, cut"? Do you have children, wife? Who are you, man, writing: "Rashisty - Tatar vybl ... ki"? Are you not made in the image and likeness of God? Who are you, man, writing: "Stupid morons, burn in hell, Putler - bitch"? Do not you smile to other people?
What drives you throwing tons of hate into the information space? What motivates those Ukrainians who hurl Molotov cocktails at Ukrainians? What motivates those Ukrainians who make other Ukrainians crawl on their knees? Why do you hate others so much? And even more - yourself?
No chance of a truce. Holy self-righteousness. And a wild readiness to fight. With whom? For what? War eats the best. She swallows the worst without chewing. Therefore, our fate will be unenviable. And we deserve it. We who hate others and ourselves.
And do not ask again and again: "Who is to blame?" You, Ukrainian, know the answer.
Just like you know the answer to the question "What to do?" You were told about this in school. Do you remember? Respect someone else's opinion. To listen. Try to understand, understand. Do not forge hate into words and images. Remember that there is nothing more important than the world. Be responsible for every word.
Simple, everyday things. Which is now more than ever. At a time when you learn to live again. And, as a baby, you start with elementary things, waking up, in order to say to yourself: "Today, mercy is higher, more important than justice."