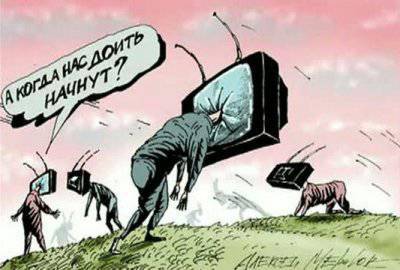 Today they talk a lot about Ukraine: how good it is, how degraded it is.
We will not look for a speck in another's eye - we have a lot of bad things happened too, but Ukraine can be used as a mirror for Russia.
Before 1991, we were one Soviet people, and I think we had the same expectations.
The idea of ​​the future was the most vague. The sixth article of the Constitution was abolished earlier, the CPSU was banned after the State Emergency Committee. People thought it was good. Then they expected that private ownership of factories and plants would lead to the emergence of high-quality domestic goods, and the peasants, having received ownership of land, would overwhelm us with products. After all, why there were interruptions in meat and condensed milk, why did the shoes have an uncomfortable shoe, and there were no good jeans of their own? Because the state owned the factories and the land, and there was no owner. The owner, he, of course, would not allow drunk and idlers at work, he would not allow theft and hack-work. Science is also flourishing, because it will get rid of ideology, party dictatorship, trips to the potato, trips to the vegetable base, political information. Scientists will be able to freely communicate with their foreign colleagues (only they will learn the language), receive Western orders, eliminate their backwardness in some areas, and some will be able to leave to work there - we are so smart and unpretentious.
What else do we want? More good books, films, opportunities to travel abroad on tourist trips. We thought that censorship hindered the emergence of masterpieces. At this our fantasy ended.
And the multi-party system and the elections were needed to choose the right power that would keep order, and if it didn't watch well, we would have it re-elected.
We didn't think that education, treatment, and getting housing could be paid. And if anyone suggested such an opportunity, he believed that he would earn good treatment, a home, and education for children. They loved to say that free treatment is a gift for treatment. But, in general, these issues were not considered major, oddly enough.
So, all groups of people waited for the improvement of their lives.
The workers waited for new equipment and good wages, the peasants waited for land, scientists waited for cooperation with Zapadom, the creative intelligentsia waited for creative freedom, representatives of the private sector at that time - the cooperatives waited for their rights to expand. Everyone was waiting for the appearance of high-quality foreign goods, films, translations of new books, the opportunity to see Paris and Rome with our own eyes.
Where are we going to take money for the first time, until there are positive changes? First, we believed that the country has reserves; secondly, they were supposed to save on reducing defense expenditures - after all, we have no enemies; thirdly, they hoped that, having got rid of the burden of bringing the world to the world and buying the loyalty of all pro-socialist regimes, we would also get great savings; Finally, if you lose a large population of Central Asia, it should become easier. Wars in the Caucasus republics were already raging - it would have been better to leave them alone with their Karabakh, etc. The Baltic states were already considered a chunk cut off, we thought that the alliance of the three Slavic republics would remain.
They explained to us that by parting with the power of the CPSU, the distribution system and the planned economy, and moving to a free market and private property, a multiparty system, we would gain all these advantages.
But things did not go exactly as we expected. They thought to get rid of Central Asia, and got rid of all the republics at once, and even got where the war was, and where there was great unrest in their own autonomies. This was the first blow.
But even this did not make us think again. We waited for the economy to start working as promised by the theorists. Theorists said that first you need to suffer a little, to experience shock therapy. Of course, we didn't like it, but we decided to suffer - after all, there was no way back. Why, then, it is asked, they collapsed the system of the socialist community, which was somehow, but still our market, for which they threw pro-socialist regimes in Asia, Africa and South America, for which they threw 25 million Russians in the republics b. THE USSR?
And a new life began. From this moment on, the lives of Russia and Ukraine went by different, but parallel roads. In Soviet times, both republics were donors. They had quite developed industry, agriculture, science.
Russia had a big bonus - it got oil and gas fields, pipelines. But after all, this wealth is not at all. The countries of the former people's democracy did not have oil, but this did not prevent them from improving their lives. At least they tell us so. In addition, those oil countries flourish, where there is a lot of oil and few people: Saudi Arabia, Qatar, Norway. People there receive all social services at a high level and for free. But in Venezuela, this is no longer possible.
Russia assumed the payment of all considerable debts of the USSR. Ukraine owed nothing to anyone. Now the money did not go to the center - everything remained in the country. Ukraine did not invest in its army - and this is also a great savings.
Why did 23 come to Ukraine in such a deplorable state? Today it is a bankrupt country with a low standard of living. Over the 23 of the year, Ukraine was unable to achieve the performance of the 1990 of the year. Its population has decreased, the mortality rate is large. Science is no more. Agriculture and industry do not bring such profits at all as expected. Something is not noticeable and the flowering of national culture.
Did Ukraine lack democracy? The turnover of power, a multiparty system, free media - all this was available.
And the moment that Ukraine gained independence? Shouldn't that have raised public spirits? Poland, Czech Republic and others. It really helped. They are free from tyranny! They are so cool! This Russia had nothing to rejoice. What was happy? What have lost a third of the territories? What threw 25 million Russian across all borders, including in places from where they immediately began to expel? True, Yeltsin managed to arrange a holiday on this occasion, but people never took him seriously.
But, nevertheless, neither democracy, nor the open market, nor national liberation helped Ukraine at all to achieve what it was striving for.
Is Ukrainians to blame? Not. This is a natural and logical outcome. Both Russia and Ukraine entered the wonderful new world as peripheral capitalist countries. And the world capitalist system is very simple: the center completely drains the periphery. You are not surprised that in Latin America there are solid "banana" republics, i.e. countries where democracy leads to endless revolutions and upheavals? And it is very convenient to the center.
Nobody needs the fruits of the creative work of the periphery - you need raw materials in the form of either mineral raw materials, or agricultural products or people. But these places are already taken. Not so easy to get to the market as a supplier of agricultural products, for example. From Russia, we need only hydrocarbons, and from Ukraine nothing at all. But what about Poland, Czech Republic, Hungary, Baltic? This is a mystery, but part of their success is pure PR, and they could really help them. But this does not mean that someone will help Ukraine. I am afraid that Russia will face a similar fate.
The smartest thing both countries could come up with is to unite and try to play the game in their own way. But Ukraine, as you see, is not ready for this.
When we came to a new world, it turned out that we need it only as food, and not as a free player. At our expense, Western economies are very well fed. Remember the happiness of the Americans under Clinton: they said that they are getting richer even in their sleep — they are waking up, and on the count of new percentages. And we at that time every hour saw new price tags in stores and state employees did not receive salary for months, although they continued to fulfill their duties, while the workers were sent on indefinite leave. And we mockingly explained that everyone should earn their initial capital, and then become either a capitalist or a lumpen, there is no third.
Suddenly it turned out that the economy does not exist for the people, but for profit. Whose profit? Individuals. These people were unprofitable to continue to produce domestic consumer goods, but it turned out to be more profitable to close factories and plants. But it became profitable to trade in Chinese goods. It turned out to be unprofitable own production of literally everything, because somewhere it was possible to find cheaper. We were immediately told that already because of our winter alone, when the shops need to be heated somehow, our goods will be more expensive than those that were produced in warm countries. And even if our worker is paid at a minimum, you still need to take into account that in the winter he must at least somehow drown his house and wear warm clothes, and in this we obviously lose to the children living in the shack and walking all year round in shorts.
For us it was very strange. We are used to the fact that production is concentrated in European countries, where workers are very well paid for their work, and they live in their own stone houses, and they dress in good-quality and expensive clothes. Do we spend on life more than them?
And no. Western people are no longer working, but are engaged in banking, science, creativity, and, most importantly, are engaged in the service sector. The goods are produced by the Chinese.
Banks must have either a mighty country or a long-standing one.
history
. Our science was a supplement to the Soviet economy and public life, and naturally, the first perished. And who needs a science serving a degrading society? Someone took to the West, the rest went to the shuttle traders. A similar story happened with creativity.
That is, we have no place on the market, except for the supply of oil and gas, and the Ukrainians have no place at all.
The question is, what did our leaders think about this? That is what they thought. Gaidar honestly said that all inefficient production should die and, preferably, together with those who were engaged there. The last he, however, did not say out loud, but it was possible to understand. He just did not say that everything will be ineffective except hydrocarbons. Well, in Ukraine, nothing at all was effective.
Our economies died immediately, and predators attacked the corpses. These were the bandits. They formed new elites, which included real criminal elements and people who had previously been in power and in many respects provided Perestroika. Since then, they rule both countries. The people are scandalous, endlessly digging under each other. We temporarily have a leader who somehow settles it all. Ukraine has no such leader. Perhaps this is explained by the fact that someone in the West does not need chaos in the nuclear country, or stable supplies of oil and gas are needed. Therefore, they allow an authoritarian regime in Russia.
What is happening is a challenge for our peoples. We must understand that we have our own interests, and not be a toy in the hands of some unthinkably rich, self-confident and greedy people.