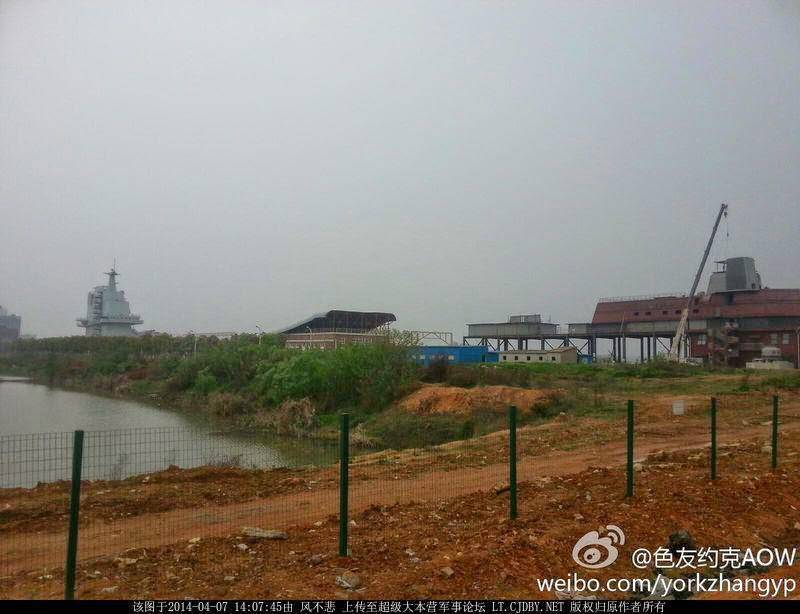 In Wuhan (the center of Hubei province, the central part of China - approx. "VP"), a mock-up is being built, which is strong evidence of the preparation of the construction of a new large surface war ship, reports China Defense 7 of April.
Some mockup images became available (built next to the already built Liaoning aircraft carrier mockup). From the photo you can see that the central part of the hull is being built and is being built. Most likely, this is a mockup of a cruiser class ship. The superstructure of the ship consists of two parts, the back can have a helicopter hangar and a mast for the L-band radar.
The Liaoning model was built at the end of 2009, the ship became part of the PLA Navy in 2012. Using this time period, it can be assumed that the cruiser keel will be laid in 2015, commissioning
fleet
may happen as early as 2017.
The portal reports that it will monitor the progress of the construction of the layout in Wuhan.
According to the first commentators
news
This object may be a prototype destroyer of the new generation Type 055. According to some data, the length of this ship can reach 186 m, width 23 m (which is approximately equal to the dimensions of the Soviet missile cruiser Ave 1164 Atlant, - approx. "VP").