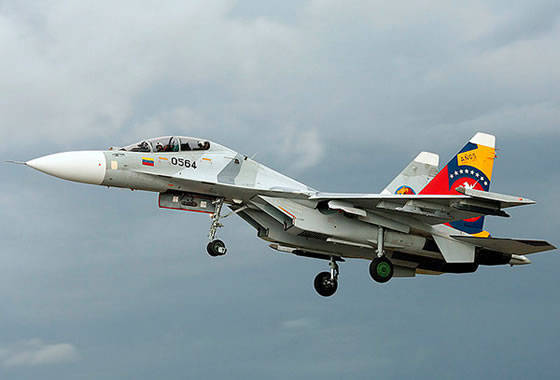 Venezuela is considering the possibility of purchasing a new batch of Sukhoi fighter jets in order to increase the combat capabilities of the country's Air Force.
According to Infodifensa, this was announced by Venezuelan Defense Minister Admiral Carmen Teresa Meléndez Rivas in an interview with the private television channel Venevision.
The Minister did not disclose the procurement scheme, which is under discussion, as well as the type of aircraft.
Currently, the Venezuelan Air Force is armed with 24 Su-30MK2В fighters, which are distributed in equal quantities in the 11 and 13 air groups.
In order to increase the number of aircraft in each squadron to 18 units, the Air Force command several years ago intended to acquire 12 additional Su-30MK2, but this purchase did not take place.
In July, 2012, Venezuela sent a request to the Russian Federation about the possibility of supplying Su-35 aircraft, but the status of this project is not known.
It should also be noted that in recent months, information appeared in the media about the negotiations being conducted by Venezuela with the French authorities on the possible purchase of 24 fighter jets "Rafale".
Comment TSAMTO
Given the current domestic political situation in Venezuela, the issue of such a large purchase can be considered only after its stabilization. President Nicolas Maduro must establish relations with the opposition in order to guarantee stability in the country during his presidency.
At the same time, it is quite obvious that the United States headed for the violent overthrow of the current government in Venezuela through another "color revolution".
In case of opposition coming to power, the focus in the field of military-technical cooperation will be made primarily on the United States.