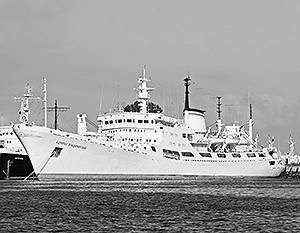 The representative of the press service department of the Ministry of Defense for the Navy, Captain 1st Rank Igor Dygalo said that the Baltic Oceanographic research vessel
fleet
"Admiral Vladimirsky" for the first time from 1983 from August to December this year will go around the world.
For the last time, in 1983, the Admiral Vladimirsky also performed a world mission, the Itar-Tass news agency said.
"This time the vessel will leave St. Petersburg, pass through the Northern Sea Route (NSR), cross the Pacific and Atlantic oceans and return to St. Petersburg. World tour will take more than four months. Its most crucial stage is the study of the capabilities of the NSR, "said Dygalo.
On board the vessel, specialists will conduct hydrographic, hydrological, cartographic and meteorological studies, observations of currents, and marine biological observations.
Currently, according to Dygalo, the Admiral Vladimirsky is being intensively prepared for the Around the World tour. The vessel is undergoing repairs at the Kanonersky plant in St. Petersburg.
"In the process of repair, its life support systems are being updated, and the equipment with the necessary equipment for working in various latitudes is being updated," he added.
"Admiral Vladimirsky" has on board two hydrographic survey boats, 19 specialized laboratories. It is also equipped with a crane for 7 tons and two cranes for 250 kg. There is a platform and a hangar for one helicopter.
The last circumnavigation of the ships of the Russian Navy was the Antarctic expedition 1983 of the year, when the Admiral Vladimirsky and another research vessel, Faddey Bellingsgausen, repeated the path of the Russian Antarctic expedition on the sloops Vostok and Mirny (1819-1821).
As a result of complex oceanological studies, new data were obtained on the bottom topography, temperature and salinity of sea water, currents, soils and meteorological elements. The 178 seamounts and hills were discovered, the position of the 13 islands in the Southern Ocean, including Beaufort, Bounty, Antipodes, Beauvais, Franklin, Scott, Peter I, and others, was clarified.
The absence of the islands of Terra Nova has been proven. For the first time, the position of the South magnetic pole was determined after it was moved from the continent to the D'Urville Sea, which has important theoretical and practical significance.
Over 147 days more than 33 thousand miles were traveled, of which 13 thousand were in ice and icebergs, while the Admiral Vladimirsky in McMurdo Strait reached the southernmost point to which the domestic ships arrived.