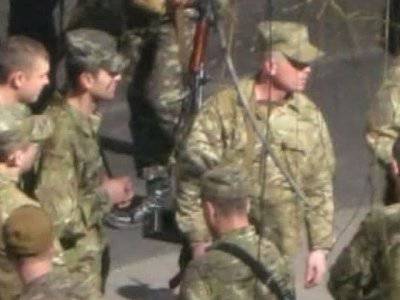 Next week, at the level of foreign ministers, negotiations on Ukraine will take place, in which representatives of Russia, Ukraine, the United States and the European Union will take part. This was reported in the press service of the EU High Representative for Foreign Affairs and Security Policy Catherine Ashton.
Peace initiatives do not prevent the United States from strengthening its military presence off the coast of Ukraine. Today it became known that another American destroyer, Donald Cook, arrived in the Black Sea, reports the Russia 24 TV channel.
According to the British newspaper Telegraph, the goal of a ship equipped with an air defense system and Tomahawk cruise missiles is to support Kiev. In the same area since March, there is already one American warship.
Meanwhile, a resident of Donetsk posted in social networks a photograph of a group of military men who were standing next to the local military registration and enlistment office. The fighters, armed with machine guns and light machine guns, spoke English. The form was clearly not Ukrainian.
Earlier, the coordinator of the united organization of activists in Donetsk, Self-Defense of Donbass, told reporters that a plane with two hundred foreign servicemen got into Donetsk. According to him, the legionnaires "do not speak either Russian or Ukrainian."
The Russian Foreign Ministry told 7 on April that the units of the internal troops and the National Guard of Ukraine "with the participation of militants of the illegal armed formation" Right Sector "were squeezing into southeastern Ukraine, including the militia of the illegal armed formation. operations are connected around 150 by American specialists from the private military organization "Greystone", dressed in the form of fighters of the Sokol division, the Russian foreign affairs agency stressed.
The White House USA denies this information. American mercenaries do not take part in the suppression of unrest in the south-east of Ukraine, the White House said on Tuesday, citing a representative of the private military organization "Greystoun", reports Interfax.
In Donetsk, supporters of the federalization of Ukraine form a provisional government. Donbass was the first among the Ukrainian regions to proclaim itself a sovereign republic. Protesters hold the regional administration building and declare that they will stand to the end. The discontent is caused by the fact that the new authorities persistently ignore the opinion of the inhabitants of the south-east of the country.