I saw a curious fact on the Internet. This weekend, our famous collaborators - members of the punk band Pussy Riot Nadezhda Tolokonnikova and Maria Alekhina - met with former US Secretary of State Hillary Clinton.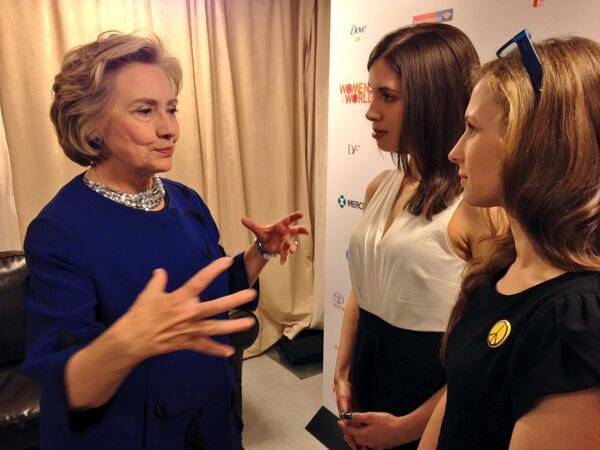 Funny photo: for some reason in modest outfits, not in a "combat" uniform, attentively listening to Grandmother Hillary ... Granny, of course, does not look so hot. She put, probably, the last health on the uncompromising struggle with Putin. Therefore, apparently, I decided to take up now the preparation of a worthy change in the field of hatred of Russia.
In general, the list of those with whom these divas were noted at the meetings is impressive. This is Madonna, Ruslana, and the prime minister of one Baltic state, and deputies of the European Parliament ... In short, all those who reverently "love" us.
Curiosity is something that is happening: a couple of "bushes" now call themselves human rights activists, dissidents and feminists. The set is impressive. Until I just do not reach, whose rights are they going to protect? And what kind of moral monster do you need to be to ask them to protect their rights? And how and how should these rights be violated in order for Alekhine and Tolokonnikova to rush to defend them?
Does not reach. Apparently, I'm stupid.
But despite the clearly present stupidity, the following has come to me. To become a cool human rights activist, you must perform the following steps:
1. Shoot in clear porn and send it all over the Internet. This, apparently, applies to feminism. Or to the realization of their democratic rights.
2. Arrange the Sabbath in any suitable place for this. This, I think, is right. For a truly free member of a truly democratic society has the right to foul where it pleases. For democracy and all that.
3. To sit out This is, of course, an element of dissidence. For what kind of a dissident are you if you have not served your convictions? And if it goes according to paragraph 1 and 2, then everything, any true democrat is your friend, comrade and feed.
4. When you are released, you begin to broadcast (to broadcast, thoughtfully and sincerely) that you understand what the true ideals of freedom and democracy are. And at the same time pouring dirt. And not just pour, but with zeal and intent, so that paid.
Well, what a sin to confess, we here very often "redeem" our foreign "partners". Thoughtfully, with zeal and twinkle. Has it ever occurred to someone that for that even a penny? Though hryvnia? Of course not. Firstly, no budget is enough, and secondly, when did they pay for the truth? It is kind of like our part of democracy and freedom. And we implement it. Allow, often and uncensored. But from the heart.
But if you start whining about the hard life in Russia, about Putin's violation of the fundamentals of democracy and freedoms, start begging uncles from the European Parliament to strangle Russians with sanctions, "so that they feel bad and they take to the streets" (quotation from Alekhina) - this is a completely different calico.
Where we have seen these sanctions is already clear. Even US senators pester Kerry with questions: "Why do Russians laugh at your sanctions?" I myself watched this show in the box. But on the streets, if anything, come out. But obviously we will not go to Putin, but to the notorious window to Europe. To throw something there. Type of brick or a bottle of "Molotov cocktail." This is the grandmother do not go - do it. Putin did not impose sanctions on us.
And here punk dissident wander around the world, they whine that we should bend down. And I, stupid, still have a question: what kind of shishi do they make these voyages? On the zone worked so hard, or what? Well, I'm definitely no worse than plowing, but for some reason, it'sn't "over the seas, over the waves, now here, tomorrow over there". Apparently, the wrong place to work.
The music of these punk feminists is clear and understandable. As well as it is clear who orders and pays for it. The order is paid, most likely, by the head of Hermitage Capital, William Browder, the tycoon oligarch and former chief executive Magnitsky, who was sentenced in absentia in Russia to nine years in prison on charges of tax evasion and wanted. Next to which these "human rights activists" were repeatedly noticed.
Is it time to think about the issue of tightening the screws? Take experience from our "partners" from Ukraine, Lithuania, Latvia? Regarding Sobchak, Navalny, Makarevich, Taratuty, Shenderovich and his followers? I think it's time. Just not to be late, dear!