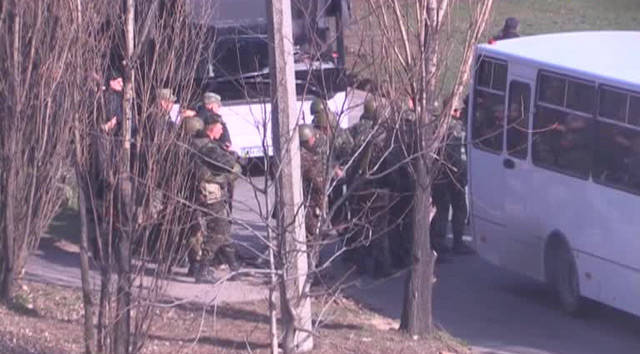 The Ministry of Foreign Affairs of Ukraine denies the participation of foreigners in resolving the situation in the cities of the south-east of Ukraine. This was announced at the briefing by the Director of the Information Policy Department of the Foreign Ministry Yevgeny Perebiynis.
"The actions that are being carried out now by law enforcement agencies in the eastern regions of Ukraine are exclusively attended by Ukrainian law enforcement officers," a representative of the Foreign Ministry told Interfax.
The Russian Foreign Ministry 7 said in April that in the south-eastern regions of Ukraine, including Donetsk, units of the internal troops and the National Guard of Ukraine "with the participation of militants of the illegal formation" Right Sector "were being drafted.
"Of particular concern is the fact that about 150 American specialists from the private military organization Greystone, disguised as fighters of the Sokol division, are connected to this operation," the Russian Foreign Ministry said.
"We are surprised by such statements by the Russian side," Perebiynis said in response. "Last week the Foreign Ministry of Ukraine refuted this information, which appeared in one of the blogs. It certainly did not receive any confirmation."
Earlier on Tuesday, the acting head of the presidential administration of Ukraine, Sergey Pashinsky, also denied allegations of the participation of foreign mercenaries in the operations of the Interior Ministry in eastern Ukraine. "I responsibly declare: there is no Right Sector, and even more, no American special forces, neither in Kharkov, nor in Donetsk, nor in Lugansk, no," said Pashinsky.
At the same time, he joked, pointing to himself and the standing Minister of Internal Affairs of Ukraine Arsen Avakov: "American spies, two American commandos stand before you."
Meanwhile, negotiations are continuing in Donetsk between the police and supporters of the federalization of Ukraine, who are holding the regional administration building. They were offered to voluntarily lay down
weapon
, vacate the premises and surrender. Donetsk mayor's office reported that after the talks, the protesters had already surrendered some of the weapons.
Russia is ready to discuss the multilateral format of negotiations on the situation in Ukraine - with the participation of the EU, the United States and the Ukrainian side. However, Moscow has questions about the organization of such an event. This was announced at a press conference with his Angolan counterpart, Russian Foreign Minister Sergei Lavrov.