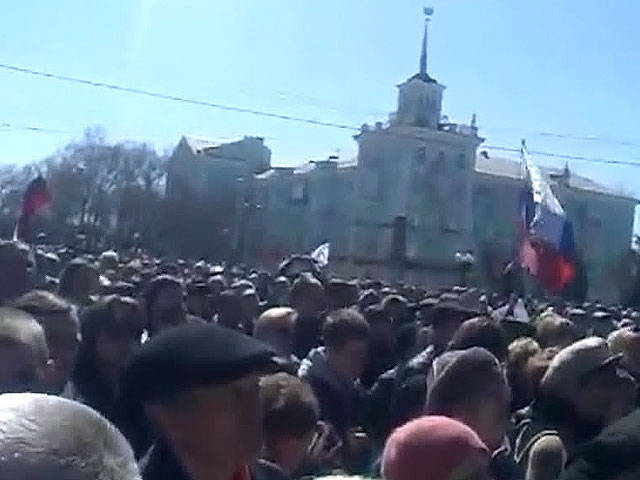 Near the building of the Security Service of Ukraine in the Luhansk region, captured by pro-Russian activists, the rally continues. People who have seized the building are strengthening the barricades. They were fenced off with a fence, reinforced with sandbags, and the car tires folded behind it were poured with combustible mixtures.
Speakers at the rally declared that they were going to create a parliament of the Lugansk Republic, elect new people's deputies and create a new government, Interfax reports. There was also a small skirmish, as a result of which the demonstrators pushed journalists and cameramen away from the venue of the rally.
The number of protesters in front of the SBU building is constantly changing, new participants are replacing the outgoing participants. Currently, there are about three hundred people. Inside the building, according to various sources, there are still 100-200 protesters, however, the protesters themselves declare thousands of supporters inside, and also say that reinforcements from the Crimea and Zaporozhye came to their aid.
Protesters periodically chanting demands for a referendum on secession from Ukraine. They also demand the release of all the special forces "Berkut" and "Alpha" arrested for separatism, the amnesty involved in the events on Independence Square in Kiev, the cessation of political persecution, as well as a meeting with the chairman of the Lugansk Regional State Administration Mikhail Bolotskikh.